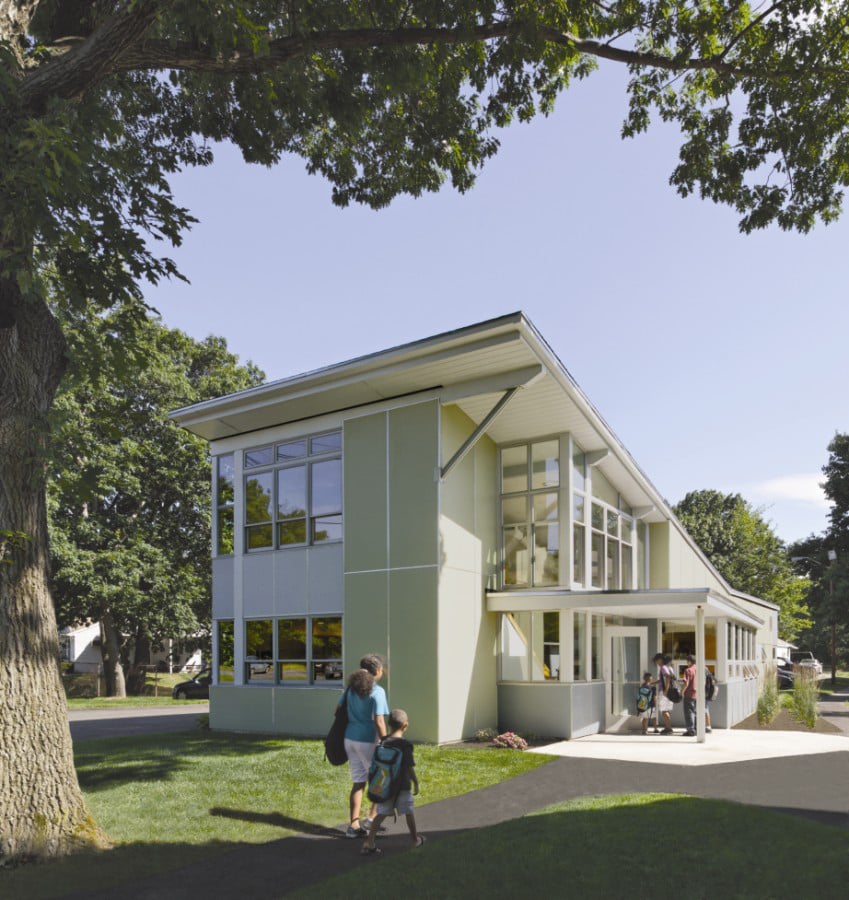 March 3, 2014
Abacus Architects + Planners Pioneer New Model for Community Design
The Allencrest Community Learning Center is a case study in how architects can collaborate with communities.
I write a lot about community-based architecture. Most often, these kinds of projects take one of two forms. The first is the product of university studio projects, whereby students and teachers work with a chosen community organization to develop strategies or plans to fulfill a need—plans which may or, more probably, may not be realized. The second model is facilitated by a non-profit organization which will identify a need and subsequently solicit architects, often through a competition, to design for that identified need and community.
In both cases, architects engage the community proper more or less by proxy. But Abacus Architects + Planners do things differently. Their design for the Allencrest Community Learning Center in Leominster, Massachusetts represents a third way in which architects might directly collaborate with non-profit and community organizations without themselves being non-profit entities. Explains David Eisen, AIA, partner at Abacus Architects, "We applied for and got the project because we had a reputation for successfully juggling a series of competing goals: creative responses to complex social needs; dynamic designs that suggest the aspirations of our clients; sustainable solutions to reducing resource use; and being able to do it all on really tight budgets." All of which required the architects to engage the clients—in this case, the community of Allencrest—at every step of the design process, from the project's beginnings through to its construction.
---
More from Metropolis
---
Abacus worked with the center's staff, students at the local high school's Center for Technical Education, teachers, and residents to develop the program and design. They also coordinated the construction, which relied heavily on student labor, Eisen says. "We were intrigued by the idea that it would be built by high school students, and that it could not only make a difference by providing community facilities, but that it could change lives through the construction process, and that it could be a model for other communities."
When it became clear that more materials and labor were needed, the wider community was more than willing to chip in. Over two dozen builders and suppliers contributed to the project's completion. Not coincidentally, many of them had either been graduates of the high school's technical program or were participants in the center's after-school programs. All credited both the school and center with helping them acquire the skills central to their current success. "They appreciated that we wouldn't lower our aspirations because there was a limited budget, and we appreciated that they wouldn't either," says Eisen, of the community's commitment to the architects' design.
A key part of that design was the building's green features. By using a number of passive strategies for heating, cooling, and water recycling to promote a healthy building environment, the center's barn‐inspired design serves as a model of social and environmental sustainability as well. In the winter, south-facing windows bring in the low winter sun, while radiant heating in the concrete floor is provided by a high efficiency condensing mode boiler with an energy recovery ventilation system. During the summer months, deciduous trees and broad overhangs provide shade, and cooling is aided by high and low operable windows that together reduce the need for air conditioning. The architects also incorporated additional ecological features such as an onsite storm water retention system, drought-resistant landscaping and plants, and built-ins that are made of recycled wood materials and produce no toxic off-gassing.
In essence, Allencrest, which has won multiple awards including a 2013 National AIA/HUD award and the 2012 AIA New England Merit Award for Design Excellence, embodies the success of collaboration, guided by a vision for improving the community through good design. In the end, however, what is most interesting is how the project expresses Abacasus' entire design ethos. Says Eisen, "Every project is a community-based project. Every building engages the public that's passing by, and offers places inside and out that either encourage civic engagement, or don't. Architects need to push back on clients who want to build hermetic boxes that drain the life out of the surrounding streetscape. We need to keep creating models for how public and private spaces can interrelate so that there is a broader definition of 'community'."