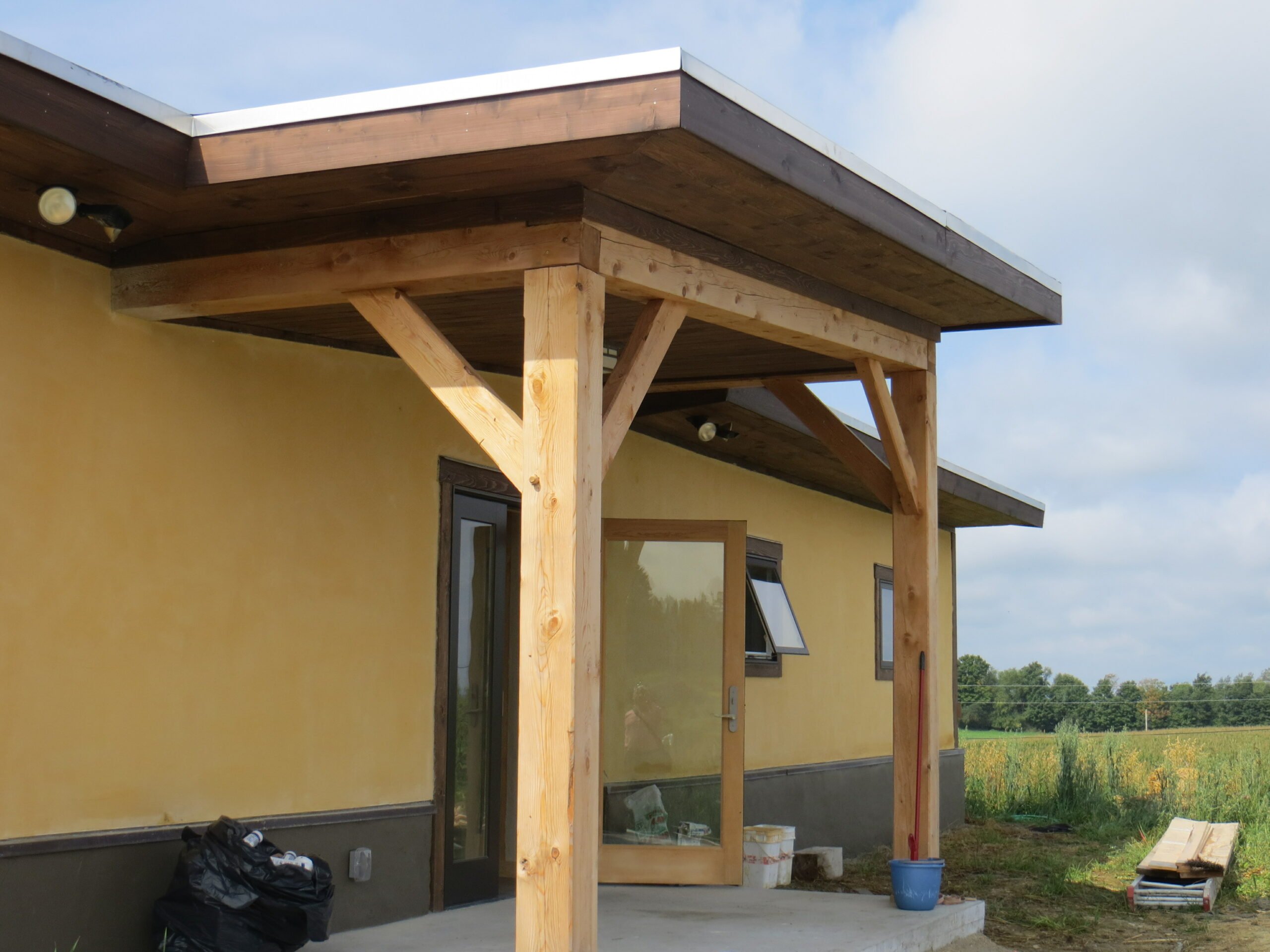 September 10, 2013
This Straw-Bale Housing Is Design to Empower Seniors
As the price of energy efficient construction rises, some look for alternative approaches
All Photos Courtesy © Ward Joyce Design & Arocordis Design
Vermont's first straw bale affordable senior housing project has been built in Holland, in the Northeast Kingdom area of the Green Mountain State. The house is close to the local community and residents' families, says Becky Masure, project manager for the affordable housing non-profit, Rural Edge, where "seniors retain their independence."
The land was donated by Evelyn Page, now deceased, from her family's nearby farm and in memory of her husband; she also gave funds to Rural Edge. As standardized energy efficient construction methods have become increasingly expensive, Rural Edge decided to test a new approach and some new-old ideas.
They found straw bale an appealing alternative because of its fire-resistance, insulation capability, savings on labor costs, availability of local talent to build this way, carbon footprint reduction, low-embodied energy, chemical and allergy free composition. Enduring comfort, durability, and beauty also inspired Rural Edge to try the straw bale  approach, so they asked the architects to consider the material.
---
More from Metropolis
---
Ward Joyce Design collaborated with Arocordis Design and structural engineer Ina Hladky on two single bedroom apartments with a shared common area, an entry porch, and separate unit porches facing south.
The structure sits on the top of a hillside, taking its architectural cues from nearby farm buildings such as the bent uplifting roof that reaches south towards dramatic rolling vistas. Built on a cost-reducing, frost-protected concrete slab, with empty sleeves designed into the slab for future installation of on-site solar electric PVs for the potential for greater self-reliance and renewable readiness.
The architects sited the building to face the long way south to north, for passive solar heating. Operable awnings and casement windows naturally ventilate each unit and common area; ceiling fans circulate air in the living spaces.
A small parking area, reached by a winding drive, serves residents and visitors. Eventually, the owner will install and maintain pathways around the building along with a small vegetable garden and edible landscaping to provide outdoor activities and fresh food for the residents.
Uncontrolled moisture is the natural enemy of straw bale construction, so the architects worked to reduce exposure to wind-driven rain and snow. Extensive roof overhangs shed water away from the plaster and stucco walls. A two-foot-high double-stud pony wall forms a base on which the non-structural straw bales rest. The pony wall is cellulose-insulated. Straw bales extend up to the underside of an I-joist framed cellulose insulated sloping roof, clad in gray EPDM (Ethylene-Propylene-Diene-Monomer), a long lasting rubberized roofing system used in low-slope situations like this.
Lee Cooper of Back 2 Basics Builders, the general contractor, built a post and beam frame, with 18 inches of straw bale surrounding it, to support the roof. The builders installed air fins made of half-inch Homosote, finished with air-sealing tape, fit into specially detailed slots in the wood frame, helping to reduce heat loss at joints between materials. Multiple rough and finished coats of plaster encapsulate exterior and interior faces of the straw bale wall enclosure. Natural colored lime coatings and wood finishes were used along with other easy to care materials for interior finishes such as polished concrete floor.
New Frameworks Natural Building is the straw bale consultant, with Ben Graham and Deva Racusin working on the project. Ben helped the architects with the unique detailing of the straw bale enclosure system. Deva provided construction administration assistance during the straw bale installation and assisted Lee Cooper with straw bale enclosure construction and air-sealing work.
Rural Edge is seeking certification from Efficiency Vermont as a Vermont Energy Star Home project. During construction Efficiency Vermont provided invaluable technical assistance, including such inspections as blower door testing, some of which are currently under way. These help prevent energy losses that might result from unnoticed air leaks that can develop during construction. Energy Balance of Montpelier, Vermont is the energy consultant.
Here, then, is a natural building alternative for putting "affordability" back into affordable housing. At the entrance to the building a "Truth" window graces the hall where the straw bale system is revealed to show how the building was made. Only time will tell the impact the Page Project will have on Rural Edge's overall affordability approach as well as others' around the state.
This article originally appeared in August issue of Green Energy Times. Earlier in progress articles were published in the spring here.
---
Stephen M. Frey, AIA, LEED AP, is owner and architect at Arocordis Design in Montpelier, VT, an architecture, interiors, and workplace design firm www.arocordis.com.  He frequently collaborates with Ward Joyce, AIA from Ward Joyce Design.