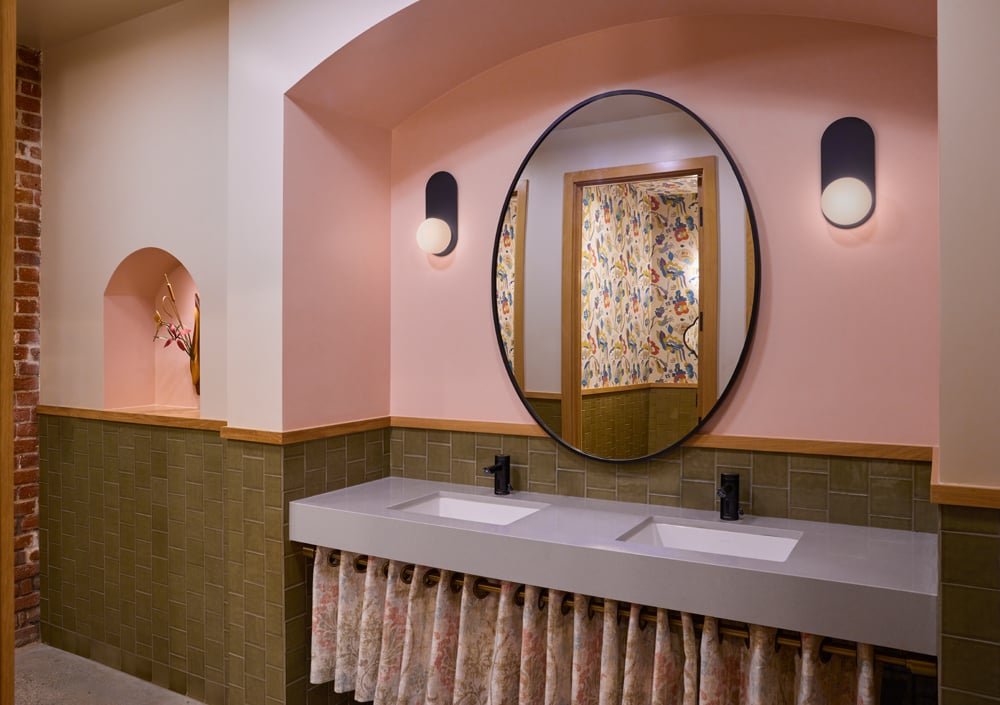 July 19, 2021
Food, Beverage, and Retail Merge at Agnes Restaurant in California
Architect Oonagh Ryan of ORA transformed a 1922 structure in Old Pasadena to incorporate the chef-owners' personal histories.
From the start, Agnes in Pasadena, California, had a complex matrix of moving parts. Owners and chefs Vanessa Tilaka and Thomas Kalb envisioned an ambitious food and beverage program that included a cheese-focused retail marketplace and wine shop in addition to a large sit-down restaurant and back patio. The scope of the project was to completely transform the historic 1922 building into a major food and beverage destination that paid homage to their roots and the building's vintage charm.
Add to that mix key team members with contrasting aesthetic sensibilities, this hospitality design project was an exercise in mutual respect and ultimately, skillful synthesis.
"Stylistically, I'm always going to trend towards modern. It's where my DNA and heart is," says architect Oonagh Ryan of downtown L.A.-based ORA. Ryan's portfolio includes residential and commercial work, such as the celebrated Auburn restaurant in Hollywood, and Esters Wine Shop & Bar in Santa Monica.
---
More from Metropolis
---
"When Thomas and Vanessa came to me, their inspiration was very rooted in Iowa, and very nostalgic," Ryan recalls. A passionate collector, Kalb had boxes of vintage tableware and family heirlooms to incorporate into the space that would pay homage to his midwestern heritage and professional passions. Tilaka's family owned a Thai market in Los Angeles. The pair met at the heralded Flour + Water restaurant in San Francisco, and both boast impressive culinary resumes along with world traveler bona fides.
Agnes' setting is an unreinforced masonry building with a wide span that originally functioned as horse stables for the Pasadena fire department almost a century ago. Creating a restaurant, bar, and market required a change of use, and then navigating the regulatory issues related to the historic structure in a municipality with a particularly strong preservation ethic.
Oversized doors, which Ryan describes as "a little twist" on the historic facade and streetscape along Green Street, lead to what's called the "cheesery." Here, Ryan designed movable custom display cases that can be tables as well. Banquettes with ample colorful pillows nestled next to the operable double-hung windows interface with the street. Original brick contrasts with tile wall treatment in the open kitchen and store, with expanses of mottled Heath chalk-gunmetal glaze tiles that add alluring texture and depth. The geometric wood feature Ryan dubs "the cage" is "an element that defines the retail area as sort of a zone," and contains a lighting aperture.
Most of the original trussed ceiling, which required extensive rehabilitation, is exposed, except for where codes require hard lid ceilings over specific food prep stations. The terrazzo-topped bar illuminated by Brendan Ravenhill's Beam series fixtures is located towards the front of the space, and doubles as a daytime coffee bar.
Hidden back of house operations are minimal, and in the primary dining space, the open kitchen is "dead center, right in the mix," Kalb notes. "Everyone gets to say hi and bye to the guests and come up to the kitchen to ask great questions. It's really meaningful and fun." To execute the offerings that range from house-made pastas and pastries to market-driven soulful dishes, the kitchen showcases a spectrum of techniques, starting from "primal" open-fire cooking to a state-of-the-art, multifunction wifi-enabled oven.
The main dining space evokes the convivial comfort of a family room, thanks to groupings of personal family photos and tables and chairs from the UK-based Another Country. In the large back patio, landscape designer Stephen Billings added Mediterranean trees and edible plants.
Much like the entire establishment, a display wall of plates in the corridor communicates a sense of down-home comfort, but in reality was carefully orchestrated. Kalb and Tilaka sent Ryan images of potential tableaus, which she input into 3D rendering software to fine tune before the installation. After all, these are all creatives who know when to defer to experts in their respective fields.
"The projects that are the most fun are when you've had a good working relationship based on trust," Ryan says.
You may also enjoy "Curioso's Residential and Hospitality Projects Take Root in Their Place"
Would you like to comment on this article? Send your thoughts to: [email protected]
---
Register here for Metropolis's Think Tank Thursdays and hear what leading firms across North America are thinking and working on today.