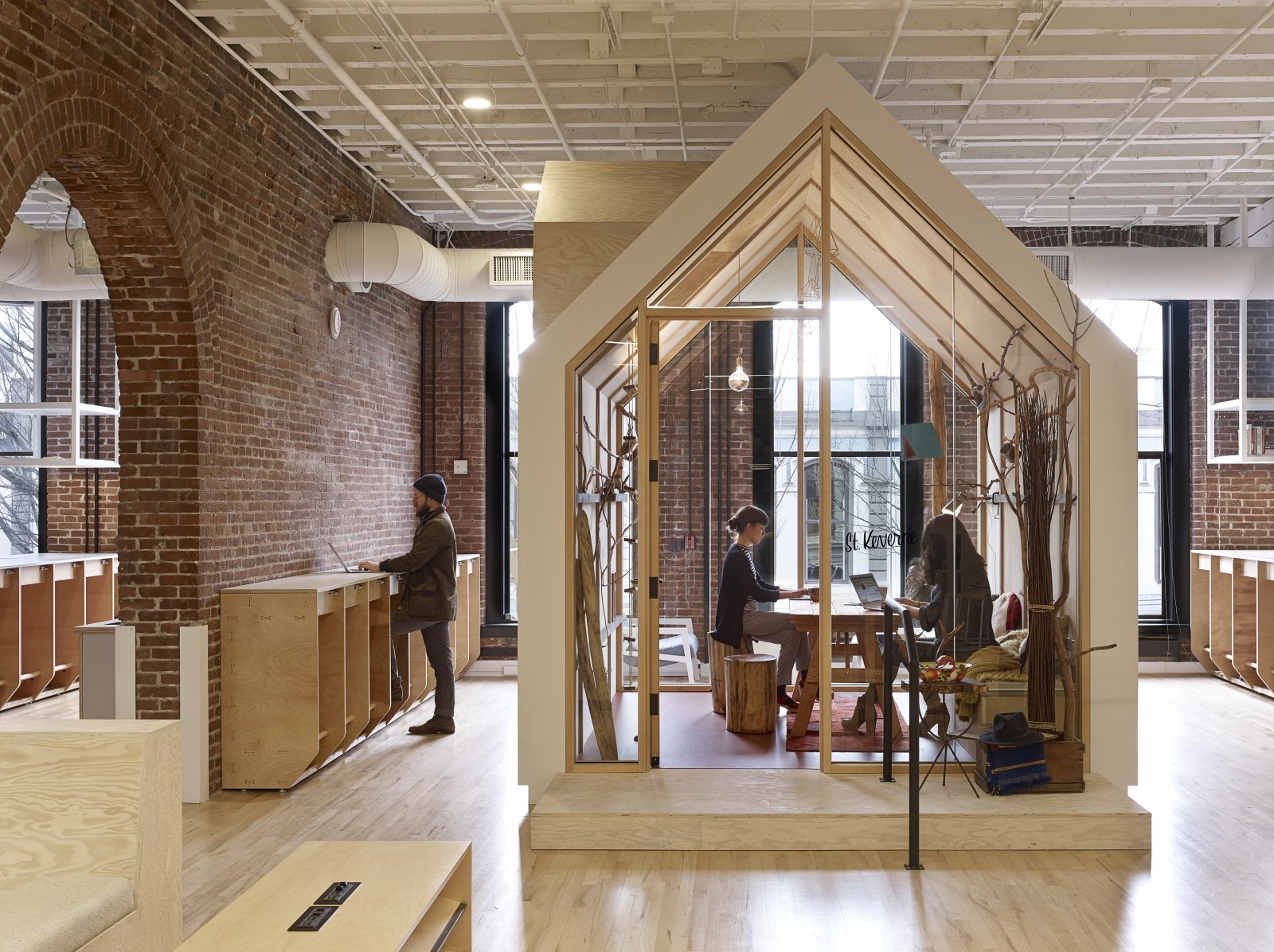 January 9, 2015
Airbnb's Portland Office Reinvents the Call Center
Most call centers are the antithesis of unpredictability and stress, yet the company's new Customer Experience hub couldn't be more different.
The large two-level structure, known as the bluff, provides views across an open stretch of the office. Speaking on the need for a mezzanine level, Internal environments designer Aaron Taylor Harvey said, "Everyone loves that feeling of being in a perch, being able to occupy vertical space."
All photos courtesy Jeremy Bittermann
---
Most call centers are the antithesis of spontaneity and fun, yet Airbnb's Customer Experience (CX) hub couldn't be more different. From standard website issues to lost apartment keys, Airbnb travelers call CX agents with uniquely challenging problems. With that in mind, Airbnb's internal environments designers Aaron Taylor Harvey and Rachael Yu set out to design a new CX center in Portland to house 250 employees serving over 150 thousand listings across North America. (Read more about Airbnb's San Francisco headquarters here.)
Both trained as architects, Harvey and Yu conducted extensive research with CX employees— from group brainstorming to field trips into Portland—to understand their priorities. The CX agents found multiple detractions in their previous free-desk environment: with zero personal storage and entirely generic desks, they faced the daily anxiety on how to select and inhabit a workstation. In response, Harvey and Yu formulated a diverse array of design responses to ultimately create a tranquil, flexible, and fun work environment.
---
More from Metropolis
---
In response to employees' varied preferences for lighter and darker workspaces, the designers accentuated the palette of various rooms based on ambient light levels. Lighter spaces were specified with lighter felts, woods, and fabrics, as seen above, while darker spaces received the inverse treatment.
---
Sound is a critical factor in any CX center that handles phone calls, and despite the hundreds of employees, recycled cotton hidden between ceiling joists and other sound-dampening measures render the Airbnb office remarkably peaceful. "People love how they can be calm and focus on their work," says Harvey. More than just ambiance, the office's design profoundly shapes its everyday usage. Employees can use a range of work configurations throughout the day, making for healthy ergonomic movement, increased socializing, and a critical sense of choice. CX agents start their day at "landing spots"—essentially large tables with storage cubbies—where they "look out across the office landscape and see all potential opportunities." This includes lounges, shared tables, sheltered desks, and "the bluff"—a large plywood structure with a cushioned mezzanine level and multiple ground-level "duck-ins." Located throughout the office, the latter are felt-lined nooks where CX agents can quickly find privacy. Many of these elements were designed and built with local makers, all part of "Airbnb's support of local entrepreneurship" says Yu.
The dark grey rectangular panels, seen here on the walls, are composed of recycled newspaper. Along with the cushioned furniture, they work to reduce noise levels.
---
Punctuating the CX office are multiple "listing rooms," enclosed workspaces designed with materials and props that reference Airbnb's diverse base of host hometowns, from Atlanta, GA, to St. Keverne, UK. Expanding upon that Airbnb tradition, Harvey and Yu also designated a number of "scratch" rooms for employees to decorate in the Portland office. "Scratch" rooms, such as the nautically-themed S.S. Clementine, aren't the only venue for employee-driven design. Over each "landing spot" is a team-decorated "mantles," a literal platform where a CX agents will fashion an artwork to represent their team. For example, one mantle now sports a glowing rice-paper lamp, painted as a balloon, and orbited by small figurines. These projects give agents "a real sense of ownership. It really feels like their office," says Harvey.
Much of the office's furniture is custom-built by local Portland businesses. For example, the landing zones (seen center-right) were built by Superfab while Goodmod produced refurbished mid-century modern tables, such as the Eames table (seen far right).
---
By engaging with the CX agents throughout the six months of design and construction, and tapping their creativity even now, Harvey and Yu hope they've formulated a better model for contact centers. They've replaced the "feeling of anxiety that comes with an open office with a feeling of belonging to an environment" as well as an iterative solution for Airbnb's expanding needs. As architects debate the pros and cons of the open office, this design looks beyond that simple opposition to thoughtfully respond to its users' unique needs.
Airbnb supplies lunch to its employees everyday, and while the food is prepared off-site, the kitchen retains its critical role as a social space.