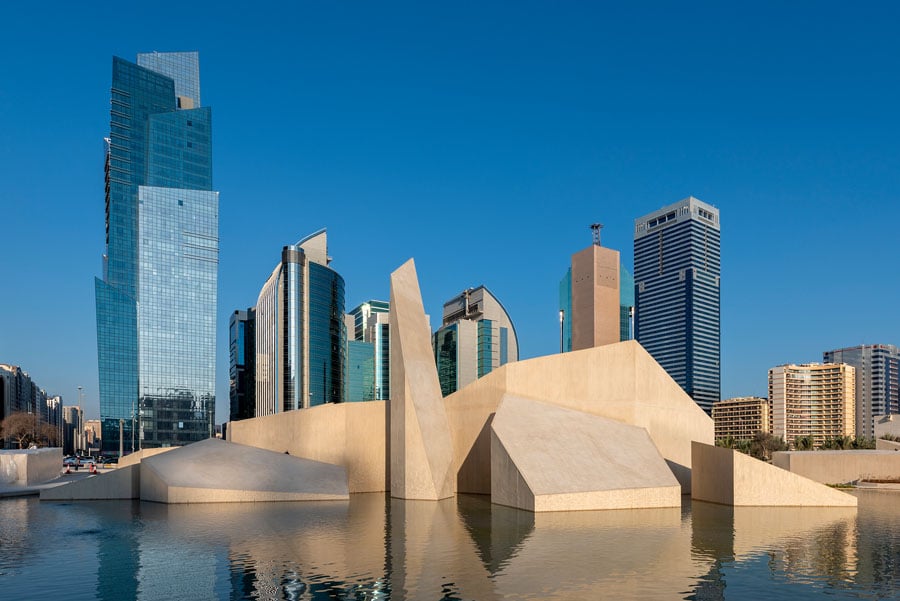 January 27, 2020
A Poetic Respite in Abu Dhabi Blends Cultural Tradition With Contemporary Design
The Al Musallah Prayer Hall draws on Abu Dhabi's rich history and desert landscape.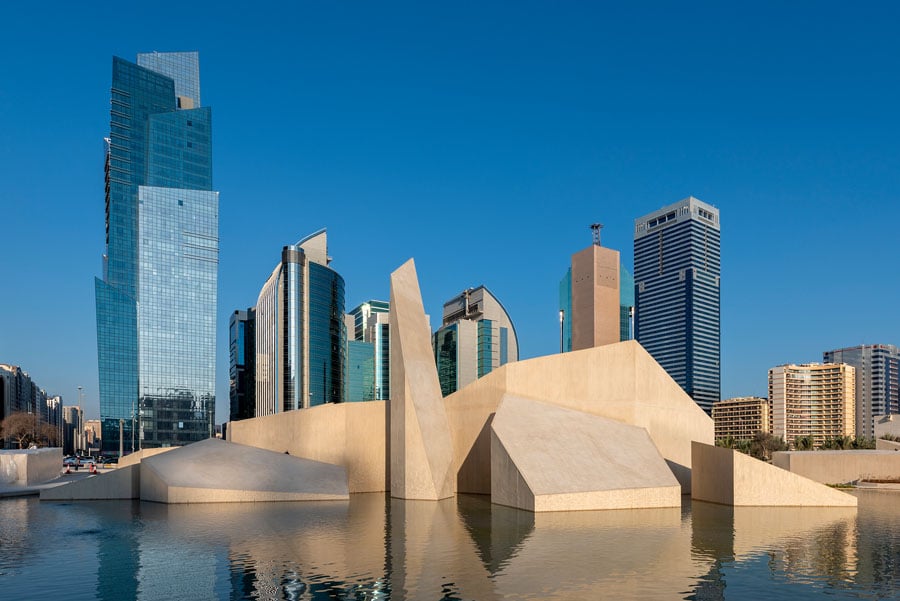 Built in the 18th century, the Qasr Al Hosn watchtower has seen its environs dramatically in recent years. A vast army of skyscrapers have quickly gathered around the stone structure, and today, it anchors a 1.5 million-square-foot culture park with over ten million visitors annually. The latest addition to the site, the Al Musallah prayer hall, split the difference in this architectural equation.
The landscaped cluster of geometric volumes nestle in the park's northeast corner, neighboring the historic fort and the Cultural Foundation building opened in 1981. Designed by Danish architecture firm CEBRA, the prayer hall comprises several iceberg-like volumes, which seem to emerge from the earth's surface (or rather, the shallow pool on which they are set).
The prayer hall's polygonal geometries recall the mud cracks that form around mangroves, which are plentiful in the area, while the pool of water alludes to the coastline. The juxtaposition of the two reinforces the architects aim of "reinstating the fort as [a] landmark on a sand plain—to give people a glimpse back in time to the origins of the city," says CEBRA founding partner Mikkel Frost.
---
More from Metropolis
---
Abiding by tradition, the two prayer halls in the musallah, or prayer room, are divided by gender and occupy separate polygonal volumes. Wall openings face the site's water landscape, which also points toward Mecca—the traditional orientation for reciting prayers. According to Frost, the contemplative, grottolike chambers also allude to the Hira cave where Muhammad is said to have received his first revelation of the Holy Quran.
Balancing contextual respect and iconic design proved to be one of the architects' greatest challenges. "For me, it has been like going back to school," reflects Frost. "It has been an overwhelmingly large sum of things that we learned through the course of the project—ranging from how to organize a mosque to integrating indigenous plants in a harsh climate."
The end result has a material bearing that strongly contrasts the slick Abu Dhabi skyline, but which feels of a piece with the larger Qasr Al Hosn heritage site. As Frost concludes, "this project could not have been built anywhere else [because] it required a very sympathetic design approach."
You may also enjoy "In Italy, a Church Cleaved in Two Serves as a Gathering Place."
Would you like to comment on this article? Send your thoughts to: [email protected]