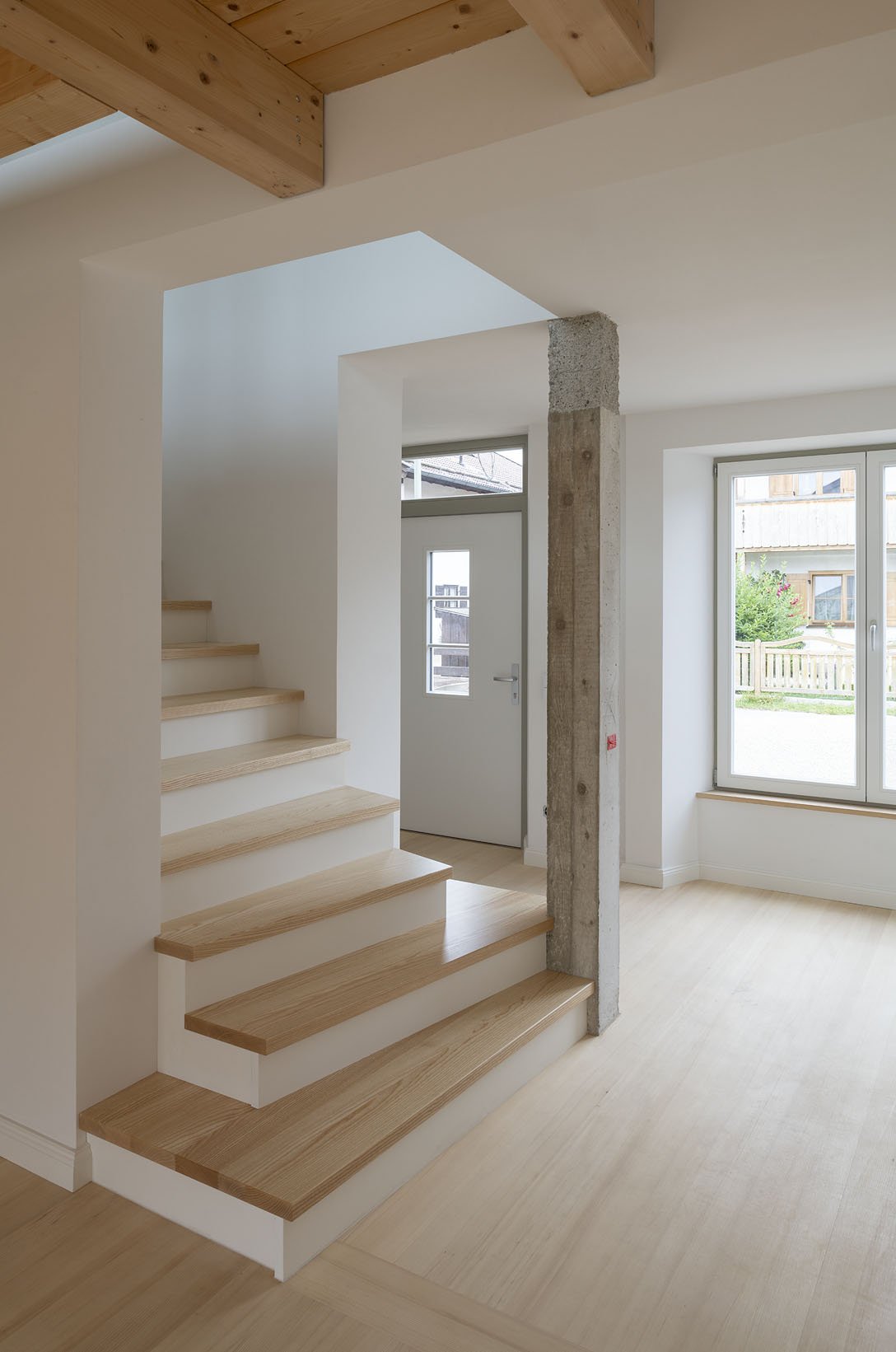 November 11, 2019
This House in Rural Germany Merges Alpine Vernacular with Venturian Postmodernism
Munich-based gerstmeir inić designed a family home that borrows ideas from the Vanna Venturi House in Philadelphia.
Wait. Doesn't this look familiar? Of course! It's the Vanna Venturi House—but in an updated form. But we aren't in Chestnut Hill, Philadelphia, but the small Alpine town of Bad Tölz, Germany.
The new house sits in a neighborhood filled with large, detached houses on long, narrow plots. While these plots once hosted orchards and kitchen gardens that helped feed their inhabitants, most owners in recent decades have built secondary houses there. In this case, the new house is the result of intergenerational housing demands: "Our client approached us with the wish for a house for her parents to replace an older building which unfortunately proofed to be too neglected to safe," recalls Thomas Gerstmeir, partner at gerstmeir inić, based less than an hour away in Munich. 
To begin, the architects took a careful look around the site. The town is close to the Alps, where the roof tends to be a dominant part of many houses. Because of abundant snowfall, many houses have a pitched roof and front the street with gable walls—two easy starting points in the house's design. "We ended up looking around for inspiring examples of such houses: with a large, dominant roof, a gable wall to the street—and with a spatial complexity that doesn't bust the budget," explains Gerstmeir. Their research led them to the Vanna Venturi House—the house that Robert Venturi built for his mother in suburban Philadelphia. Built between 1962 and 1964, the house is—together with Venturi's Guild House—acknowledged as early examples of Postmodern architecture.
---
More from Metropolis
---
But why would two young German architects bring a Postmodern icon of the '60s down to 2019 Bavaria? "Of course it was never about a simple copy, this wouldn't have made sense. We needed a specific solution for our client and this site," Gerstmeier adds. "But time and again we found ourselves peeking into the Venturi book The Difficult Whole. The Vanna Venturi house is simply such a firework of ideas."
What makes their design similar to Venturi's is a mostly symmetrical facade dissymmetrically punctuated by variously-sized windows that react to the spaces inside and add a dynamic and a particular rhythm. Of course, the color scheme is very similar to the Pennsylvanian analog, too, as is the subtle emphasis on the roof line and base. 
At some point, gerstmeir and inić even considered adding a broken ridge and a looming chimney, two features that would have made the similarities even clearer. (They decided these would have veered too close Venturi's original.) Instead, they concentrated on conceiving an original design solution: Instead of breaking the front ridge, they went for the house's backside, where a deep cut into the house's volume formed a garden balcony.
Though it recalls some Venturi ideas, the house also references features common to the surrounding Alpine vernacular. Viewed from the street, the roof stretches asymmetrically to unite the garage and house within the same volume. This is a nice, inclusive gesture that is common in local farm buildings, where people, animals, vehicles, and tools all live under the same roof. (Contrast this with the contemporary habit to litter auxiliary structures like garden sheds and carports throughout a plot of land.) 
"We also added a topic that's a favorite in our own office: two different faces," adds Gerstmeir. While the street facade is of a regular plaster, the back is made of wood; these two materials bring two different construction techniques which merge and mingle throughout the building. "We decided that it would be a surplus for this house to show the intersection of the two materials inside," Gerstmeir says. Indeed, the move creates contradiction and complexity—more Venturi buzzwords.
So did it make sense to apply Venturi's ideas to the Bavarian house, Mr. Gerstmeir? "Heck, I don't know. But it definitely makes a lot of sense to connect each new house to the broader history of buildings. We think that the search for simple means to create a contradictory complexity in spaces and materials is very Venturian and Bavarian at the same time."
You may also enjoy "An Architect's House Filled With Cosmic Energy and Historical References Rises in the South of England."
Would you like to comment on this article? Send your thoughts to: [email protected]