February 21, 2018
This Education Start-Up Takes Cues From Office Design
Designed by A+I, AltSchool's new model campus could serve as a model for schools seeking to increase individualized attention for each student.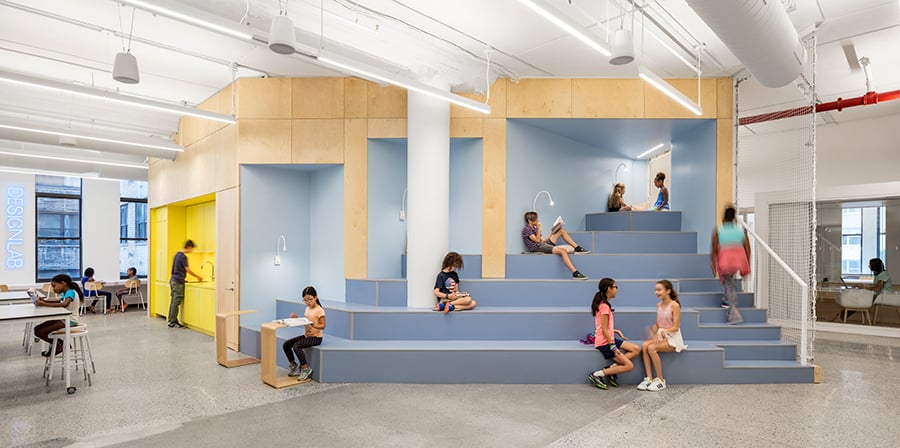 ---
Is it a school, an office, or a bit of both? If it weren't for the student art projects covering the walls, visitors at AltSchool Union Square might believe that they'd stepped into a stylish tech start-up's offices instead of a middle school.
Eschewing the cookie-cutter floor plans and Crayola-box color palettes of traditional elementary schools, AltSchool's new model campus in New York City borrows from the basics of open-plan office design: Classrooms feature a mix of collaborative pods and individual nooks; a communal dining area doubles as a design lab for tinkerers; and the main assembly area is an indoor, bleacher-style structure, a common feature in trendy offices today. Each classroom is also equipped with soundproof glass "phone booths" that offer students a place for "self-directed focus"— a self-imposed time-out session.
The 12,602-square-foot learning center is the architectural manifestation of AltSchool's personalized pedagogy. Founded by former Google executive Max Ventilla in 2013, AltSchool is a network of small schools in San Francisco and New York that gives students priority over teachers in running the curricula. Kids set goals, evaluate their progress, and have a voice in shaping their schoolrooms.
---
More from Metropolis
---
"There's a wide range of learners, so we're trying to meet them where they are. In that, you need to give kids agency," explains head of school Alex Ragone.
New York–based studio A+I (or Architecture Plus Information) painstakingly considered every inch of the space in order to encourage students' autonomy while ensuring their safety. "We set out to design a space that would be the physical embodiment of their lesson plans and play an active role in the greater support system centered on each student's unique learning style," explains A+I cofounder Brad Zizmor. "The common theme is choice."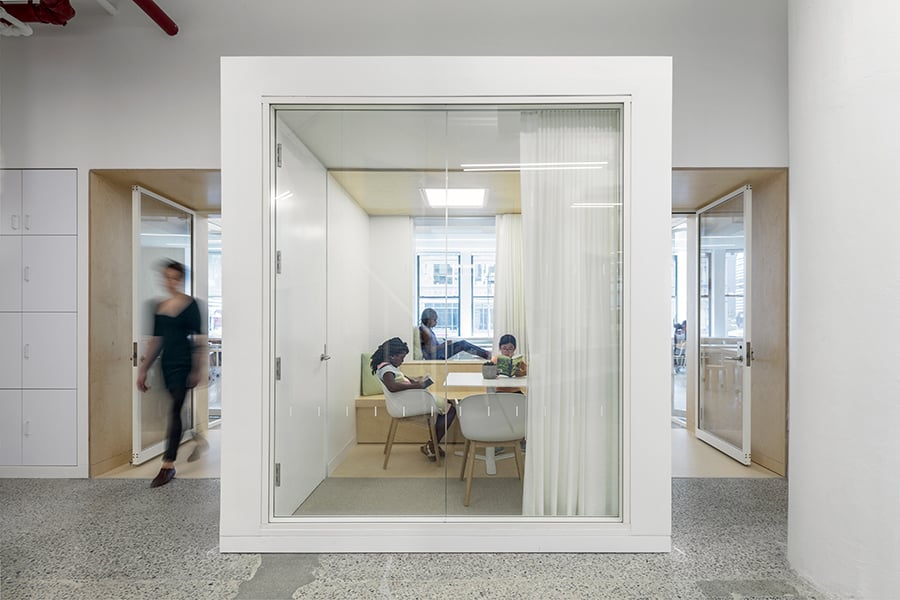 ---
As AltSchool consolidates branches into larger campuses, it has become more intentional about the design of its schools. Last year, several parents voiced concerns to the school about Ventilla's decision to close down some branches so he could focus on the more lucrative business of software development. But Michael Lee, AltSchool's director of business and real estate, says larger schools mean more space for creative, student-driven activities. "We work with all of our families to try to find a spot that we hope they'll like even more, with a larger facility, more students, and extracurricular opportunities," says Lee. He adds that nearly all students in the two schools AltSchool has closed have chosen to transfer to its larger locations.
To get the scale and combination of spaces just right for AltSchool's first purpose-built facility, A+I interviewed AltSchool students about their ideal learning environments: Where did they like to read? What were their favorite moments in school? "The thing that was really interesting to me was how productively self-conscious the students we talked to were. They were really clear-eyed about how they were going to get where they're going," says senior strategist Peter Knutson, who worked on AltSchool Union Square's development with associate principal Sommer Schauer.
Armed with insights from the design questionnaire, A+I created as many of those preferred environments as possible within AltSchool Union Square's relatively small floor plate.
From the survey, A+I also learned that students crave private areas that make them feel secure in school. AltSchool Union Square now has an abundance of cozy nooks, in addition to the lockers assigned to each student. This was a fine balance, explains Ragone, given that teachers have to be able to see and monitor all students for safety reasons. The architects chose glass walls that allow for visibility and give the entire floor an airy ambience.
Knutson and Schauer suggest that AltSchool's office-inspired, learner-centric spaces could serve as a viable model for future schools seeking to increase individualized attention for each student. "The hybrid of a tech company and an educational institution allows [teachers] the ability to take a class of 25 to 30 kids and personalize it with set educational and output goals for each student, in each subject," says Knutson. "It's something you'd only be able to do if you were a private tutor."
Selected Sources
Furniture: VS International, Hem, Muuto, Poppin, Blu Dot, KI
Lighting: Amerlux Linea, Pablo Designs
Fabrics and Acoustics: Ultrafabrics, Maharam, Autex
Surfaces: Forbo, Interface, Chemetal, Koroseal, Durat, Corian, Trespa
Panels and Glass: Lightblocks, Tag Wall
You may also enjoy "How Architecture Can Help Save Higher Education."