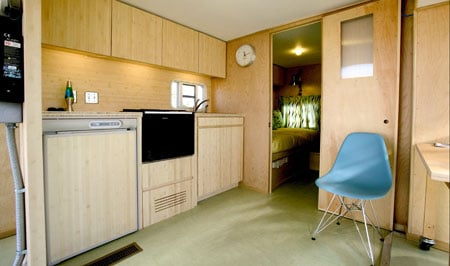 January 28, 2009
An Artful Response to Disaster
Paul Villinski's Emergency Response Studio goes on view at Rice University
When you think of mobile homes, the words "green" and "artist studio" don't necessarily jump to mind. But artist Paul Villinski, using found materials and a discarded trailer manages to do just that. Complete with nine solar panels, a 10-foot wide skylight, and a 40-foot high mast, it is purely incidental that the entire thing resembles a UFO, albeit, an inviting one.
Villinski conceived of his traveling artist studio while visiting a post-Katrina New Orleans in the summer of 2006. He found himself scavenging the streets, longing to transport his New York studio so he could settle in and get to work grappling with the devastated city. His solution? Salvaging a FEMA-style trailer, the formaldehyde-ridden government response to temporary shelter, and reinventing it as the Emergency Response Studio (ERS).
---
More from Metropolis
---
Emergency Response Studio on view at Rice University Art Gallery
(Photo: Rice Gallery Staff)
It took Villinski seven months to gut the 30-foot trailer, replacing toxic materials with "green" technology. Along with imaginative touches like bamboo cabinetry and denim insulation, ERS is powered by eight massive batteries that store energy in its nine solar panels. Providing additional power, a "micro" wind turbine stands atop the giant mast.
(Courtesy Jonathan Ferrara Gallery)
But ERS is not only an ambitious exercise in sustainable living. Villinski envisions artists, in addition to aid workers, as important contributors in times of crises, as we begin to heal both physically and emotionally. ERS answers that call by creating a type of open construction. With a drop-down deck and see through walls, the space allows both the artist and the surrounding environment to engage more fully with one another.
Images above and below: Emergency Response Studio at Prospect.1 New Orleans
(Courtesy Jonathan Ferrara Gallery)
Emergency Response Studio will be featured at Rice University Gallery January 29 – March 1, 2009. An opening celebration will take place on January 29th from 5pm – 7pm, with remarks from Villinski at 6pm. Prior to its run at Rice, ERS was part of Prospect .1 in New Orleans, shown at sites including the Global Green Visitor Center in the Lower Ninth Ward, The New Orleans Museum of Art, and Tulane University. Prospect .1 is considered by many to be the largest contemporary art showcase to date, with installations scattered throughout museums and other locations in the city.