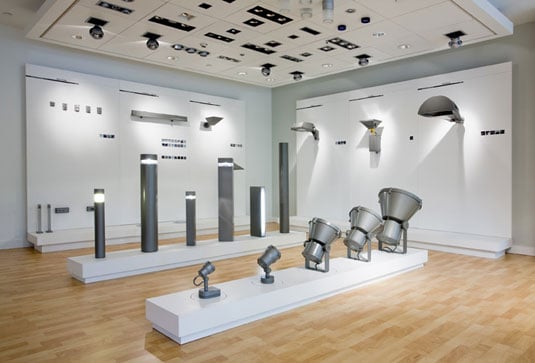 June 17, 2010
An Experimental Approach to Lighting
In the June issue of the magazine, David Sokol writes briefly about the lighting manufacturer iGuzzini's new U.S. showroom. Below is an expanded version of Sokol's text, with more details on the company's history and products.Even if you're not yet familiar with the iGuzzini name, you know its work. The Italian lighting brand manufactures Piero […]
In the June issue of the magazine, David Sokol writes briefly about the lighting manufacturer iGuzzini's new U.S. showroom. Below is an expanded version of Sokol's text, with more details on the company's history and products.
Even if you're not yet familiar with the iGuzzini name, you know its work. The Italian lighting brand manufactures Piero Castiglioni and Gae Aulenti's 1993 Cestello design, which company president Adolfo Guzzini says is "the most copied light fixture ever, for sure!" iGuzzini also partners with that other great Italian architect, Renzo Piano, notably on the California Academy of Sciences.
Guzzini partly credits celebrity collaborators like Piano for his own company's success. "Architects and designers are always on the move, they 'pollinate' different continents," he says. Not only have global nomads taken iGuzzini products along for the ride, but also they have inspired specifiers in those places to emulate the visiting design dignitary, spelling far-flung orders.
---
More from Metropolis
---
When iGuzzini launched in 1958 as Harvey Creazioni, architectural and decorative lighting was but an afterthought. Quickly the company redirected its efforts, from copper objects and lighting parts to luminaires. A willingness to experiment has defined iGuzzini ever since. Much of the company's stock was originally conceived as one-offs for architects. Work with Piano yielded the products Lingotto and Le Perroquet, for instance. Moreover, iGuzzini places importance on the science of lighting: "Some of our research activities have led to specific products, such as SIVRA, the first biodynamic light system," Guzzini says. "Another important issue is the effect of artificial light in museum lighting—on color perception or the shape of the exhibits.
In response to increasing international exposure, iGuzzini has made an aggressive push to promote itself in the United States and the Middle East; Guzzini says there are plans to infiltrate the BRIC nations shortly. To do so, it is opening showrooms while maintaining its preexisting network of distributors.
Last month, for example, in a space hovering just above Madison Avenue, American architects began differentiating copycats from genuine articles and test-driving products they may have only heard about. It is iGuzzini's first showroom Stateside (above), and Guzzini explains that the inventory is entirely UL-tested and certified at the company's own laboratory, which enjoys reciprocity agreements with multiple standards groups.
Besides Cestello, Guzzini expects Americans to take a shine to Lingotto and Le Perroquet, and to the company's LED-embedded Archilede street-lighting system. He expresses faith in LED technology generally. "Apart from saving energy, thanks to its reduced size the use of LEDs has allowed us to set design free and create a totally innovative product, such as the PizzaKobra desk lamp," he says, referring to the shape-shifting table light designed by Ron Arad. The new showroom could spawn new products, too, he notes: In addition to customizing luminaires for different clients, iGuzzini's five-person New York staff welcomes projects that might require invention. After all, today's one-off could by tomorrow's blockbuster product.