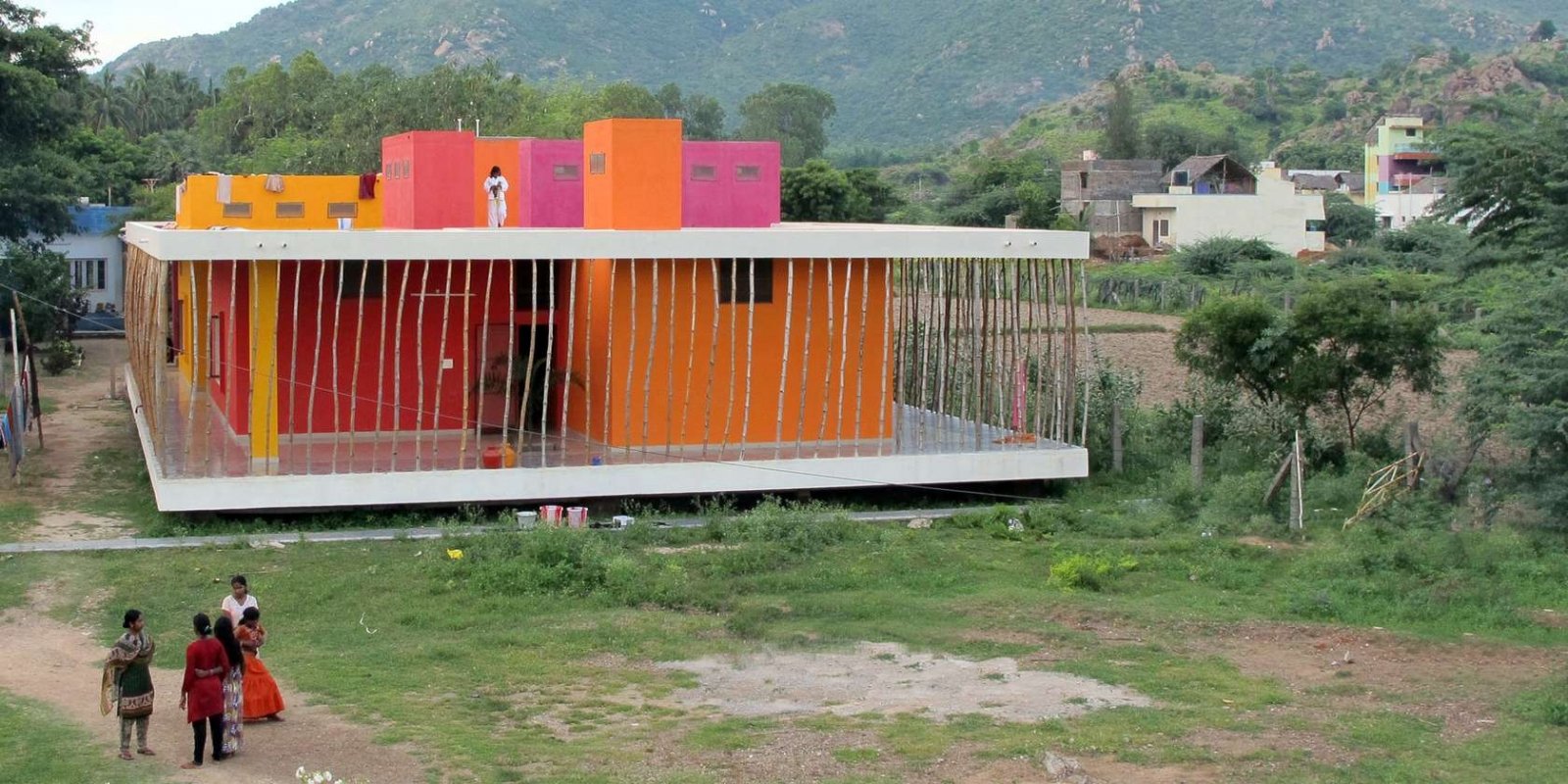 May 9, 2014
An NGO Committed to a Different Kind of Humanitarian Architecture
The Rana House by the Made in Earth NGO was designed as a small caring and living center for 15 HIV-positive children and their mother.
The southern Indian state of Tamil Nadu, according to The Economist, has the third-largest GDP in the country, with relatively higher growth than other states. And as the fifth-most populous state with a literacy rate of over 90%, Tamil Nadu is positioned as one of the country's economic and social centers. But despite these statistics, the state also has inadequate housing, poverty, and job insecurity, a fact that is especially acute within its poorer populations and tribes.
Made in Earth (MiE), an NGO based in Italy but working exclusively in Tamil Nadu, was formed to alleviate conditions like these. The group focuses on housing, community health, and cultural projects. The goal, says Flavia Scognamillo, one of the architects working at MiE, is "to create an integrated network of buildings and activities to benefit needy local people in Tamil Nadu region, following them from early childhood and continuing through their education and beyond."
---
More from Metropolis
---
The house is the first completed project by the NGO Made in Earth, which was formed by four Italian architects.
MiE has just completed its first project, a small foster home called the Rana House for 15 HIV-positive children and their mother. The design for the house balances considerations of need and culture with material and economic concerns with the aim of involving local people in their own futures in ways that are respectful of their needs. "Architects need to forget bucolic visions and deal with complicated realities where, for example, concrete is sometimes more affordable and readily available than bamboo," Scognamillo says. "We have to consider the local context in terms of resources, building materials, workers' knowledge as well as social and technical costs.
The built design incorporates traditional building techniques with different materials like the bamboo "curtain wall" that forms a porous border around the house. The enclosed living spaces are arranged in a series of boxes that are laid out on an elevated floor slab around open passageways and a large central gathering area. The flat roof plane is punched with holes to promote natural ventilation and let in light which animates the colorful volumes. The roofcuts, open passageways, and living area, along with the bamboo screening, further emphasize the house's connection to the outdoors.
The architectural devices built into the house promote connections to nature.
But, the design is only part of the narrative here. The local workforce was a central focus of the project, Scognamillo says. "We use local labor for construction which builds community identity, autonomy, and also provides training opportunities for designers and engineers." In this way, cultural, linguistic, and professional exchange is fostered between the local Tamil Nadu people and foreign nationals working with MiE and its NGO partners.
The house was built using local labor and expertise with the hope that this and other future projects can foster bonds of identity within the community.
Yet given the demographics in Tamil Nadu, there is opportunity to create even larger projects. The question is, then, why focus on the smaller scale? The answer again reflects MiE's philosophy: "Our projects are part of a system of small-scale interventions that can be managed by the community. This then ensures a sense of ownership and strengthens local identity. We also support and endorse local programs and assist in other community-driven projects." MiE's mission, says Scognamillo, is "to combine ethical and aesthetic values in order to protect people dignity, with a real attention to their needs. In this way, architecture becomes a chance to pursue bigger goals—this is our idea of sustainability."
---
Sherin Wing is a writer who has been published in ArchDaily.com, Metropolis Magazine, The Architect's Newspaper, Archinect.com, and The Huffington Post. She is currently writing a book on architecture and sacred spaces for Routledge. She received her Ph.D. in the Humanities at UCLA. Follow her on Twitter @SherinWing.