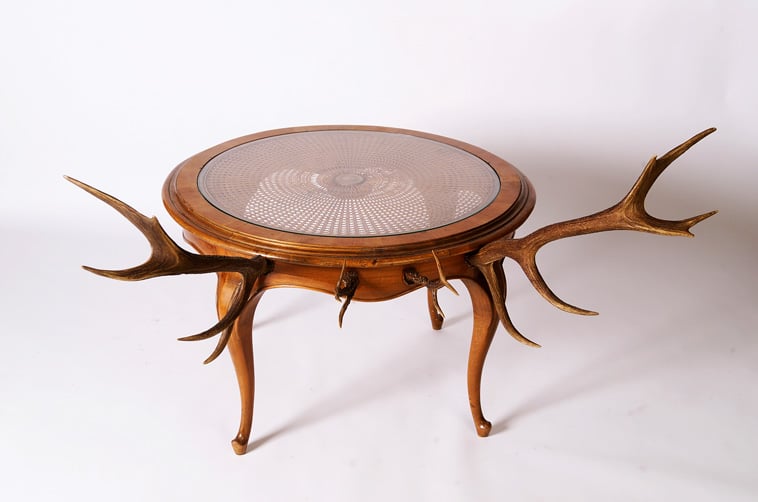 May 26, 2009
Antler Chic Alive and Well in Vienna
A new exhibition focuses on animal materials in furniture design.
Antler furniture then and now: a chair from a 19th-century Alpine hunting lodge (left) and a table by the contemporary designer Helmut Palla
At this year's ICFF, the rampant use of antlers in furniture and lighting design seemed–finally–to be losing steam. The only example I found was at Jason Miller's booth, which included one of his ubiquitous chandeliers from a few years ago, when the trend was just reaching critical mass. But an exhibition opening tomorrow at the MAK, in Vienna, revives the style, tracing its history from mid-nineteenth-century Alpine hunting lodges to the present. The curators don't limit themselves to antlers, either–also on view will be furniture made with animal horns, bones, and skins, including Le Corbusier's classic Basculant armchair with foal-skin upholstery. Check out more photos from the exhibition after the jump.

Count Arco's antler collection in the former city palace in Munich, circa 1890. Photos: courtesy MAK
This hunting-lodge table from the late 1850s uses deer antlers and wild-boar tusks.
---
More from Metropolis
---
Le Corbusier, Pierre Jeanneret, and Charlotte Perriand designed this 1928 leopard-skin chaise longue.
A Josef Danhauser design for a deer-antler sofa, circa 1830.
The oldest piece in the exhibition is this 16th-century Hungarian chandelier in iron, gilded wood, and deer antlers.
Furniture as Trophy will be on display at the MAK Furniture Study Collection, in Vienna, from May 27 to November 1.