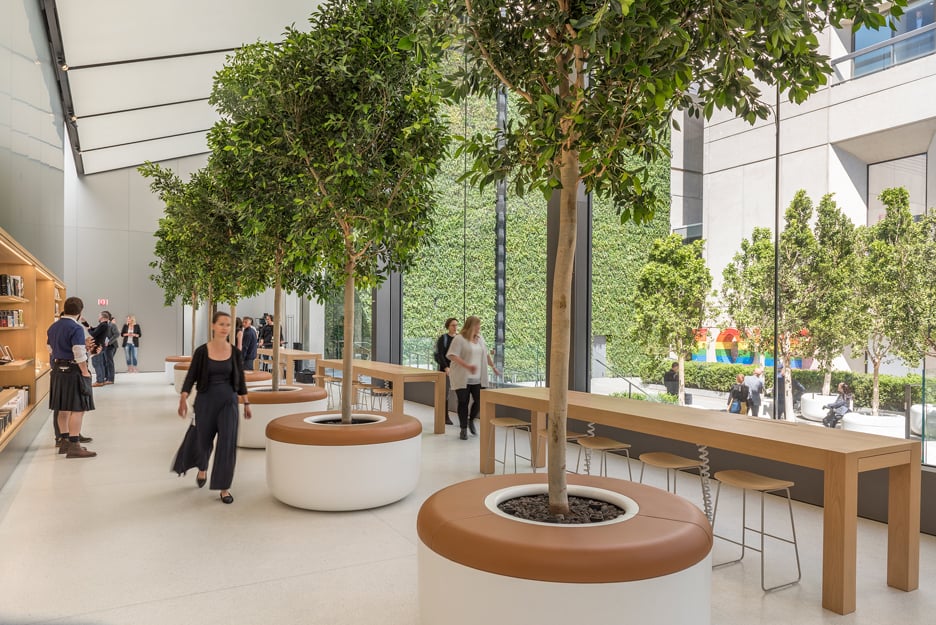 May 20, 2016
Apple's New Union Square Flagship Store Emphasizes Community
Fifteen years after opening its first store, Apple has once again revamped the retail typology, adding a slew of new gathering spaces.

Apple's flagship store in San Francisco opens Saturday.
All photography courtesy Nigel Young/Foster + Partners
---
What can a physical store offer if you can buy anything you want online and have it delivered almost instantaneously? For Apple, which yesterday previewed its new flagship store in San Francisco, the first of the next generation of its retail shops, the answer to that question has a lot to do with community. With an open theater that can seat 100, a tree-filled tech-support lounge, and a public plaza that will host local acoustic acts on weekends, Apple Union Square is the company's attempt to distill the qualities of town squares in a retail experience. "We love the fact that it's a beautiful space where everybody's welcome and there's always something going on," says Angela Ahrendts, senior vice president of retail and online stores.
Soberly clad in gray-tinted glass and steel, Foster + Partners' building is big but surprisingly contextual. Immense 42-foot-tall sliding doors open up to Union Square across the street, while the rear of the shop fronts a new plaza that features a restored Ruth Asawa fountain. Though split across two levels, the interiors are spacious, made possible by architectural sleight of hand. The ceiling planes are angled upward and evoke that quintessential Californian symbol of modernity—the butterfly roof. As in the previous generation of stores, mechanical systems and lighting are discreetly concealed. Ceiling panels of white stretch fabric offer a diffuse luminosity that complements the abundant natural lighting. Radiant-cooled white terrazzo floors and the sliding doors—walls, actually—handle most of the cooling and ventilation.
---
More from Metropolis
---
The store is divided into different zones. On the left of the photograph is the Forum, which can seat up to 100, while on the right is the Genius Grove.
---
After making its retail debut 15 years ago, Apple is taking further steps at Union Square to engage users with their larger product ecosystem. While iPhones, MacBooks, and other devices are still arrayed on those familiar minimalist wood tables (spessart oak was specified this time around for its fine grain and exceptional durability), accessories such as phone covers and watch bands are now displayed out of their packages. Jettisoning its old shelf-and-peg displays, Apple devised its own new modular display system of "windows," elegantly rendered in more spessart oak. The 10-foot-wide displays that line the longest stretch of the store, nicknamed the Avenue, feature built-in lighting and power, and can be outfitted with floating shelves and other components. "Creative pros" especially knowledgeable about iPhone photography, Apple Music, and iOS apps, but also art, will be stationed next to a corresponding window. Up on the mezzanine, the 100-seat screening area (the Forum) will host various educational and entertainment events, such as a gathering of local developers, or a class on photography. "It's not just a facelift,"" says BJ Siegel, Apple's senior director of design for real estate and development. "It will feel like a new experience to customers."
Likewise, Apple's famed Genius Bar has also been tweaked to create a more pleasant environment for weary customers with buggy devices. "We wanted to move it from the back of the store, where it was cluttered and noisy, to the most beautiful part of the store," says Ahrendts. The new Genius Grove, which will be in all major new Apple stores going forward, comprises an indoor allée of trees, each one nestled in a white glass-fiber-reinforced-concrete planter with integrated leather seats. The idea is that customers with mobile-phone issues can perch on these planters while chatting with tech support.
The theme of greenery continues in the mini-park behind the store. The design team reworked what had been an awkward triangular public plaza into an pleasant outdoor space. A 50-foot-high living wall, complete with an integrated waterfall feature, enlivens the 5,000-square-foot raised plaza, which will also offer free Wi-Fi in addition to live music on the weekends. According to Siegel, the company is looking at locations for future stores where it can integrate these kinds of open-air, publicly accessible spaces in the spirit of "civic generosity." It is not unusual for municipalities to require developers to provide some sort of public benefit in exchange for development rights; as Apple takes a long-term view of retail, it appears to have preemptively moved to provide that public benefit. After all, if the environment around the store is inviting, there's a better chance that the store itself will become a hang-out. As per Ahrendts, "We want people to say, 'Meet me at Apple.'"
The interiors are airy, with the angle ceilings lending the space a distinctly mid-century feeling.
The store's 42-foot-tall sliding walls open onto Post Street and Union Square.
The new Genius Grove replaces the Genius Bar, adding a line of trees potted in custom-made planters-cum-seats.
The 50-foot living wall was installed in the revamped rear plaza, which also includes a restored sculptural fountain by Ruth Asawa.