October 12, 2022
This Firm Reshaped Its Office into the Hub of a "Carbon Neutral Corridor"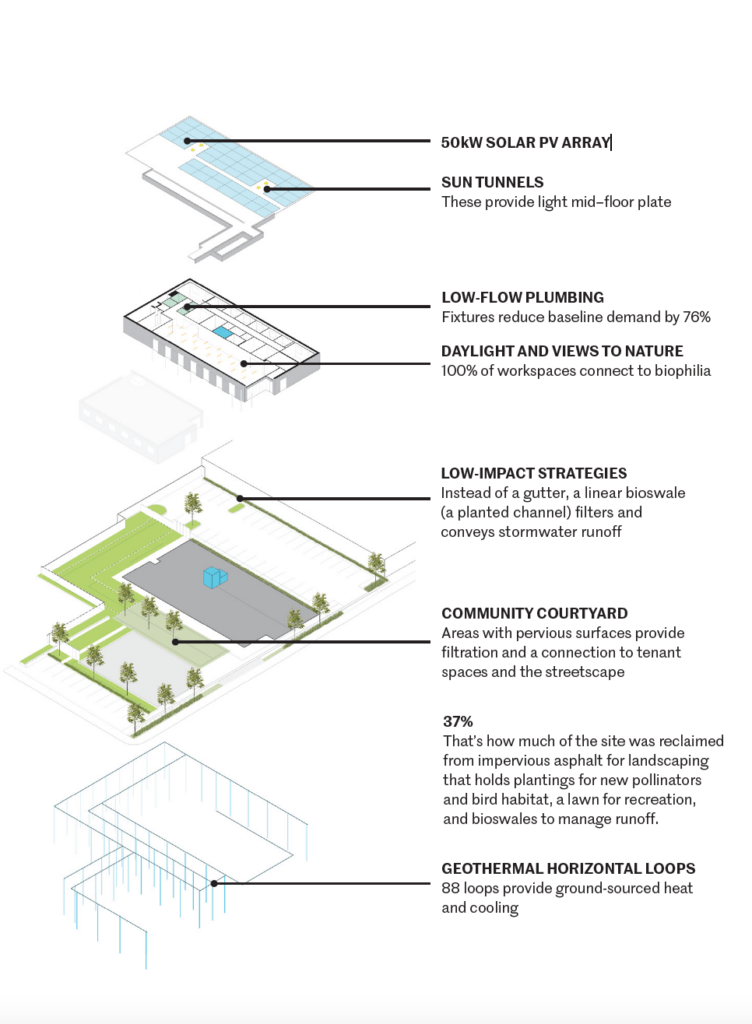 This isn't the first time Archimania has moved its own office to a neighborhood in order to lead the area's improvements by example. Its previous home, on South Main Street in downtown Memphis, opened in 1995, when the city's newly dubbed arts district was still "pretty barren," recalls founding partner Todd Walker. There, they helped design infill developments while working with retail groups to reoccupy vacant storefronts. The firm also collaborated with the Division of Planning and Development as well as the Downtown Memphis Commission to implement a more robust frontage that enhanced the street with native landscaping and lighting to improve walkability.
In the new location on South Cooper, "we started by asking, one, how do we make this a better urban place? And then how do we make it a better place for the environment?" he says. They're on track to earn LEED Platinum status through the Operations and Maintenance Path for existing buildings; it's also the world's first existing building to be dual-certified Zero Energy and Zero Carbon by the International Living Future Institute, by reusing as much of the existing structures as possible. The architects repurposed the building's concrete foundations, steel structural elements, slab terrazzo flooring, and exterior masonry, which reduced the project's embodied carbon footprint by 67 percent compared with baseline new construction. Then they beefed up insulation, added overhangs to southern exposures to reduce solar heat gain, and introduced more daylight to cut down on energy consumption.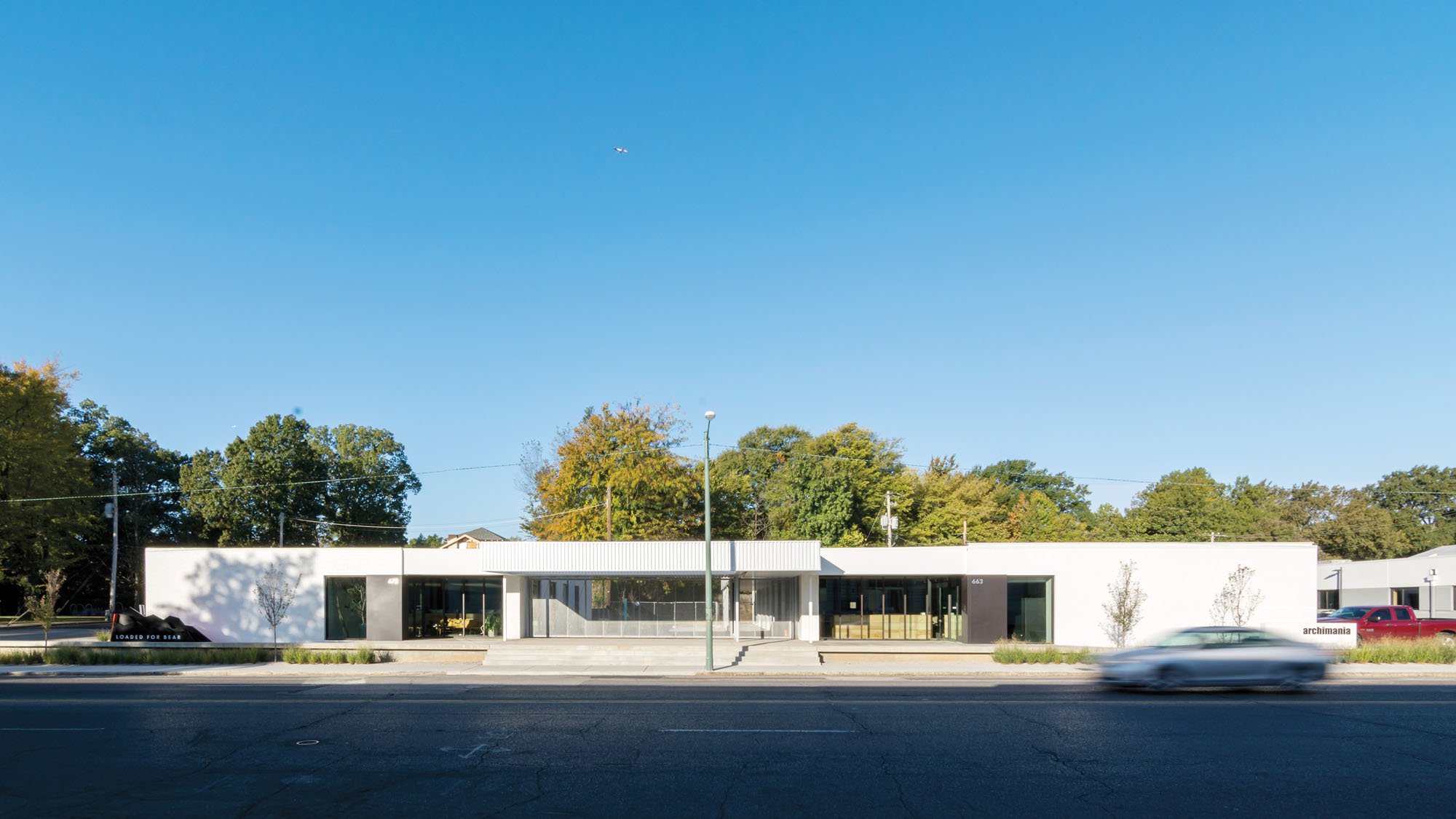 The designers employed these passive strategies on both their office and the neighboring smaller building, currently leased to an advertising agency. But while the Archimania office also got a geothermal HVAC system, a solar array, and a lighting system that responds to building occupancy, its neighbor has conventional systems. Withholding the most innovative systems from the second building allows the firm to use it as the "control" in its ongoing experiments with carbon-neutral design. "We talk to clients all the time about doing these things and they always ask us, 'Well, how does this compare? How is this better, not just for the environment, but for utility cost or up-front cost? What does it take to maintain a building with geothermal energy?' All these things. And so we said, 'Let's treat [our buildings] as a case study,' " Walker says.
---
More from Metropolis
---
Davis agrees that the side-by-side comparison helps sell clients on green building technology: "Instead of trying to explain it all with a high-level detail, you literally can say, 'Come to our office and let me show you.' " One of the most impressive things they can show clients is an estimated 9.7-year return on investment for the comprehensive energy saving strategies including geothermal and solar systems, part of which are supported by tax incentives.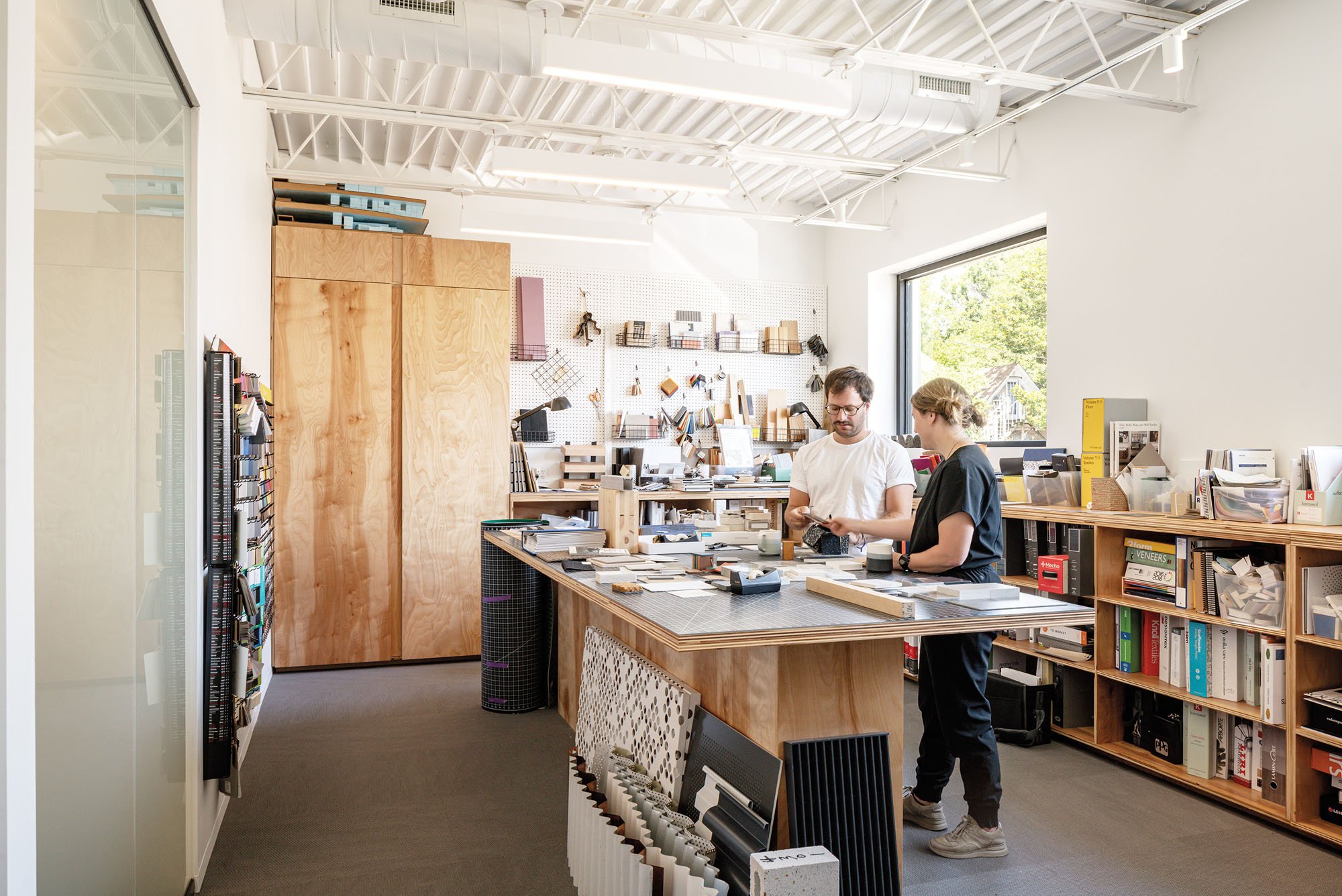 Outside of the building, they can point to changes they've made to reverse the impact of the neighborhood's car-centric history. "The site was 98 percent asphalt," recalls Davis. "There was a little landscape strip out front that had some overgrown hedges in it and everything was parking." To build connections to the adjacent residential neighborhood, to potential new businesses along South Cooper, and anticipate new modes of transportation along the corridor, they ripped up a quarter of the existing paving to plant gardens and create a community courtyard of crushed stone.
Making those physical connections to the rest of the neighborhood is crucial to the project's larger impact. Both Davis and Walker envision those plans and outdoor interventions as a test of what they've started calling "Carbon Neutral Corridors." In the future, they envision developing a multi-unit residential project on the same parcel to further make the case that carbon-neutral mixed use can happen in a low-rise neighborhood and activate the area around the clock. "If we can create this better urban place and this more walkable street, maybe we can attract other businesses and building owners to change their thinking about how they're using the building, how they activate the street, ultimately maybe they develop the older building stock to be better," explains Walker.
Of course, Archimania's sphere of control extends only to the property line, and to transform South Cooper into the kind of vibrant, walkable, bikeable, transit-oriented thoroughfare the designers have imagined, they'll need help from the city. But there are signs of progress: After the office opened, bike lanes appeared on South Cooper Street. "The opportunity there is not just to tear stuff down and come in with new construction and big apartment buildings. There's actually a way to maintain the identity of these communities and to further grow these communities in a healthy way," says Davis, who points out that in Memphis alone, there are probably 27 or 28 more miles of similar corridors that could be reimagined to improve walkability, connectivity, resilience, and sustainability.
On the subject of change, Walker takes the long view: "[The question is] How do we see this advancing over the next 40 years? It's really tough to look at this short-term, if you think you're going to accomplish a big-scale change."
Would you like to comment on this article? Send your thoughts to: [email protected]