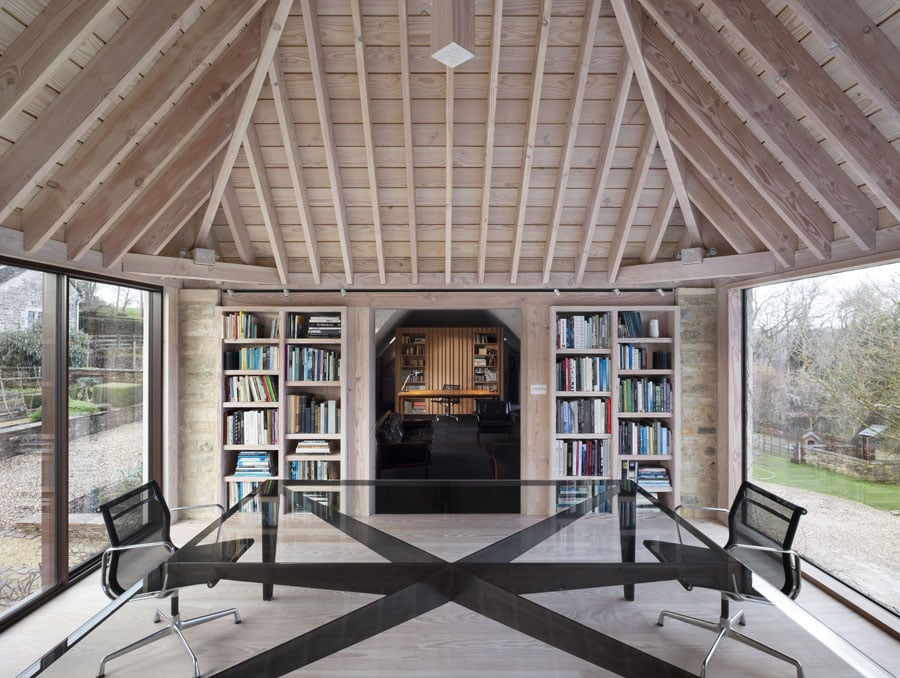 May 18, 2020
Architect Richard Parr Adapts a 19th Century Farm as a Sprawling Home Office
His UK-based firm has converted a cluster of agricultural outbuildings in the English countryside into a series of imaginative workspaces.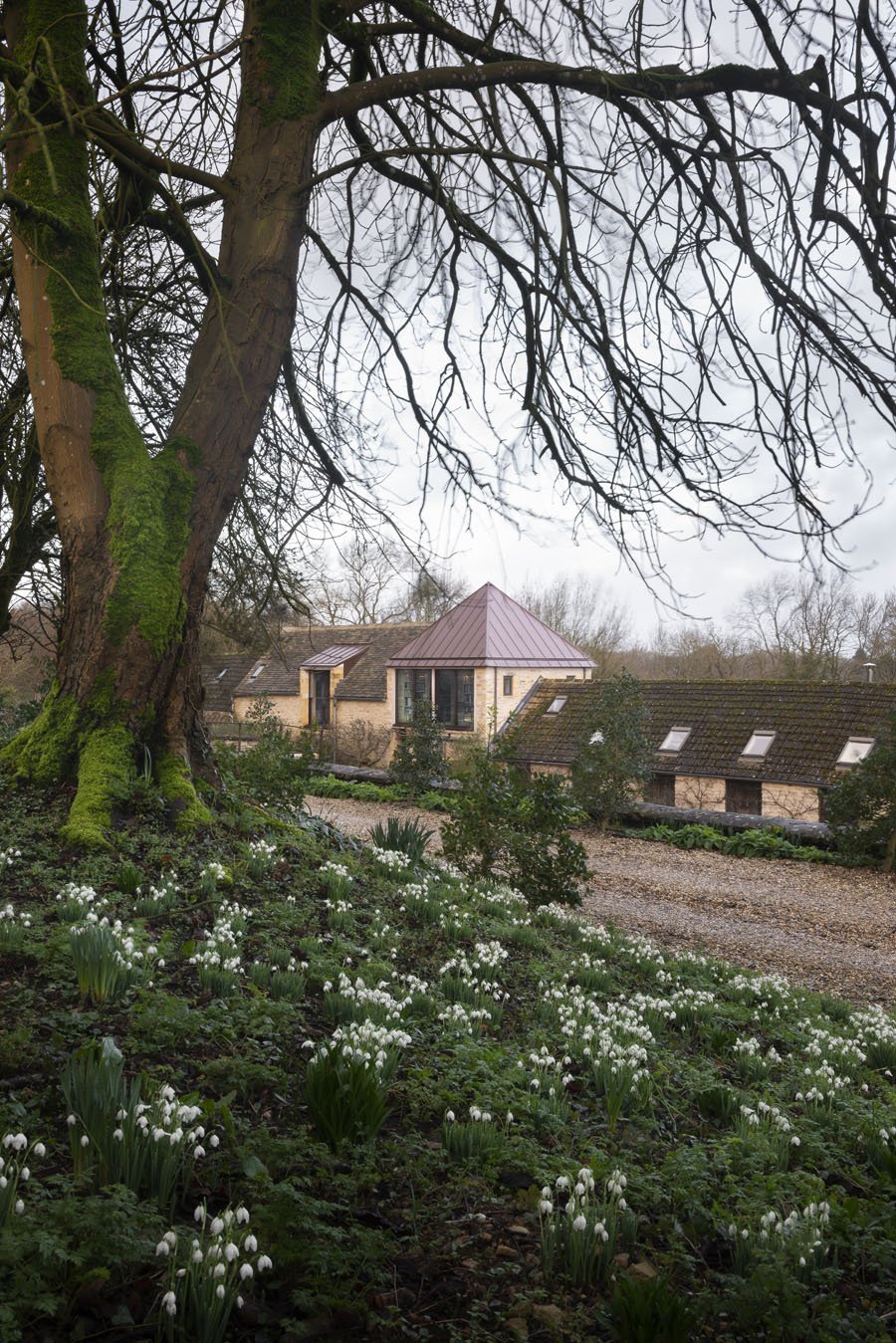 "I can definitely foresee a change in how offices are designed and planned in a post-COVID world," UK-based architect Richard Parr muses during a recent Zoom call. "Having a sea of tables is not going to work for the foreseeable future, so we need to find new and interesting ways to compartmentalize."
Parr is speaking, appropriately enough, from his own newly completed office, which was conceived and built before anyone could have predicted the current global situation, and yet seems designed for a world in which home and work intersect.
---
More from Metropolis
---
His practice, Richard Parr Associates, specializes in reimagining historically significant buildings through a contemporary lens. It's an approach the firm has now brought to its own studio spaces, located on a 19th-century farm, which also holds Parr's house, in the picturesque Cotswolds of southwest England.
Over the past decade, the site's historic agricultural barns have been gradually renovated for Parr and his team to use as a design hub. New projects are developed in elegant standalone workspaces that once served as the farm's hayloft, cow shed, dairy barn and a bull pen. The materiality and feel is different in each building, but they all reference the farm's industrial heritage, which is retained and celebrated in interesting ways.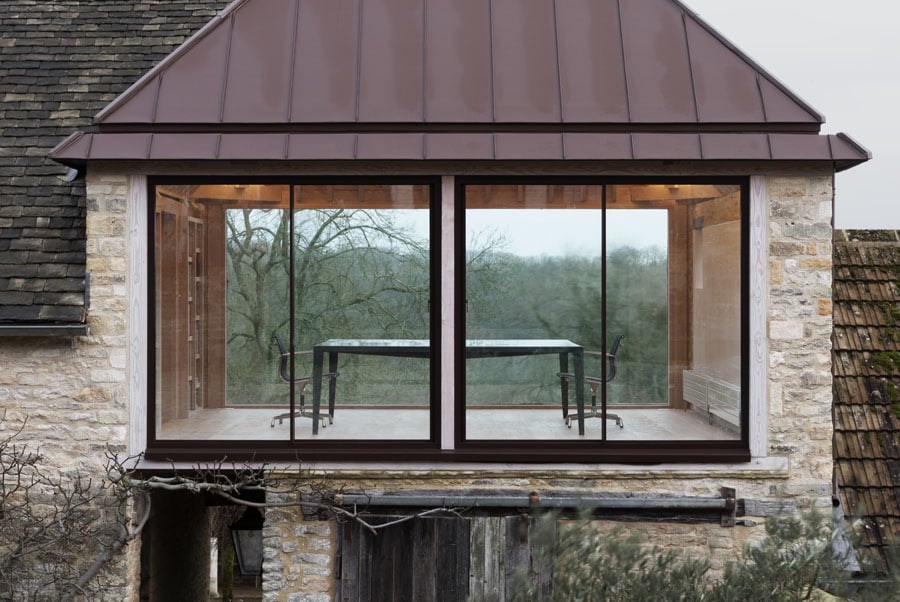 ---
Parr's own home and a kitchen garden are located south of the studio complex, allowing him to easily divide his time between work and family life. "I'm quite a disciplined person, so I'm not doing work at the kitchen table in my pajamas," he laughs. "But being able to switch between settings in a matter of seconds is something I've wanted to do for years and it's been particularly useful during the current situation where the boundaries between home and work have been turned upside down," he explains, before adding: "Within a few paces, I can completely change my mood."
The latest addition to the cluster of adapted workspaces is a new meeting and office area designed to support Parr's growing team and housed within a former grain loft that had fallen largely into disrepair.
The ground floor—once a cart bay—serves as a conference room for clients as well as informal breakout space, and features original rustic stone walls and stable-block flooring salvaged from one of the farm's other outbuilding. A steel staircase leads up to the first level library, where the floor is covered in recycled rubber under the ceiling clad in wood-wool panels.
Parr's personal studio sits at the far end in the space where grain was once dispatched into carts below. A custom-made glass table provides the centerpiece, while floor-to-ceiling windows provide striking views of the surrounding landscape and allow light to flood in. A new pyramid pitched roof structure made from sustainable limed Douglas fir adds space, creates visual distinction, and alludes to the historic dovecotes found in the region.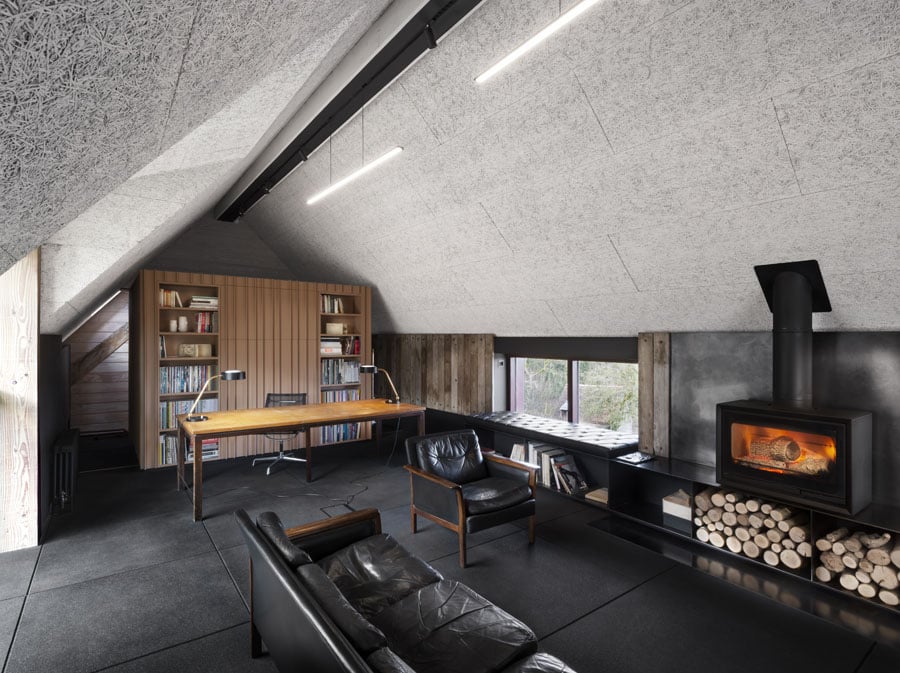 ---
Balance and contrast between what Parr describes as "traditional texture and contemporary sharpness" are evident throughout, as is a keen eye for interesting objects—including handmade wood panels by the late Berthold Lubetkin, which were rescued from a neighboring farm, and an Eero Saarinen table originally made for the Queen Elizabeth 2 Ocean Liner.
For Parr, a lightness of touch is what makes the project stand out. "Often when architects design their own house or office it becomes a collision of all the things they haven't managed to build, or of different ideas they have floating round," he says. "I enjoy the discipline of paring down."
However our homes and workspaces evolve in the years and decades to come, Parr believes his studio spaces will stand the test of time. "We're not trying to be current and trendy, with lots of glass links everywhere," he says. "[These workspaces] simply relate to the spaces and buildings around them.
"This site has been here for hundreds of years, and even as I speak, I am sitting five feet away from a Roman road. I see myself as a custodian, and my aim was to create a place that is rooted in the history of where it came from, but which can also be projected into the future."
You may also enjoy "An Architect's House Filled with Cosmic Energy and Historical References Rises in the South of England"
Would you like to comment on this article? Send your thoughts to: [email protected]