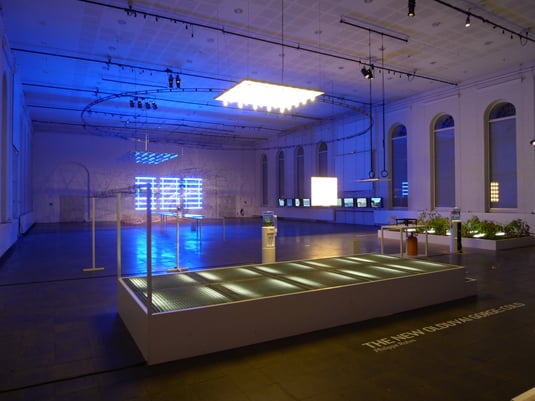 December 18, 2009
Exhibit Conveys Climate With Architecture for the Five Senses
The exhibition Climate and Architecture aims to relate architecture and sustainability to the larger context of climate.
Timed to coincide with the United Nations Climate Change Conference in Copenhagen this month, the exhibition Climate and Architecture aims to relate architecture and sustainability to the larger context of climate. This is a daunting task, and, fortunately, the exhibition takes a uniquely personal approach. Rather than presenting alarming statistics or a selection of green projects, it invites visitors inside to see, hear, and feel climate variations for themselves. The show asks, "Does architecture have the power to make you feel different? How does a building's interior 'climate' relate to our own bodies and to the world around us?"
The main artwork at Climate and Architecture is by the Swiss architect Philippe Rahm, best known for his Digestible Gulfstream installation at last year's Venice Biennale. That piece defined architectural space through the invisible parameters of hot and cool air, smell, taste, and sound. Here, his newest work, called New Olduvai Gorges, draws on similar themes. Visitors walk through the interactive installation encountering water coolers full of mint or chili water; speakers playing heartbeat-raising techno music; ultraviolet lights; the smell of simmering meat; and more. Each area of the installation is designed to produce a specific effect on the visitor, encouraging her to make connections between her inner "climate" and a series of varied external stimuli. It provocatively demonstrates that climate functions on multiple scales, from the human body to the outer environment of the sun and water.
The second main artwork on display is not quite so personal. A kinetic, room-sized sculpture by the Toronto-based architect Philip Beesley, Sargasso Cloud is a responsive environment conceived of as a living organism that resembles coral reef. Beesley, together with the local professor Mette Ramsgaard Thomsen, experiments with energy exchange through the use of natural vinegar batteries; and he tinkers with architectural responsiveness, using sensors to track and respond to visitor movements. The lightweight, vertically-layered installation both hangs from above, with a structure of acrylic mesh and dangling wispy feathers, and emerges from the ground in clusters of woven bamboo. Inspired by the Sargasso Sea—an oceanic phenomenon of a lake within an ocean—Beesley looks at how layers of living things survive within complex ecosystems.
---
More from Metropolis
---
Sargasso Cloud is not as easy to read as Rahm's more literal demonstrations of how we react to stimuli. But it suggests an alternative vision of digital design—one that is organic and even a little messy, rather than swoopy and self-consciously "digital looking." Like Rahm's piece, it should generate useful debate within and beyond the building industry. Just as important, both Rahm's and Beesley's works should foster a sense of optimism in those visitors used to seeing guilt-inducing statistics and zero-everything designs that ultimately make us feel poorer, not richer, for considering our impact on the natural world.
Climate and Architecture is on view at the Royal Academy of Fine Arts School of Architecture until December 20.