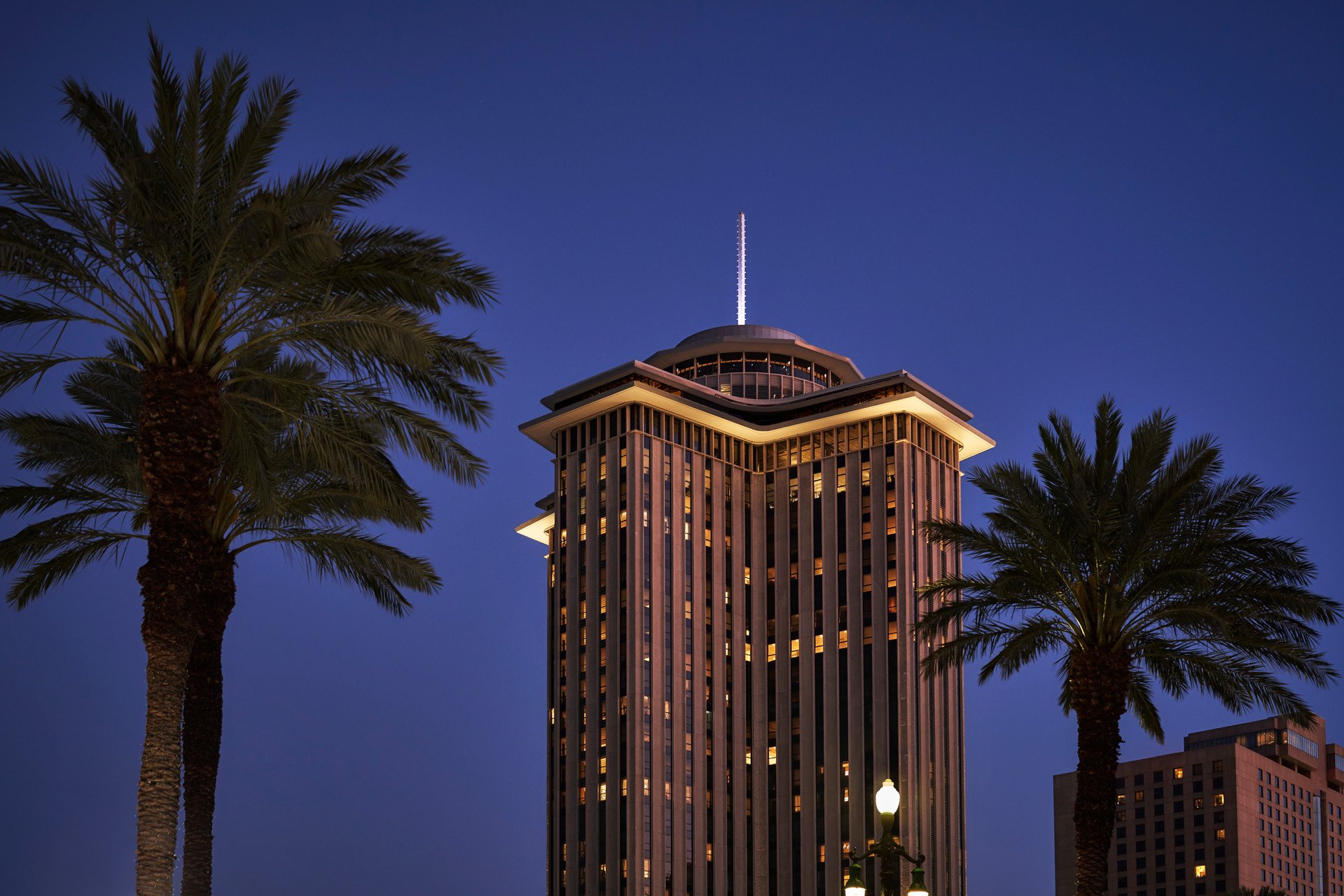 January 17, 2023
Are Residential Conversions the Future for Underused Office Towers?
Across the country, a new trend in real estate is emerging: Many of the iconic office towers that dot the skylines of cities from New York to San Francisco are going residential. A March 2022 report by the NAIOP Commercial Real Estate Development Association found that since 2010, 885 office buildings across the United States have been converted to multifamily residences. Leanne Lachman, a long-time real estate trends guru and executive in residence at Columbia Business School in New York, puts the underlying fundamentals bluntly: "It's a lack of demand for office and a continued demand for residential."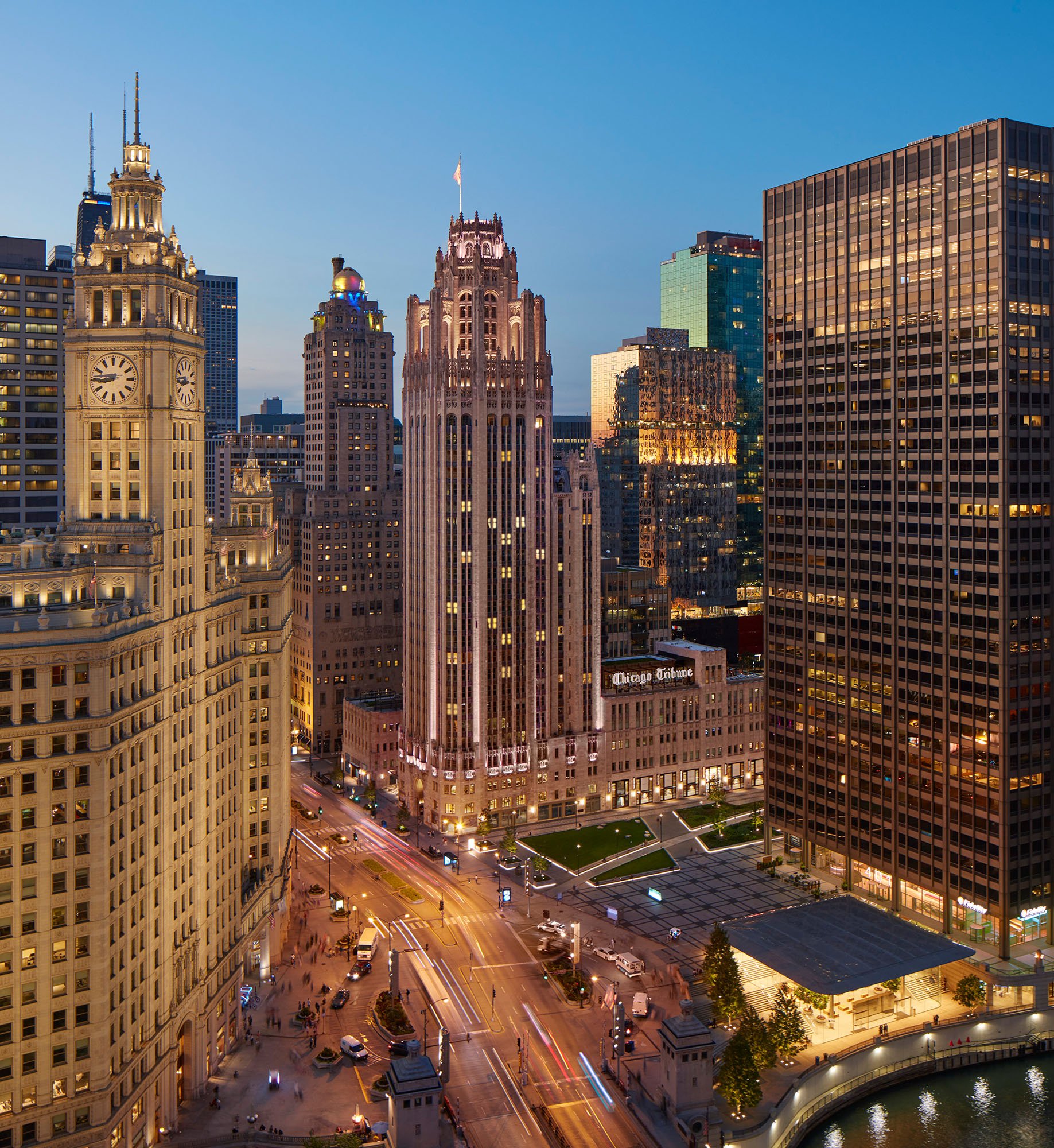 With COVID-19–induced remote work and layoffs projected in the high-tech and other industries, demand for office space has been projected to shrink between 20 and 30 percent over the next few years. Developers nationwide are stepping in to fill this void. Three examples of conversions in major cities point to a shifting outlook for some of America's most iconic real estate assets. In Chicago, the famed Chicago Tribune Tower, Raymond Hood's masterpiece, has been completely gutted and transformed into luxury housing. The former International Trade Mart in New Orleans, designed by Edward Durrell Stone in the 1960s, meanwhile, has been reimagined as a posh hotel and residences. 100 Van Ness, a 1970s skyscraper in San Francisco's financial district, on the other hand, was gutted and reskinned, transforming an unloved office tower into high-end apartments.
The Tribune Tower, at 435 North Michigan Avenue in Chicago, is a National Historic Landmark and the result of a famous architectural competition in the 1920s. Its conversion is joint venture between two real estate development companies: CIM Group and Golub & Company.
"You have to have a building with the right bones to convert it to residential," says Chris Pemberton, president and principal of SCB, an architecture firm based in Chicago. "In order to make the Tribune Tower work as residential, we had to completely gut it." The building, now occupied and almost fully sold out, has condominium prices ranging from the upper $900,000s for a small one bedroom to $7 million for a penthouse. "Because of its landmark status, we had to work closely with city and state officials to ensure it was done in keeping with the building's history."
A peek at the project's website shows that most of the beautiful gothic details and its signature flying buttress crown have been preserved. It has a staff of 40 and full-time doormen and concierges in the lobby, where many of the building's original details were also preserved.
---
More from Metropolis
---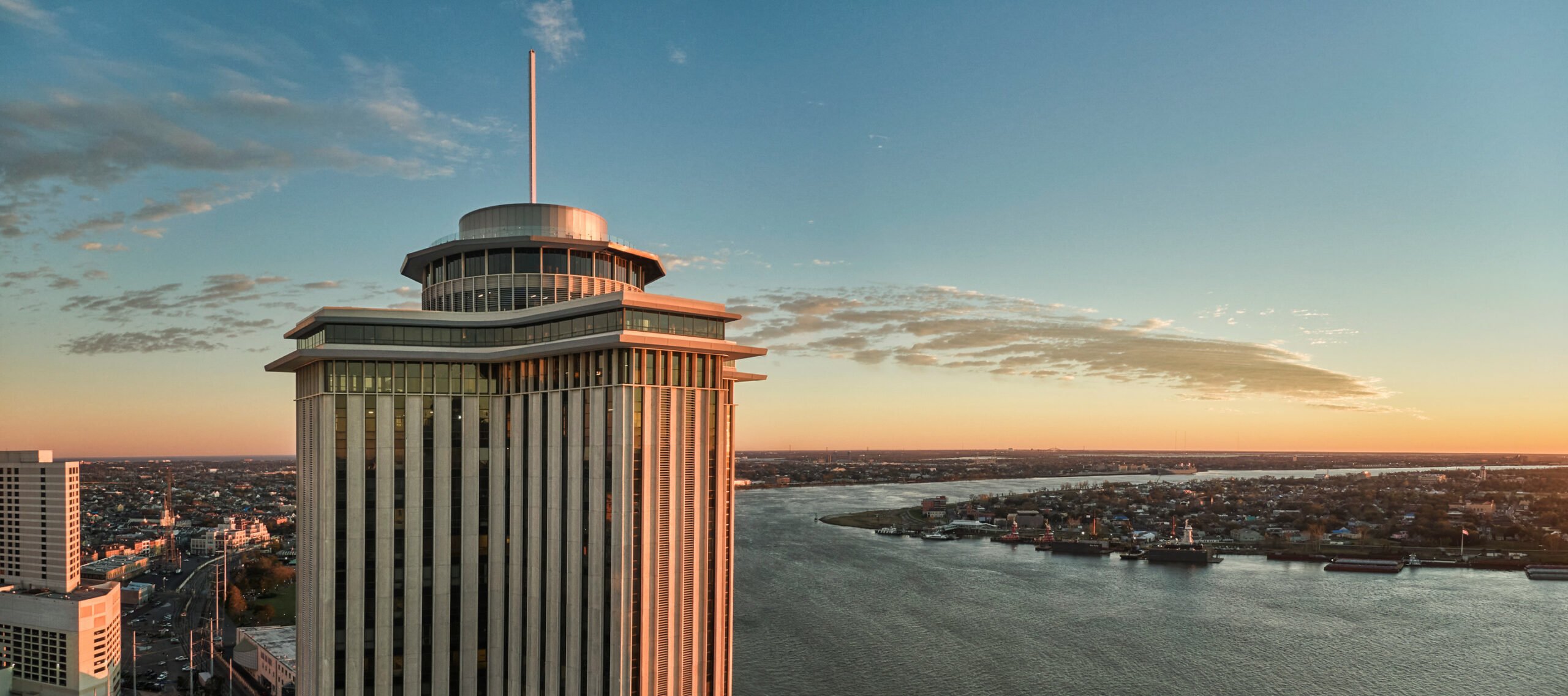 Down the Mississippi River in New Orleans, architect Stone's former International Trade Mart also had good bones for a hotel/residential conversion, says David Seerman, managing director of sales and marketing for the Four Seasons Private Residences New Orleans. Levels 1 through 18 are hotel rooms and 19 through 28 are luxury condominiums. Completed in 2021, the converted building's prices range from $2 million to $10 million for a penthouse. The developer was Carpenter & Company out of Cambridge, Massachusetts.
Seerman says buyers of the units fell into two main categories: wealthy New Orleanians who wanted to sell their large homes in the city's Garden District and St. Charles Avenue corridor and be downtown, convenient to the French Quarter and the city's waterfront; and pieds á terre for people with connections to New Orleans who want a residence in the Crescent City. The conversion's architect was Cambridge Seven of Cambridge, Massachusetts.
"At the foot of the Canal Street, it's adjacent to the front porch of New Orleans, its riverfront," says Seerman. He adds that in the wake of Hurricane Katrina in 2005, the building went dark and remained unoccupied for years. "People in the city really supported it being redeveloped," he says.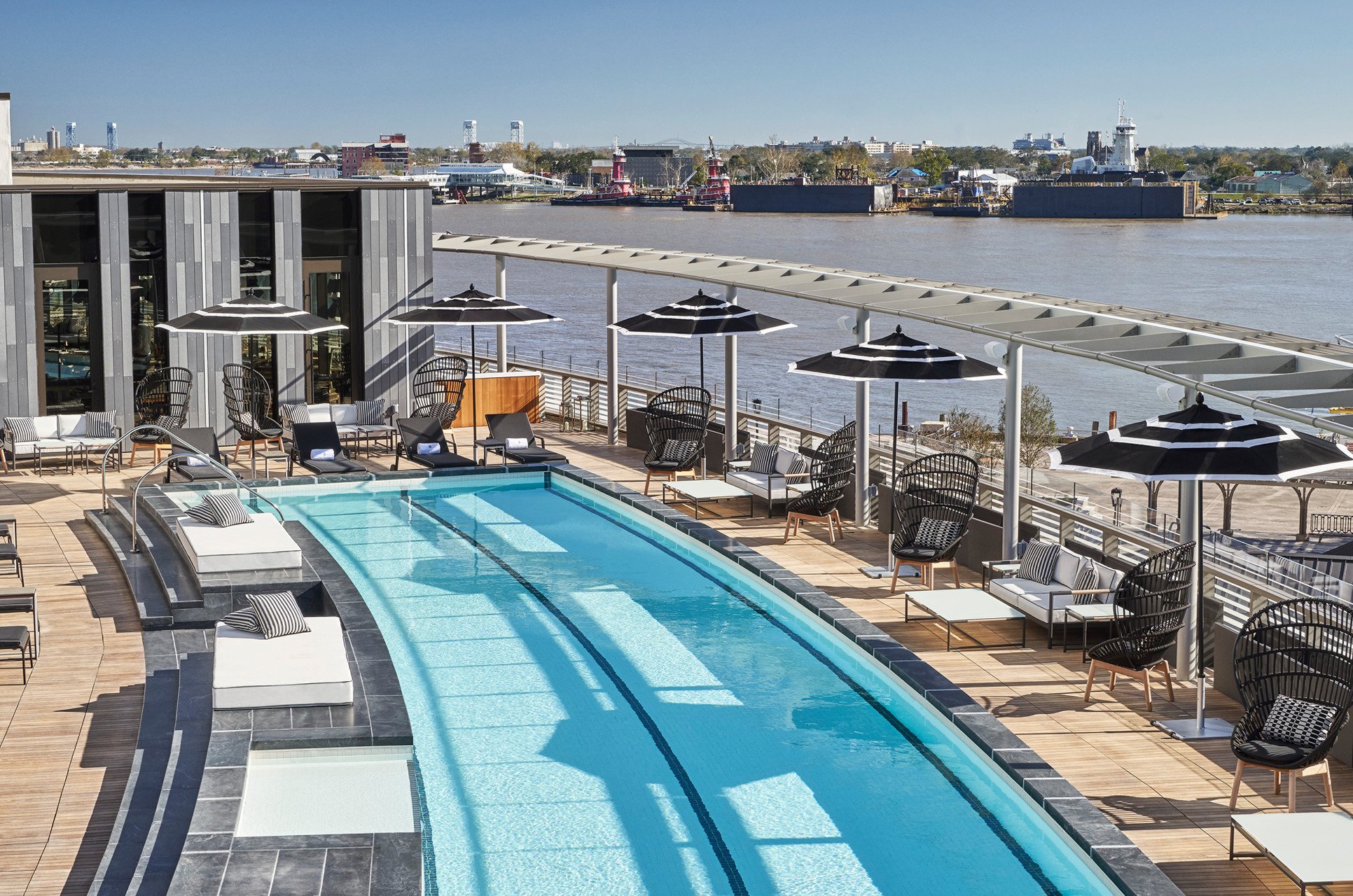 One Hundred Van Ness in San Francisco, completed in 1974 by architect Albert F. Roller, used to have a pre-cast concrete facade. Marc Babsin, president/principal of Emerald Fund, the project's redeveloper, hired SCB to completely reskin the office building and convert it into residential. Completed in 2015, the reskinning from pre-cast to floor-to-ceiling glass made it a better performing building environmentally, avers Strachan Forgan, executive director of SCB's San Francisco office.
"We really capitalized on the views," Forgan says, an important amenity for a building that charges luxury rents. A one bedroom there goes for $3,300 per month, Babsin says. Because of the large floor-to-floor configuration of the original building, Forgan adds, the units have ten-foot ceilings. "We knew we could command higher rents with floor to ceiling glass and excellent views," he adds.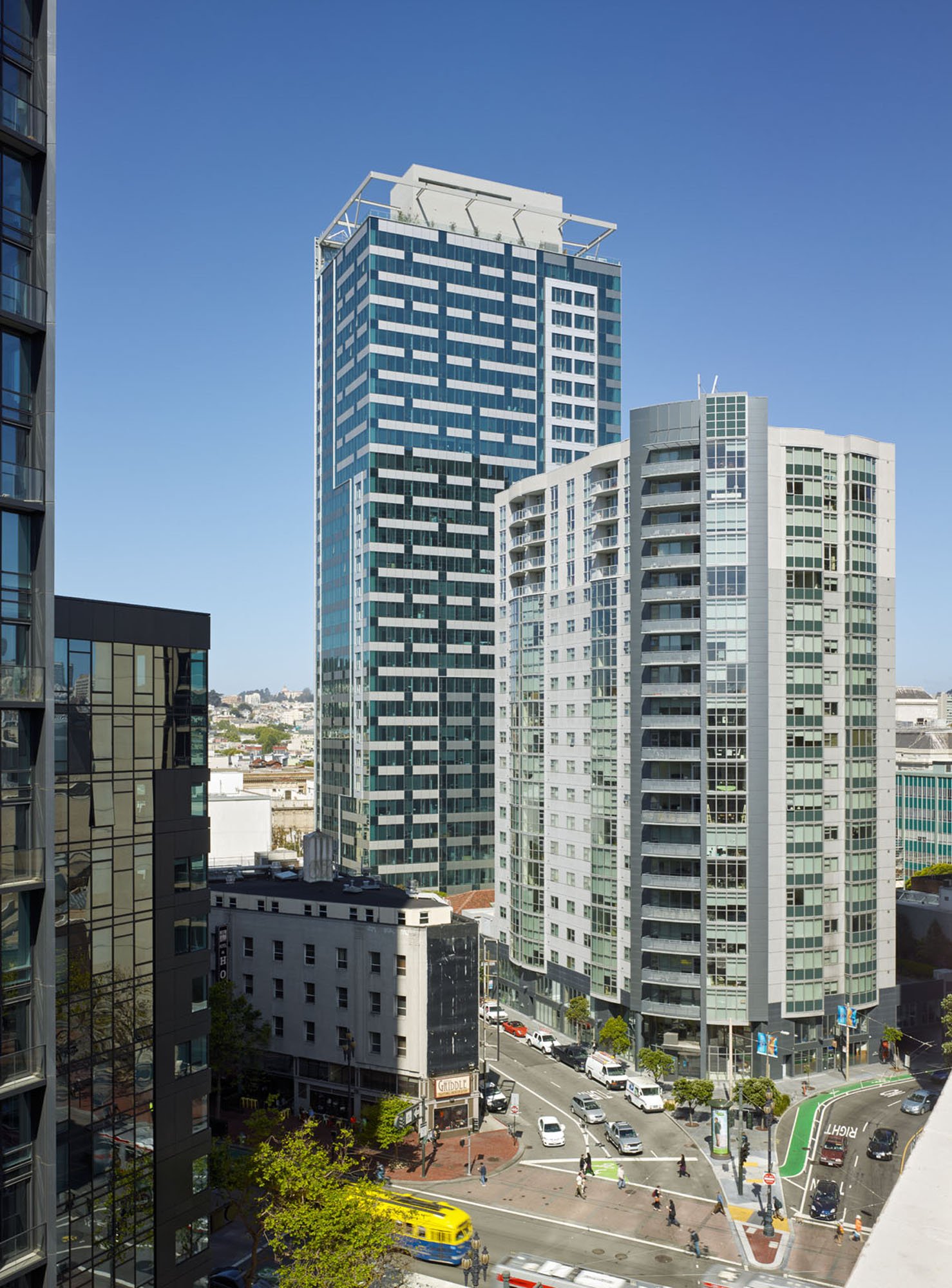 Columbia's Lachman points out that "gateway" cities like Boston, New York, and San Francisco have always been popular places to park money by investing in real estate and using them as pieds á terre. But she adds that for all of their high profile, luxury conversions are a relatively small part of the overall conversion pie. "Conversion is being targeted to affordable and market rate housing and not just luxury housing," she says.
Pre-World War II office buildings tend to have more character and are prime candidates for conversion. Developer Babsin says his company continues on the lookout for other possible conversions in San Francisco, but that it's a challenge.
"Office-to-residential conversion is the topic du jour right now in San Francisco," Babsin says. "The problem is that the numbers are just not working because construction costs in San Francisco are astronomically high. The rent/price numbers are just not there to make the project pencil out."
Nonetheless, he remains optimistic about the conversion format. "We keep looking for the right buildings to convert. I'm sure the trend will continue."
Would you like to comment on this article? Send your thoughts to: [email protected]