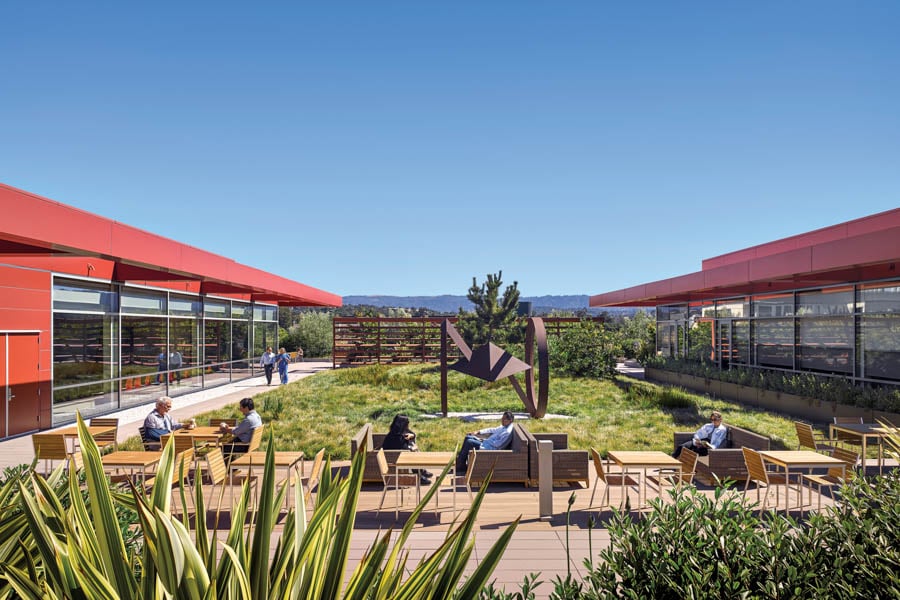 July 31, 2020
With Hotel-Like Amenities, the New Stanford Hospital Streamlines Patient Experience
Rafael Viñoly Architects in collaboration with Perkins Eastman built a hotel-like environment for patients and families, featuring four acres of gardens with outdoor lounge areas on the roof.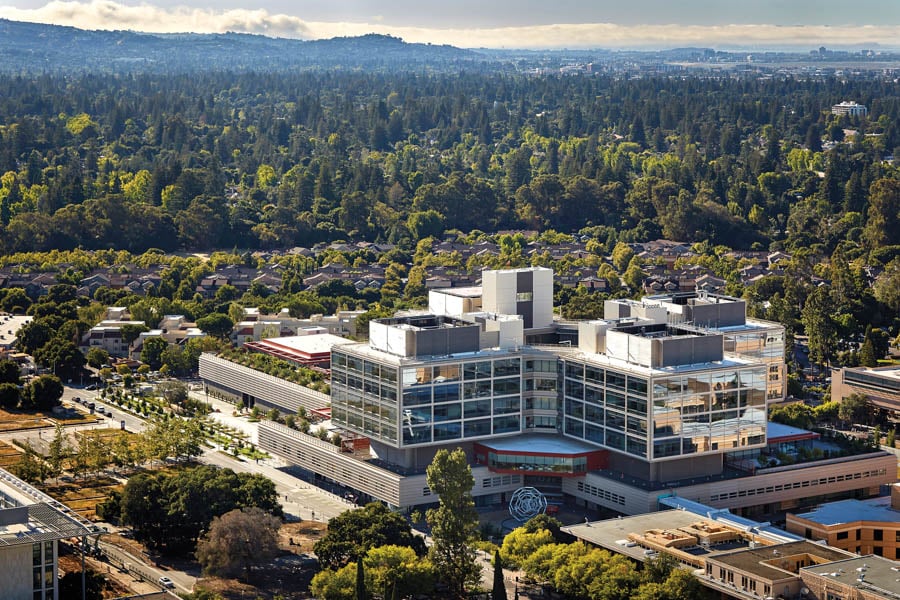 ---
The words "hospital" and "hotel" share the same etymological ancestor, the Latin term hospes, which refers to a stranger in need of shelter. In the massive new Stanford Hospital (built within a stone's throw of its formidable predecessor designed by Edward Durrell Stone in 1959), the two building types converge as well. The first two levels contain spaces for medical procedures, including the emergency department and diagnostic imaging on the ground floor and operations and other medical interventions arranged on the second.
Above this realm of doctors and nurses, Rafael Viñoly Architects in collaboration with Perkins Eastman built a hotel-like environment for patients and families, featuring four acres of gardens with outdoor lounge areas on the roof. Rising from this new elevated landscape are four low-rise volumes containing 368 private rooms where patients can recuperate surrounded by tree-lined views.
"The architecture incorporates the program and the interplay between the two worlds. Below, there is the machine for fixing you, and above is the machine where you fix yourself," says Viñoly partner Chan-Li Lin of the 820,000-square-foot, $2 billion project.
---
More from Metropolis
---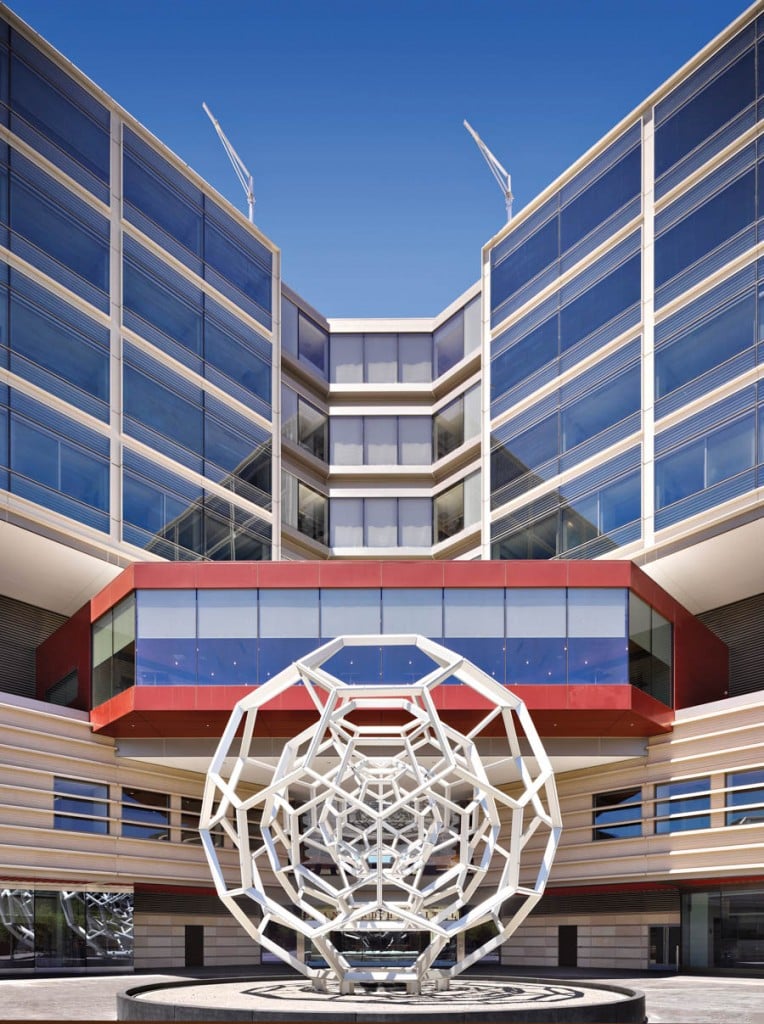 ---
In that departure from the typical medical building, the architects took inspiration from the main Stanford University campus, whose Richardsonian Romanesque core is a large courtyard designed by Frederick Law Olmsted. "Our experience with large hospitals is that you can become lost in a maze," says Lin. Breaking down this one into smaller elements made it easier to navigate and understand, he adds.
The building's checkerboard of open spaces is not the most space-efficient or cost-effective strategy, but it is in line with best practices that emphasize connectivity to nature for the benefit of patients.
In an oft-cited 1984 study, patients with a view of trees recovered faster than those looking at brick walls. Stanford's patient rooms feature 8-by-14-foot windows and incorporate an automatic shading system that tracks the sun's movement. Since the hospital opened in November 2019, patients have even expressed enthusiasm for how well their visitors are accommodated: Each room contains a sofa bed and dedicated space for guests.
---
Organizing the building into 14,000- square-foot modules also streamlined construction, as it enabled prefabrication of significant building components and made the volumes easily adaptable for future expansions. The approach even plays a role in reducing infection. "The modular planning of the intensive care and negative-pressure units isolated those workflows, so we can support COVID-19 [cases] without compromising the safety of other patients and staff," says Grace Hsu, director of design management for Stanford Health Care. In anticipation of a pandemic, the hospital garage was equipped with additional utilities so that it can be converted into a ward during an emergency. (It has not yet been pressed into service.)
The hospital is also innovative in the way medical research is conducted. Instead of siloing departments, various specialties are collocated, forming separate diagnostic (ground level) and interventional (second floor) pods. So rather than a single radiology department, for example, radiologists are available on each level. "It's much better for the patient, and the health outcomes are better," says Erich Burkhart, partner at Perkins Eastman, which was tapped for its deep health-care expertise.
And in a move apt for a teaching hospital, the nursing units include space for faculty and research coordinators, embedding them within patient care teams so they can observe individual progress. For the most hospitable institutions, it seems increasingly clear that personalized care is the future.