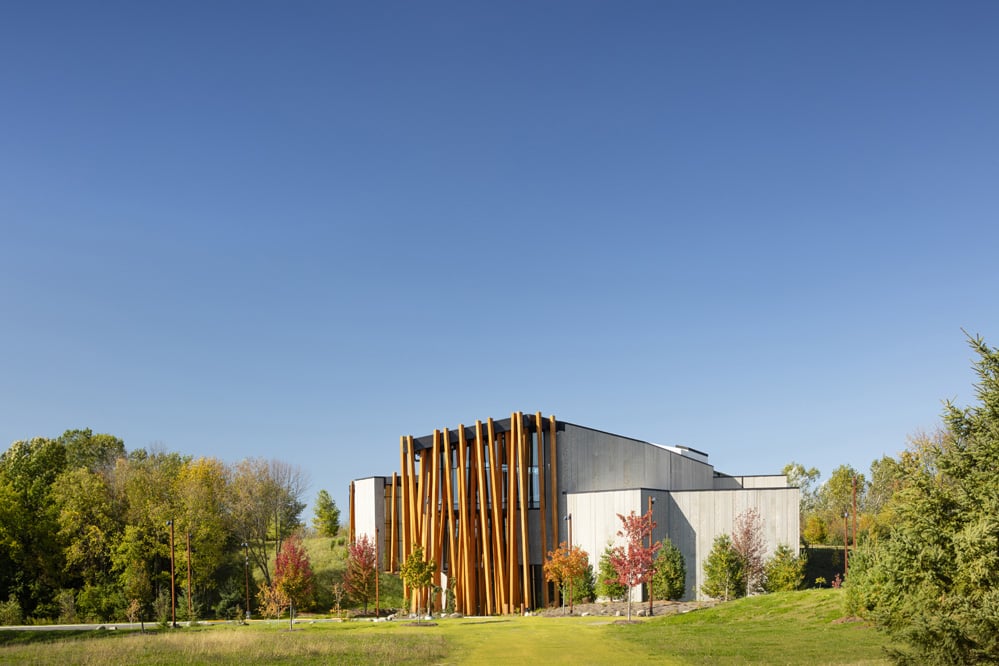 July 2, 2021
Site-Specific "Art Environments" Find a Home at Wisconsin's Art Preserve
To design the Art Preserve at the John Michael Kohler Arts Center in Sheboygan, artist-run firm Trés Birds explored its natural setting and offbeat art collection.
---
One day in 1983, Ruth DeYoung Kohler, of the famed plumbing manufacturing family, received an invitation to travel from the John Michael Kohler Arts Center in Sheboygan, Wisconsin, to a small town near Milwaukee. Kohler had made her way up from volunteer to director of the museum, named and founded by her grandfather in 1967; the invitation was from a booster of the artist Eugene Von Bruenchehein, who'd died in obscurity two weeks prior. When she saw the astonishing body of work he left behind—a gesamtkunstwerk of a house, every nook and cranny staged with chicken bone thrones and ceramic crowns fired in the parlor room, proto-psychedelic oil paintings of mushroom clouds and double-exposed pinup portraits of his wife, Marie, developed in the bathroom—she convinced the museum to buy some 6,000 works. The only question was: how to show them?
Almost four decades later, and just months after Kohler's own passing, the John Michael Kohler Arts Center has offered an answer: the three-story, 56,000-square-foot Art Preserve, which opened June 26th in Sheboygan. The institution is billed as the world's first museum devoted to "art environments" like Von Bruenchenhein's house and the live-work spaces created by other artists Kohler collected. More than 30 artists constitute the holdings, including Nek Chand, who in the 1950s and 60s planted thousands of sculptures of humans and animals fashioned from rubble and pottery shards across 25 acres of garden in Chandigarh, India. Dr. Charles Smith, another artist represented in the new art space, spent the latter part of the 20th century conceiving a visionary environment of painted-concrete sculptures he christened the African-American Heritage Museum and Black Veterans' Archive in Aurora Township, Illinois. Wisconsin's own Fred Smith, a retired farmer of Christmas trees and ginseng root filled his yard with hundreds of figurative sculptures assembled from concrete-clad wood and steel, shards of beer bottles, and local rock—and also fashioned a working bar from them.
---
As these works are the very definition of site-specific, the typical gallery form of white boxes couldn't adequately contain them. And so the Art Preserve brought in Denver's artist-run design firm Trés Birds to think through ways to build a space for these and other artists, who use space as media. "We had a lot of conversations around: How do you most effectively convey the original environment without becoming campy and goofy," says John Michael Kohler Art Center and Art Preserve director Sam Gappmayer.
---
More from Metropolis
---
To find out, Trés Birds principal and founder Michael M. Moore explored the building's own site, which emerges from a low hill surrounded by trees. Excavation unearthed river rocks not unlike those transformed by von Bruchenchenheim; in the new building, they feature as aggregate panels that alternate with concrete, also of ground local rock, which form about 80 percent of the building—not only floors and roof but circulation cores, all connected by a concrete masonry staircase. Triple glazing eliminates UV rays that could damage the more delicate works on paper, while allowing natural daylight to flood the galleries, library, and visible storage spaces. After the sun goes down, visitors active gallery lighting via motion sensors. A welcoming vertical assemblage of timber strips at the entrance, made by local artisans of Douglas and Hemlock fir, rise as high as 62 feet to create strips of both light and shade within the building, while also turning the Art Preserve into an artwork itself among the trees.
Tableaux inside recreate Chand's rolling landscapes in three-dimensional plateaus that riff on stadium seating for his statuary. A recreation of Fred Smith's bar offers refreshments, while local artists including Michelle Grabner, Beth Lipman, and the team of Joy Feasley and Paul Swenbeck turned washrooms into art environments inspired by flora, domestic labor, and aurora borealis.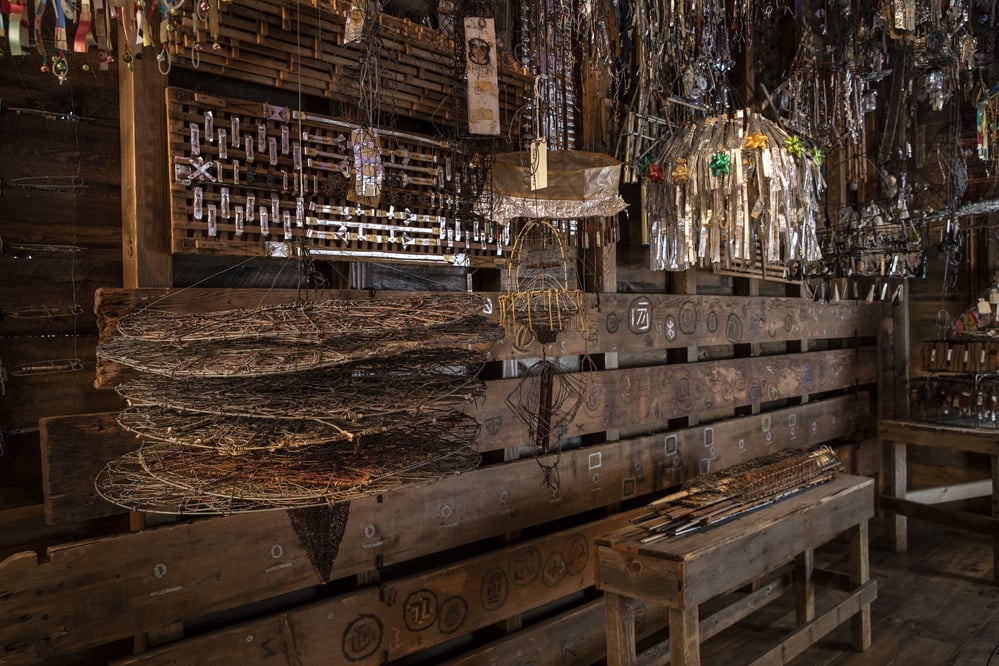 ---
"A quiet little corner, through an S-shape that removes you from a main space," Gappmayer explains, will be home to a restaging of the New York City loft—chockablock with feathers and vacation finds—in which Lenore Tawney developed her famed fiber-art practice. Another exhibit rebuilds Stella Waitzkin's apartment in the Chelsea Hotel, with its walls of leatherbound books she recast in resin. Full-size installations reconstruct the slatted barn housing of Nebraskan artist Emery Blagdon's "Healing Machine"—a kinetic assemblage of sheet metal and Christmas lights that channels metallic and mineral energy into wellness—and Mississippian Loy Bowlin's Beautiful Holy Jewel Home, a fantasia of rhinestones, tinsel, and glitter.
"It's just an incredible opportunity to experience the bulk of so many collections," Moore says. "You experience empathy and joy and sadness, and really have an experience by moving through these people's lives." And, it might be added, through the environments that were their lives' work.
You may also enjoy "The Baker Museum Receives a Climate Resilient Renovation by Weiss/Manfredi"
Would you like to comment on this article? Send your thoughts to: [email protected]