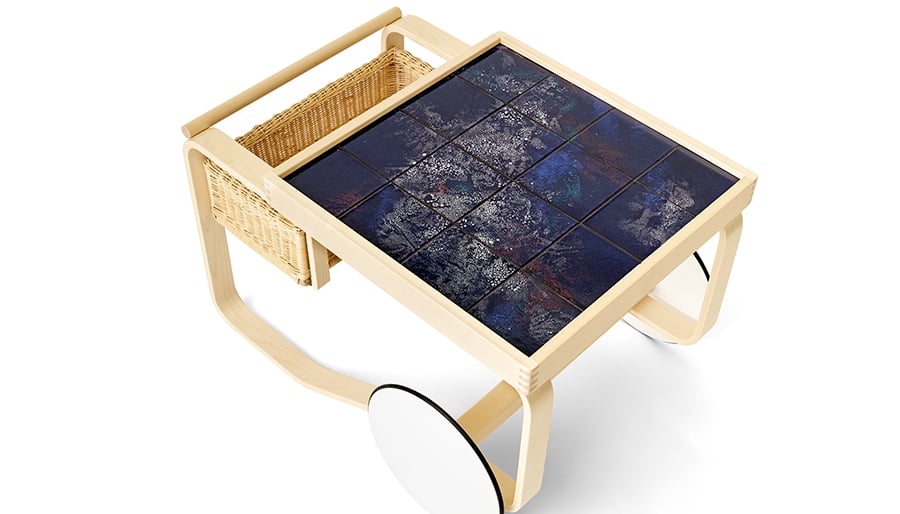 November 20, 2018
Artek and Heath Ceramics Launch Collaboration with Imaginative Installation by The Archers
The Vitra showroom display, which celebrates limited-edition Tea Trolley 900 and Stool 60 releases, portrays a fictional meeting between Alvar Aalto and Edith Heath.
---
With cigarette butts still smouldering in emptied scotch glasses, the table in the hotel's conference room appears to have been recently vacated. A chalkboard stands to one side, filled with freshly sketched ideas. Menus list three hearty courses of Finnish-American cuisine. The diners must be just around the next corner, socializing in the lounge. A closer look, however, reveals a memo titled "Artek + Heath," which tells us that this meeting between the iconic Finnish furniture maker and California based Heath Ceramics occurred quite some time ago, in 1963.
At least that's what The Archers, the Los Angeles–based interior design studio who assembled this sumptuous setting, would have you believe. But in fact, a dialogue between these iconic Modernist brands, both over 70 years old, never actually took place—until now. Housed within a Vitra (Artek's parent company) showroom in New York's meatpacking district, the installation, called "Take Five," marks the launch of a limited-edition Tea Trolley 900 and Stool 60. By imagining a scenario in which Artek's founder, famed Modernist architect Alvar Aalto, and Edith Heath, founder of the eponymous ceramics brand, had met and collaborated, a story of what could have been is brought to life.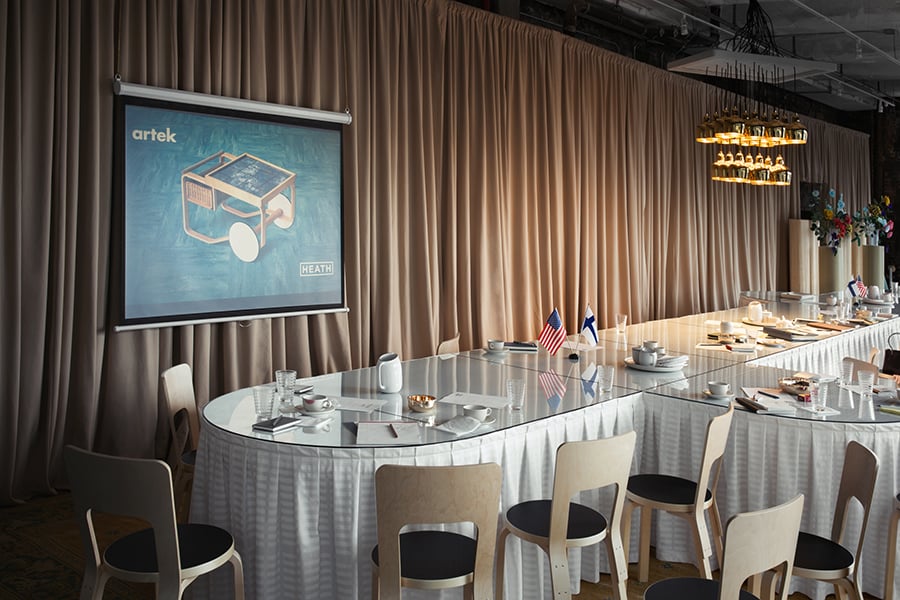 But this isn't the first time the two companies have been presented under the same roof. "In 1952 there was a Good Design show at MoMA in which both designers had pieces," says Marianne Goebl, Artek's managing director. Though Aalto and Heath never collaborated during their lifetimes, they shared affinities for expression through natural materials and for handcraft. At Vitra, the potential of this collaborative dialogue is now fully realized.
---
More from Metropolis
---
First released by Artek in 1937, Aalto's Trolley 900 remains one of the designer's most recognizable products. The functionalist bentwood design was inspired by British tea culture and the Japanese woodworking he so admired. Heath's reinterpretation recasts Aalto's single-tone ceramic top—traditionally black or white—with a rich collection of color and pattern inspired by exploration in the Heath clay studio and the company's archival designs. Each version is limited to a run of six pieces.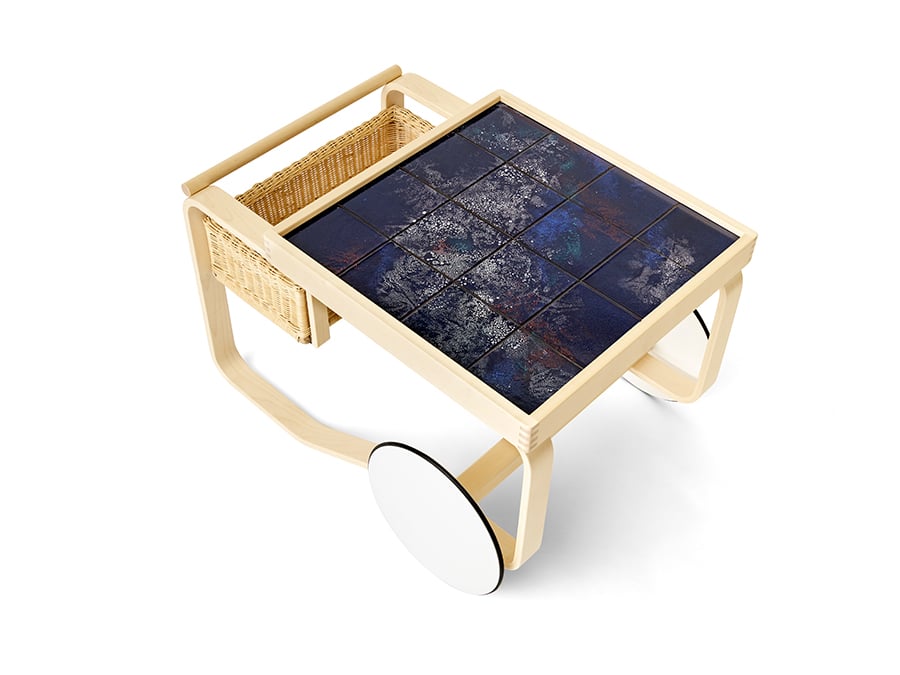 "From what we know about Edith [Heath]'s tough spirit, meeting Alvar Aalto would have excited her, and very likely, the reciprocal is true," says Tung Chiang, the director of Heath's clay studio. "Both were [influenced by] the Bauhaus movement, passionate about local materials, and became absolute experts in clay and wood, respectively—pioneering techniques that brought to life colorful, resourceful, and everlasting designs." Chiang and master glazer Winnie Crittenden experimented with techniques and glazes to produce the range of patterns, which vary from tree-ring–like circles to galaxies and constellations in the night sky. Manipulating the iron content in glazes, for example, yielded brilliant blues, some with a soft atmospheric effect; transferring glaze to clay using plastic sheets, or applying glaze while spinning the tiles, resulted in unusual textures.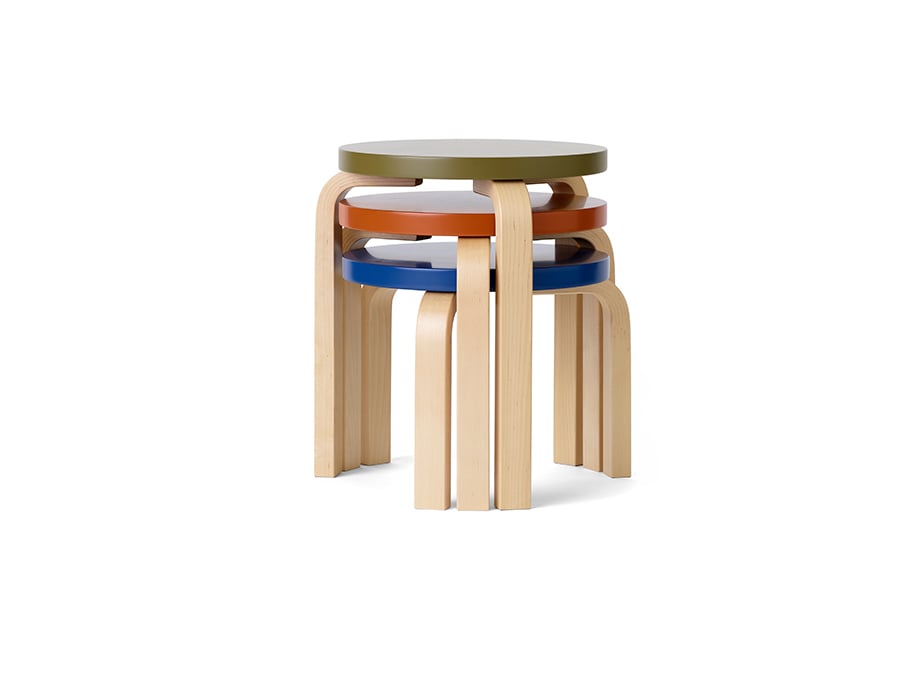 In addition to the tea trolleys, the collaboration produced a limited-edition version of the Artek Stool 60. "So in this case we thought, what if we took a little daring stab?" says Chiang of the new series. Artek and Heath shortened the stool's legs incrementally to create a trio of nesting stools, the seat tops painted in hues borrowed from Heath's classic dinnerware. Another bespoke version of the stool was given a silkscreen surface pattern based on one of the tile glazes developed for the tea trolley.
"Take Five" will be on display at Vitra's showroom on 100 Gansevoort Street until mid-December.
You may also enjoy "Fall Books Preview: 27 Top Picks from Metropolis Magazine."