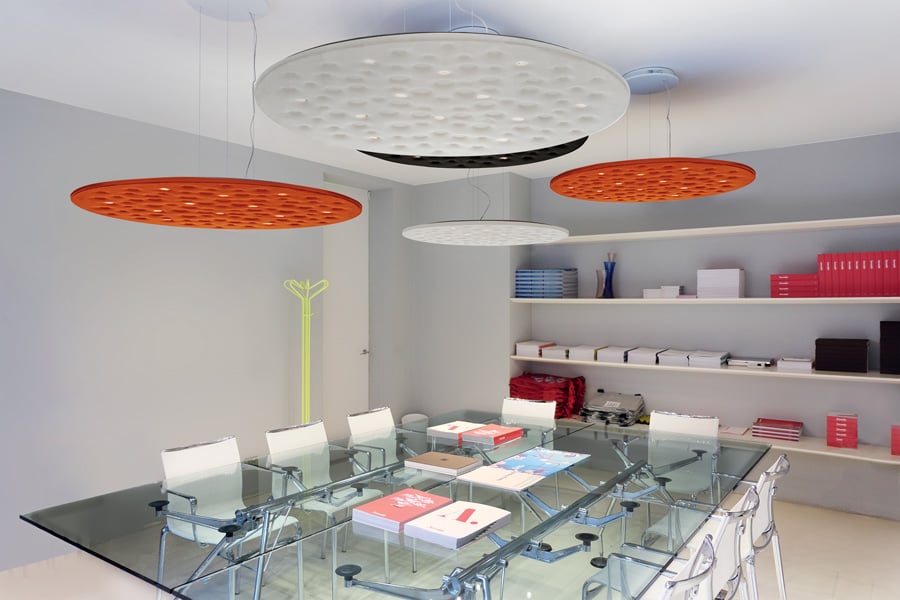 July 3, 2018
This New Acoustical Lighting Product Spruces Up the Workplace with Space Age Flair
Silent Field 2.0, a new item from Artemide North America designed by Carlotta de Bevilacqua and Laura Pessoni, aims to remedy the shortcomings of the open-office plan.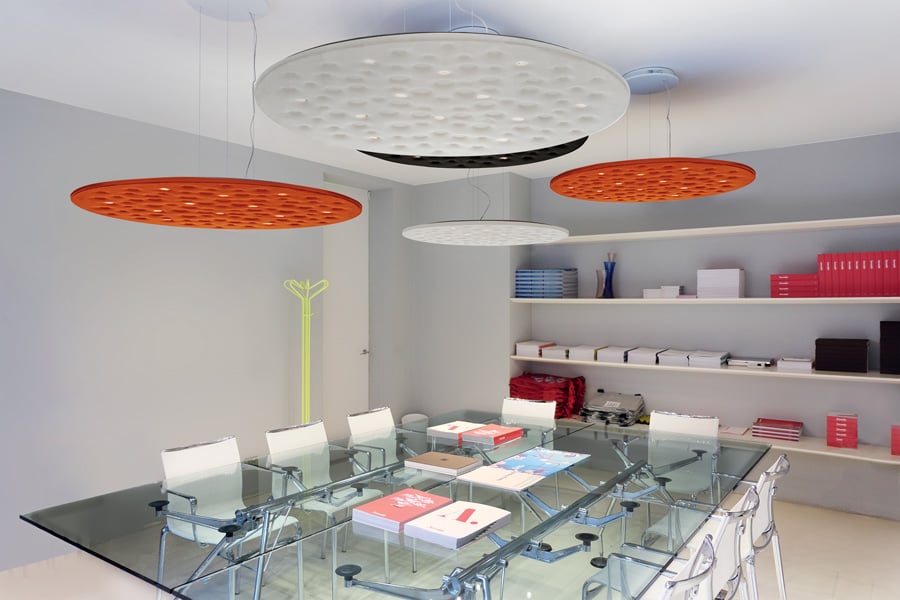 As designers strive for a more nuanced, comfort-based approach to lighting and acoustics in office design, it's inevitable that manufacturers see the opportunity to address both environmental factors simultaneously. Silent Field 2.0, a new product from Artemide North America, is designed to remedy the shortcomings of the open-plan office and address the need for user-controlled spotlighting, say designers Carlotta de Bevilacqua and Laura Pessoni.
The function and aesthetics of Silent Field 2.0 can help provide a unique work environment. The plush panel accepts pushpin lights and draws inspiration from the moon's surface; it's "characterized by several three-dimensional, hollow, craterlike shapes that capture sound," according to Bevilacqua and Pessoni, including the broad spectrum of the human voice. The sound- absorbing disk panel, which features 12 embedded LED spotlights, enables different perspectives of lighting: luminous, perceptive, and acoustic. While the specific positions of the spotlights themselves are fixed, a pivot allows users to adjust the direction of light by up to 30 degrees.
The designers hope Silent Field will have both a calming and stimulating effect: Their research and application of color principles of subtractive synthesis and contrast theory resulted in the panels' natural inspiration, rounded form, and striking color options—white, black, and orange. The lights' primary and secondary shades contribute to a dynamic, mood- enhancing element. Still, for the designers, it's the shape and random distribution of these craterlike hollows that will have a positive impact on the well-being of those using the space. Silent Field aims to create an acoustically bound and well-lit oasis in the midst of a cacophonous, collaborative workplace.
---
More from Metropolis
---
You might also like, "IDEO's Bold New Cambridge Office Uses Architecture to Join a Start-Up Community."