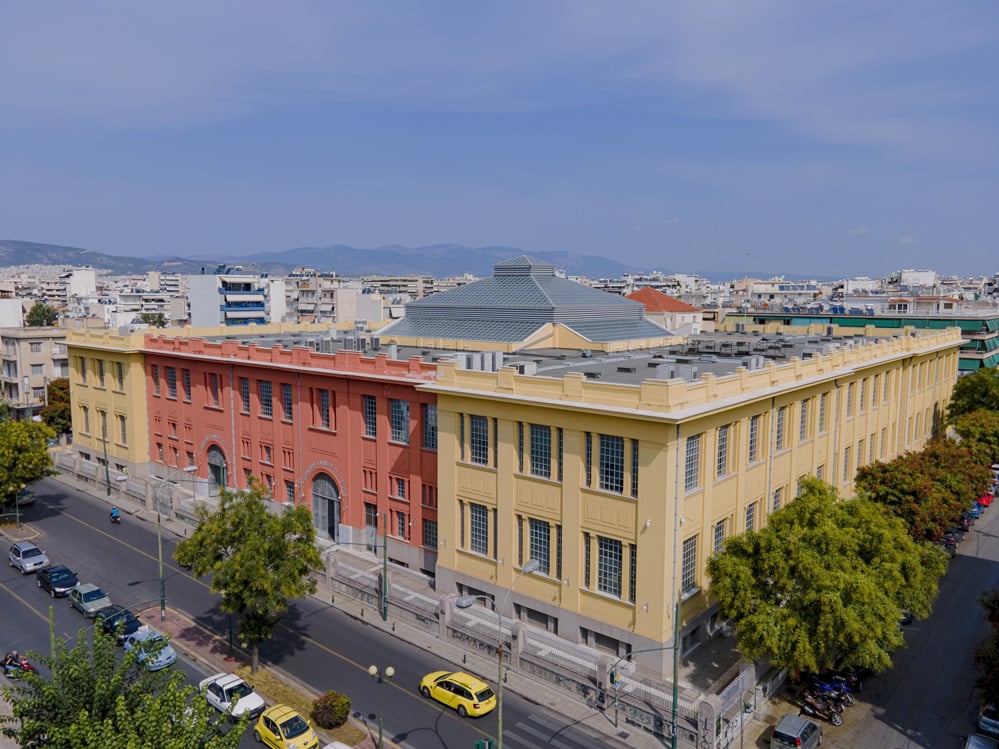 July 14, 2021
In Athens, a Former Tobacco Factory Is Revived for a Contemporary Art Show
Launched in celebration of 200 years of Greek independence, the exhibition and the renovation shed light on an uncertain future for architecture in Athens.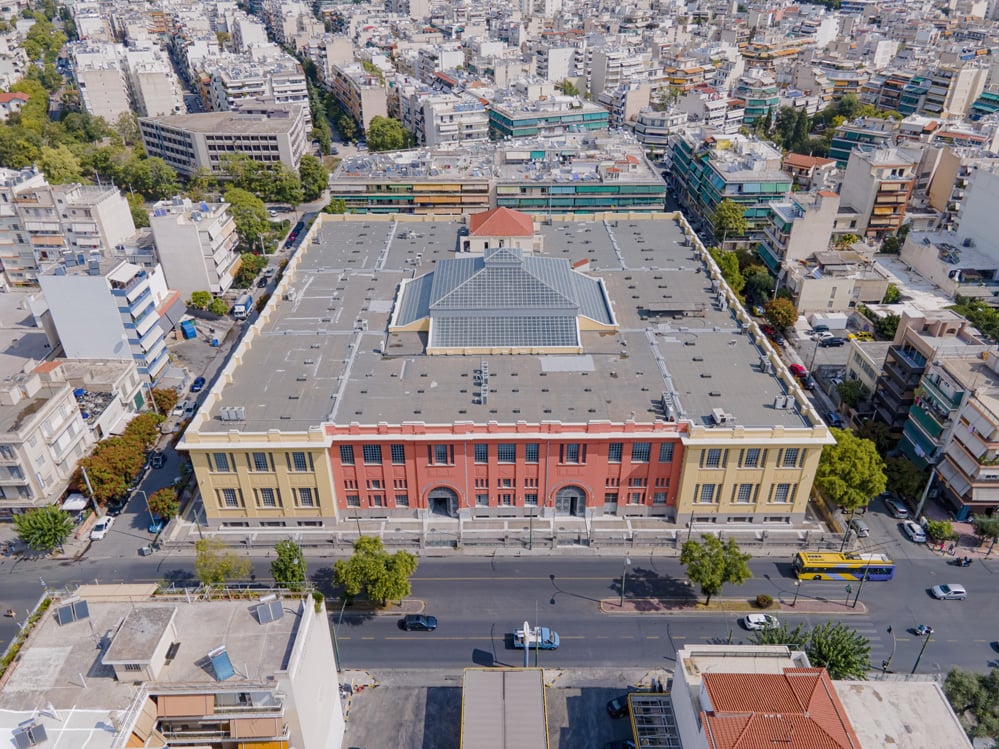 In the residential neighborhood of Colonus in northwest Athens, Greece, it's hard to miss the former Public Tobacco Factory, whose pastel pink and yellow tones on its rectilinear, Neoclassical facade resemble a slice of Battenberg cake. Constructed in 1930, the 19,000-square-meter building housed a range of tobacco industries, until the last cigarette was rolled by Sante in 1995. In 2000, the building was turned over to the Hellenic Parliament, hosting storage of the Parliament's library and publications department, while gradual renovations took place—most notably on the metal-framed glass roof that covers a 1,000-square-meter interior courtyard. Now, for the first time in the structure's history, this lofty and stunning space has been made accessible to the public as part of Portals, a new exhibition of contemporary art that opened in early June.
Portals brings together work from dozens of Greek and international artists—among them Steve McQueen, Ed Ruscha, and Do Ho Suh—in a show curated by Madeleine Grynsztejn of the MCA Chicago and Elina Kontouri, director of the Athens-based arts and culture organization NEON. Founded in 2013 by Dimitris Daskalopoulos, a Greek entrepreneur, NEON is a semi-nomadic institution, staging exhibitions and installations in spaces across Greece, from abandoned office spaces to the slopes of the Acropolis. In the case of the tobacco factory, NEON co-funded the latest phase of renovation alongside the Hellenic Parliament, a move Daskalopoulos calls a gift "to the city and its people," given Greece's celebration of 200 years of independence this year.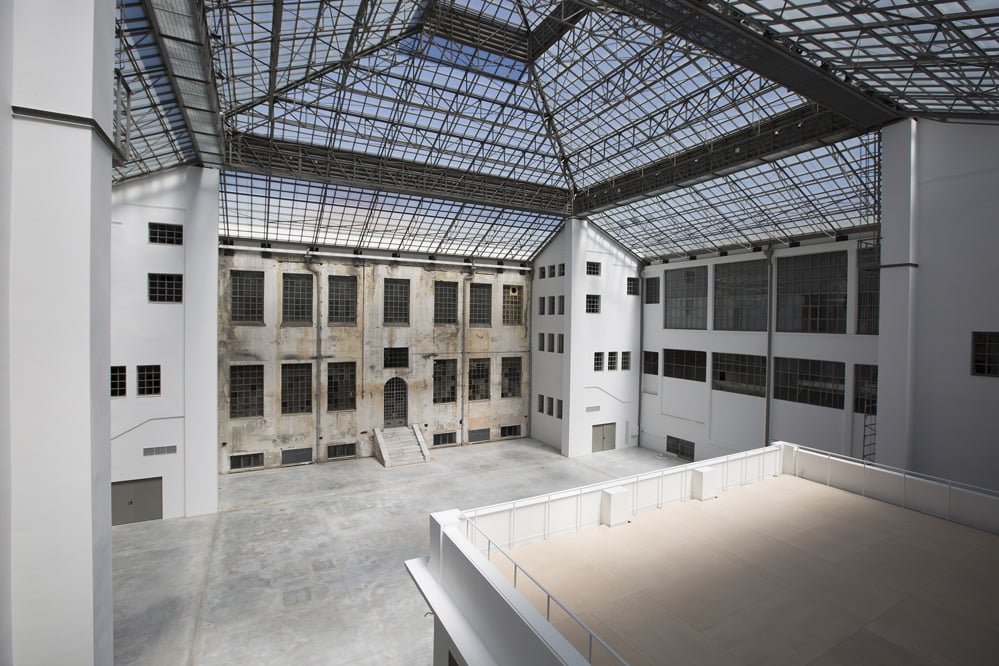 The exhibition also takes this independence anniversary as its curatorial starting point, as well as a quote from a Financial Times article by Arundhati Roy written in the early months of the COVID-19 pandemic: "The pandemic is a portal, a gateway between one world and the next." This framing seems a little forced, although according to a press release, both the exhibition and pandemic offer a chance to reflect on "issues related to collectivity, cultural understanding of history and politics, public space, and our common past, present and future."
---
More from Metropolis
---
Any hopes that this portal to a new world might be reflected in the ongoing renovation of the building are swiftly dashed. The latest stage in the rehab—led by NEON's in-house architect Fanis Kafantaris—touches on 6,500 square meters of the building, including the aforementioned atrium as well as some corridors, halls, bathrooms, and an entrance area. Subject to a broader masterplan for the complex developed by the Parliament's Technical Bureau, these changes are limited in scope and largely pragmatic in nature, with little room for flourish or the exploration of new architectural ideas. A new concrete floor has been inserted, window and doorframes have been repaired and some of the buildings services—plumbing, Wi-Fi, an accessible restroom—have been updated and installed.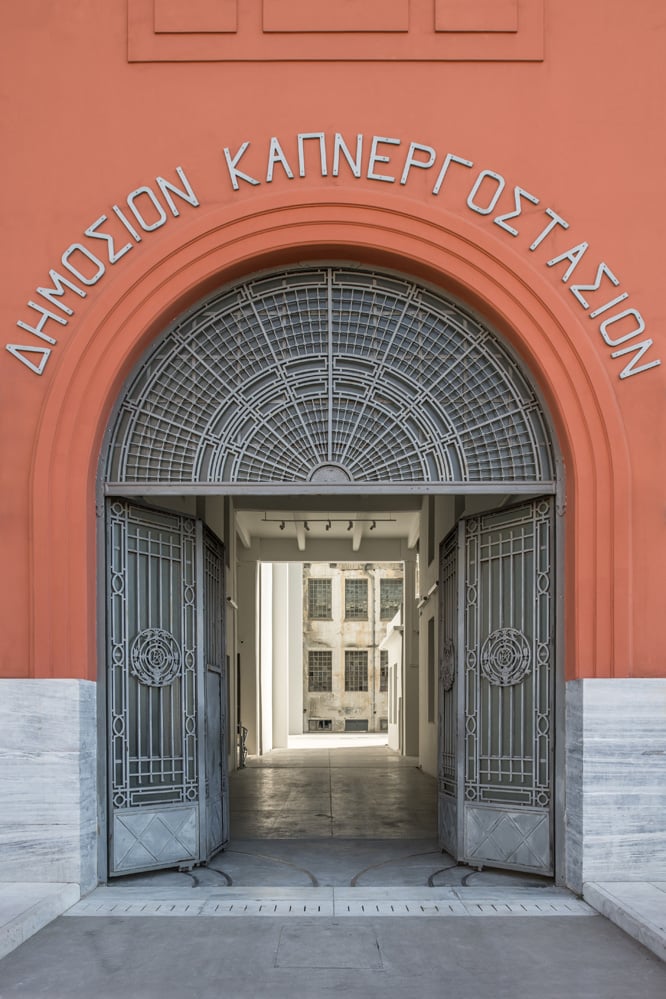 In one sense, this allows for the building's natural character to come through, although that light touch is inconsistently implemented: Of the two main gallery spaces—large identical halls—one has whitewashed walls while the other's rough concrete is left exposed. Additionally, both galleries have mezzanines which display several of the exhibition's works but are inaccessible to wheelchair users. Kafantaris explains this will be addressed as part of ongoing retrofit of the building, although for such a pragmatic renovation at such a public moment, it seems like an unfortunate oversight.
All this means the project comes with a prevailing sense of a missed opportunity. The partnership of a well-endowed private foundation and the Hellenic Parliament on a fascinating, history-laden site might have signaled an opportunity for one of the city's many talented young practices, who are otherwise scrabbling for commissions renovating apartments or building holiday homes. Instead, the result is loyal but dull, a portal into a deeply uncertain architectural future in Athens.
You may also enjoy "Wright & Wright Expands London's Museum of the Home, Set in a Historic Complex of Almshouses"
Would you like to comment on this article? Send your thoughts to: [email protected]
---
Register here for Metropolis's Think Tank Thursdays and hear what leading firms across North America are thinking and working on today.