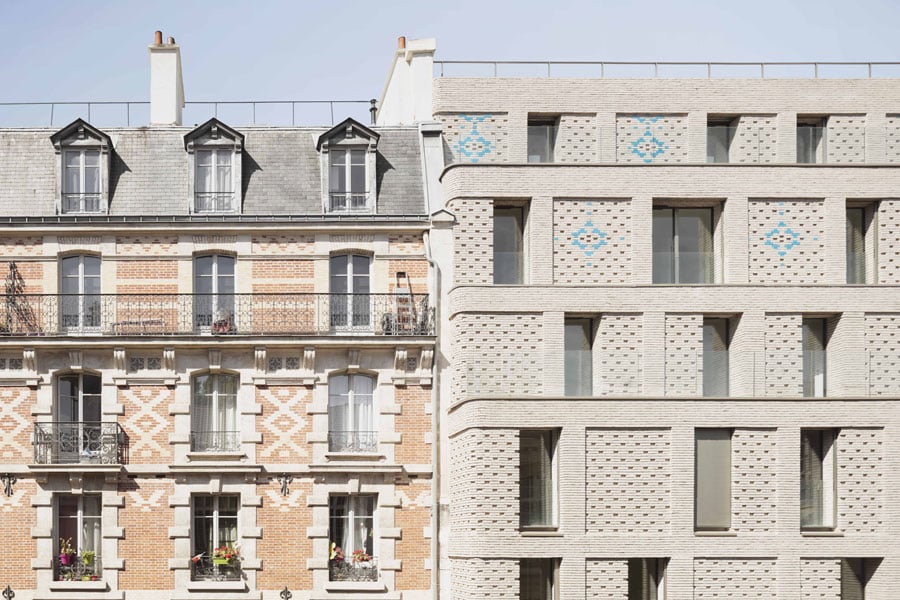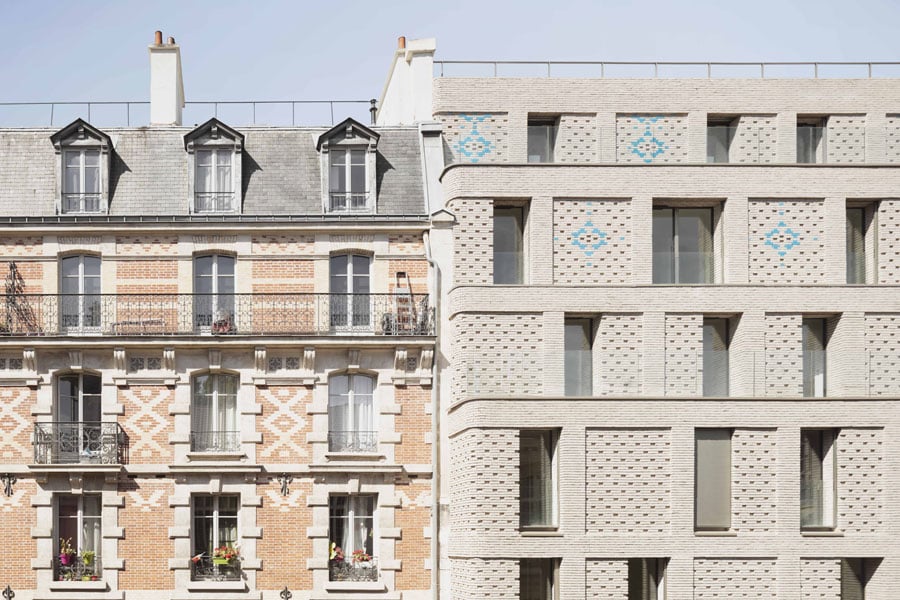 February 13, 2020
Quality Control: Avenier Cornejo Takes on Social Housing in Southeastern Paris
The sunlit 22-unit building features energy-harvesting mechanisms and a brick facade that echoes its 19th-century neighbors.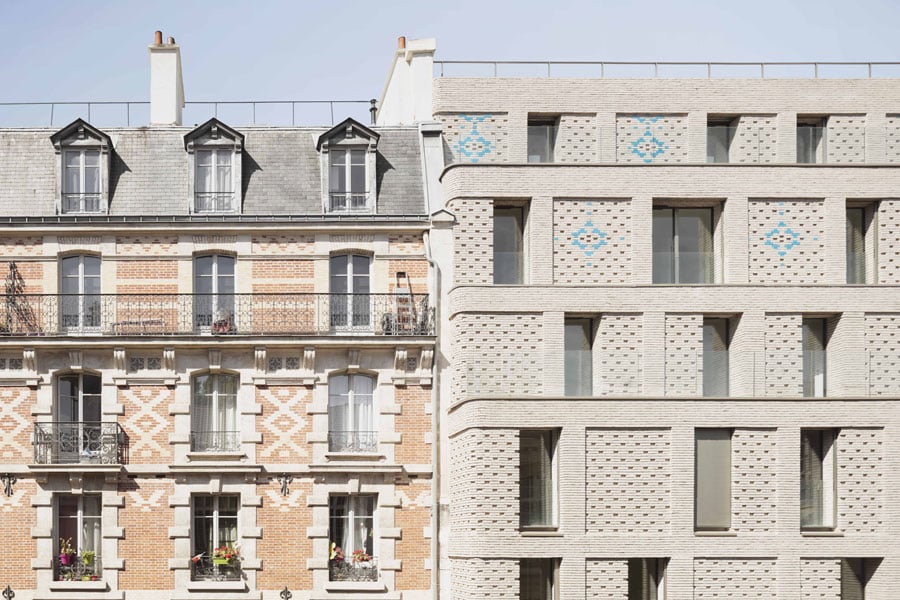 As pressure mounts on affordable housing in Paris, where market prices currently average €10,000 per square meter—approximately $1,021 per square foot—and private-sector rents have skyrocketed, the leftwing administration in power at City Hall has been busy investing in social dwellings. Just over 100,000 units have been built or co-opted since 2001, the social sector now counting for 22 percent of primary residences in the French capital, with a goal of 25 percent by 2025. Since space is at a premium in a city where population density averages 52,000 per square mile and skyscrapers are banned, operations are piecemeal, such as an apartment block of 22 dwellings that replaces an older, dilapidated building of just nine units on the rue de Charenton. But, in this age of climate crisis, it's not just quantity but also environmental quality that counts, which led local architects Avenier Cornejo to deploy all their ingenuity in making this operation durable, economical, and energy neutral.
Sited in southeastern Paris, just opposite the mairie (town hall) of the 12th arrondissement, the building stands in a classic late-19th-century residential context. Rising seven stories, like its party-wall neighbors, it occupies almost all of its lot, bar a chunk taken out of the southwest-facing rear to allow for a small courtyard garden and a greater amount of fenestration on the sunnier side. Apartment types range from one-room studios to a four-bedroom family home, with two retail units located on the ground floor. The bigger apartments occupy the lateral "wings," meaning they are double aspect and can therefore be naturally ventilated. Unusually for a modern French residential building, the staircase is naturally lit to cut down on artificial-lighting costs, while the elevator brakes are fitted with an energy-recuperation system. Domestic graywater is also recovered, while solar panels on the roof produce all the electricity needed to run the communal lights, ventilators, and pumps. As for heat, it is generated by a wood-pellet-burning boiler using timber-industry offcuts, which are delivered in such quantities that trucks come only twice a year.
Although the building offers excellent energy performance, its embedded-carbon figures are less impressive due to its realization in concrete; insulated externally, it is faced with aluminum panels at the rear and hand-molded bricks on the street. Built to last, however, using high-quality materials, it should amortize this heavy carbon outlay over time. Since fenestration is more abundant at the rear, metal cladding made it easier to incorporate the perforated aluminum shutters so essential for protection from the torrid summer sun, while the handsome street facade echoes the bricks of both the next-door neighbor and the mairie opposite, playing on bourgeois notions of civic display with its exquisitely detailed shadow jointing. The result is a characterful addition to the local streetscape, brought in at an extremely economical $228.65 per square foot.
---
More from Metropolis
---
You may also enjoy "A House in Cologne Packs Living, Work, and Gallery Space Into an Ultra-Skinny Lot."