August 9, 2019
In Banff, a Renovation Helps an Artists' Residences Complex Return to Nature
KPMB partner Marianne McKenna and her team thoroughly revamped Banff Centre for Arts and Creativity's Lloyd Hall, helping the aging concrete building integrate into its breathtaking surroundings.
Women are indispensable members of the design community, yet their contributions are still often taken for granted. This week on Metropolismag.com, we highlight women who are doing innovative and probing work in the fields of architecture, design, and urban planning.
There is absolutely no mistaking the main attraction in Banff, Canada. The snow-capped Rocky Mountain peaks like Mounts Rundle and Cascade surround the tiny historic town, while serene forest trails connect visitors with more than 2,500 square miles of lush nature. "Jaw-dropping" may be a travel guide cliché, but here it's the norm—and it explains why four million people visit the national park each year.
So when Toronto-based KPMB Architects was tasked with renovating Lloyd Hall, a 213-room residence at the renowned Banff Centre for Arts and Creativity, they knew exactly what they wanted to do: harmonize the 1970s concrete building with its breathtaking surroundings.
---
More from Metropolis
---
Drawing many of Canada's leading authors, visual artists, filmmakers, musicians, and other creators, the Banff Centre provides a hub for artists to attend workshops and produce new work as part of artistic residencies; it also offers a host of leadership programs and is a favorite destination for professional conferences.
Echoing the rich bark of the surrounding pine, spruce, and fir trees, KPMB opted to paint the Modernist concrete building black and clad it with vertical cedar fins that blend with the towering trees. Large, operable black-frame windows continue Lloyd Hall's understated, contextual look, while maximizing views and fresh mountain air.
"We were convinced that we had to make it part of that mountain feeling," says KPMB partner Marianne McKenna. "And when you look from anywhere around the campus it has kind of receded into the landscape and the darkness of the trees."
The Banff Centre considered an upscale interior, one that was more in line with the neighboring Fairmont Banff Springs Hotel, but the KPMB team convinced them that warmth and modern simplicity would better suit the building's primary purpose: to house artists escaping the urban din and focusing their creativity.
In each guest room, the designers rotated the bed so visitors face the mountain vistas—"If you look at Instagram everybody takes pictures of their feet in the landscape," notes McKenna—while the wood headboard doubles as a desk with a view. White-oak paneling on the walls and ceiling are nods to the forest stands outside, while eco-friendly carpeting and furnishings by Canadian retailer EQ3 deliver simple style. And in place of hotel-like bedspreads, the design team opted for custom red and white wool blankets, which are available for purchase.
KPMB also adorned guest rooms and corridors with original artworks by artists who stayed there. "They said, 'We have a huge amount of art in storage, and we said, 'Bring it up,'" recalls McKenna. "So you're actually getting to 'authentic.' And that was our objective, to do something authentically Banff Centre—not a Marriott, not a Holiday Inn, not a Journeyman Inn."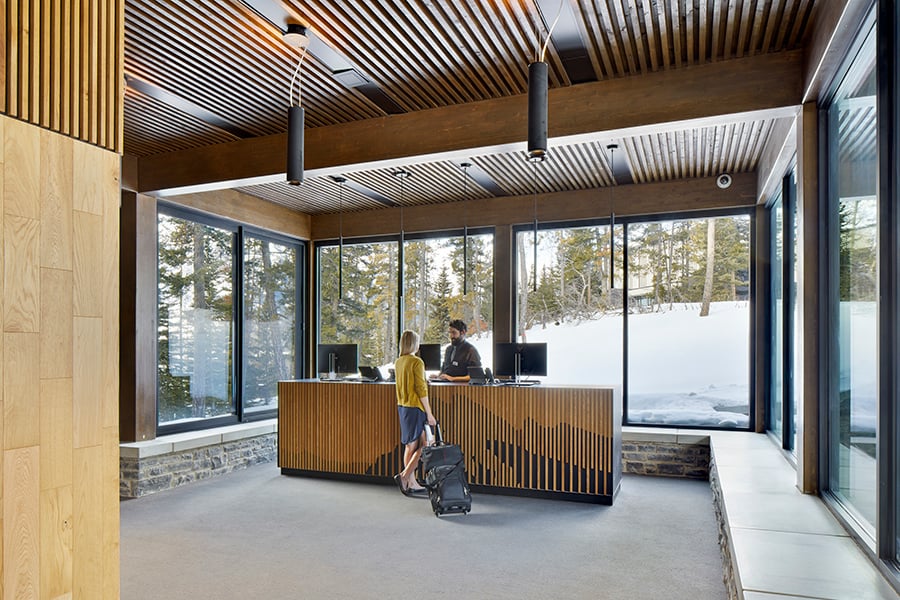 Wood-lined corridors link disparate buildings within the campus, while several rooms were converted into an Entry Pavilion where people can get directions, grab a coffee, or chat with fellow visitors (Lloyd Hall never had a proper reception area).
The building was originally constructed in three phases between 1965 and 1970, and, before the renovation, used distinct electrical and plumbing systems; one of the greatest construction challenges was updating and unifying what was behind the walls.
The Banff Centre began working with KPMB and Stantec in 2014 to create its Campus Master Plan, which entails updates to multiple buildings and included extensive input from local Indigenous groups. KPMB has also been selected to renovate the interior of the Eric Harvie Theatre on the campus, and to begin a reimagining of the adjoining Performing Arts & Learning Complex.
For now, the Lloyd Hall project is being hailed as a success—in large part because it no longer stands out. "We wanted to really emphasize why people are there, which is that connection to nature," says McKenna. "Banff Centre is in Banff National Park, and the town planners are thrilled with the transformation, blending the exterior into the forest landscape, and making it integral to the place."
You may also enjoy "Some Place Studio Designs a Sleek Sunlit Office for an Austrian Factory."
Would you like to comment on this article? Send your thoughts to: [email protected]