March 16, 2020
This Hillside Gem Is Classic New England With a 21st-Century Twist
Vermont studio Birdseye transforms one of the region's most iconic design archetypes into a modern showpiece.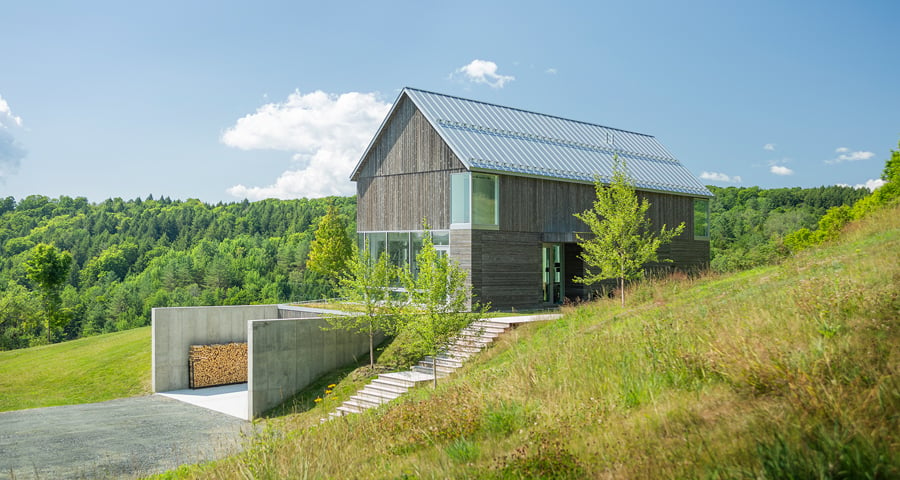 The grand, sloping mountains of New England have long posed an architectural challenge farmers have resourcefully addressed with "bank barns"—structures embedded into hillsides, allowing for multiple levels and natural insulation. Recently, Richmond, Vermont–based design firm Birdseye updated this concept with a modern residence that pays homage to these regional treasures. Encased with glazed walls and sporting exposed steel framing, the house overlooks the Green Mountains and provides an elevated year-round hideaway.
Near the thriving creative community of Woodstock, Vermont, Bank Barn belongs to two empty nesters who returned to the Northeast after several years working in Europe. The couple, design enthusiasts and erstwhile owners of Boston's Big Dig House (which was made from recycled highway materials), was in search of a contemporary take on the charming barns of New England. Coming across Birdseye's online portfolio, the pair met with principals Brian Mac and Jeff McBride, ultimately deciding on a two-floor design that would cut into the slope of the hill, carving out a basement and maintaining one end level with a gravel driveway.
Mac alludes to the design's incorporation on "the traditional elements of a barn" including  wood vertical siding, a steep gabled metal roof, and a simple rectangular plan. Indeed, the house's cedar-clad upper levels, with deep-punched windows, standing seam roof, exposed first-floor steel beams, and striking column layout, are reminiscent of timber-frame bent designs found in shed structures.
---
More from Metropolis
---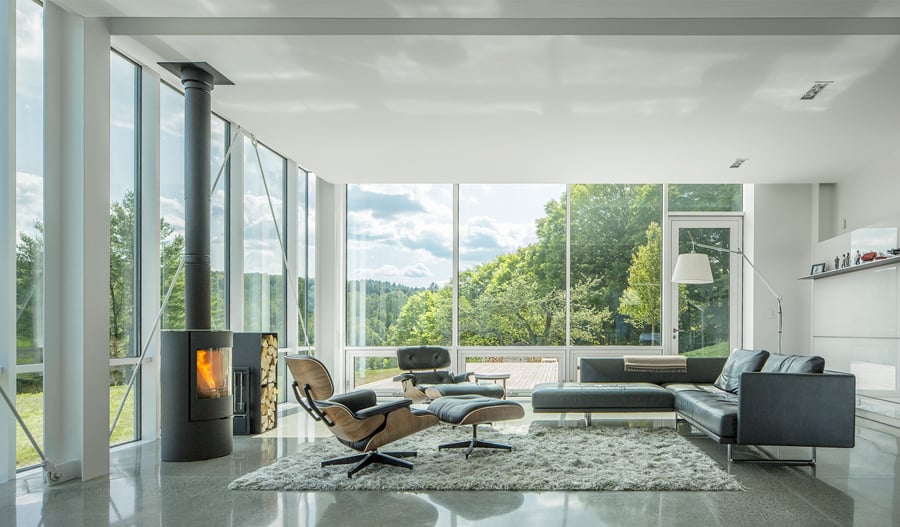 Birdseye's reinforced design, however, allows for a triple-pane curtain wall to extend up past the floor framing, and a secondary steel frame that invisibly supports the second-floor walls, enabling the space to accommodate a living, dining and kitchen area, home office, and three unique bedroom suites. The extension of the concrete retaining walls also brings the living space to the exterior with a green roof and deck to the east, and a deck, hot tub, and fire pit to the west.
Additional modern touches include a polished concrete floor, honed-plaster ceilings, and a 16,000-pound, solid metal interior staircase that connects the first and second floors. Fabricated off-site and inserted via crane, the staircase is surrounded by guardrails made of flush-mounted glass with invisible-look sightlines, making it appear to float like an M.C. Escher masterpiece.
Bank Barn, designed to maximize the temperature regulating elements of its hillside location, utilizes innovative strategies including geothermal heating and cooling through water-to-water and water-to-air systems, which create an electricity-based energy grid. Pending the future installation of an 18 kW solar array, Bank Barn will soon be a net-zero residence.