April 6, 2021
A Cabin Near Barcelona Is Designed for Quarantine
Architecture students at IAAC propose an elevated wooden cabin that commits to supremely rigorous standards of localism, passive construction and self-sufficiency.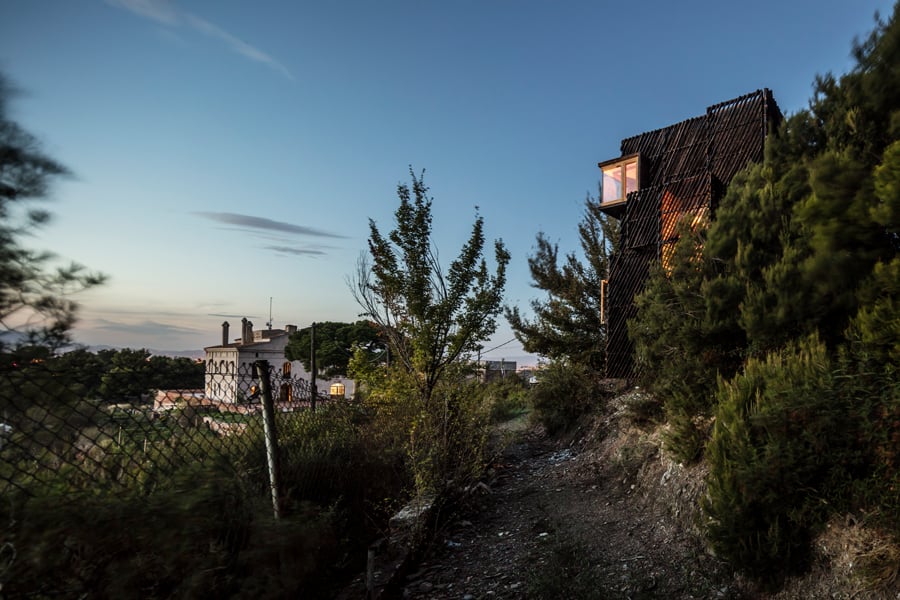 The Voxel, or 'the quarantine cabin', is a prototype designed and built by 17 international students studying a master's degree in Advanced Ecological Buildings and Biocities at Valldaura Labs, the rural annex of the Barcelona-based school IAAC (Institute of Advanced Architecture of Catalonia.) The school and the cabin are situated on the campus' grounds in Collserola, a densely forested natural park that surrounds the city.
"Every year we propose a radical prototype," says Vicente Guallart, director of Valldaura Labs. "What happened in March 2020 is that ideas came together just when the country went into quarantine." Suddenly under order not to leave the confines of the campus, the student body decided to build a prototype that responded to the critical situation at hand.
Measuring less than 130 square feet and situated on the edge of a ravine on the campus, the Voxel is constructed of Aleppo Pine sourced from within a one-kilometer radius of the site. After tagging each log with a colorful painted motif, a system that aids in tracing the trees back to their precise original location, students themselves processed them into planks of cross-laminated timber for the shell of the structure. This is wrapped in a skin of cork, which aids thermal insulation. The final, and most visually striking exterior element, is a wraparound matrix of irregular charred wood offcuts, placed vertically to aid in rain protection; a traditional Japanese method known as shou sugi ban.
---
More from Metropolis
---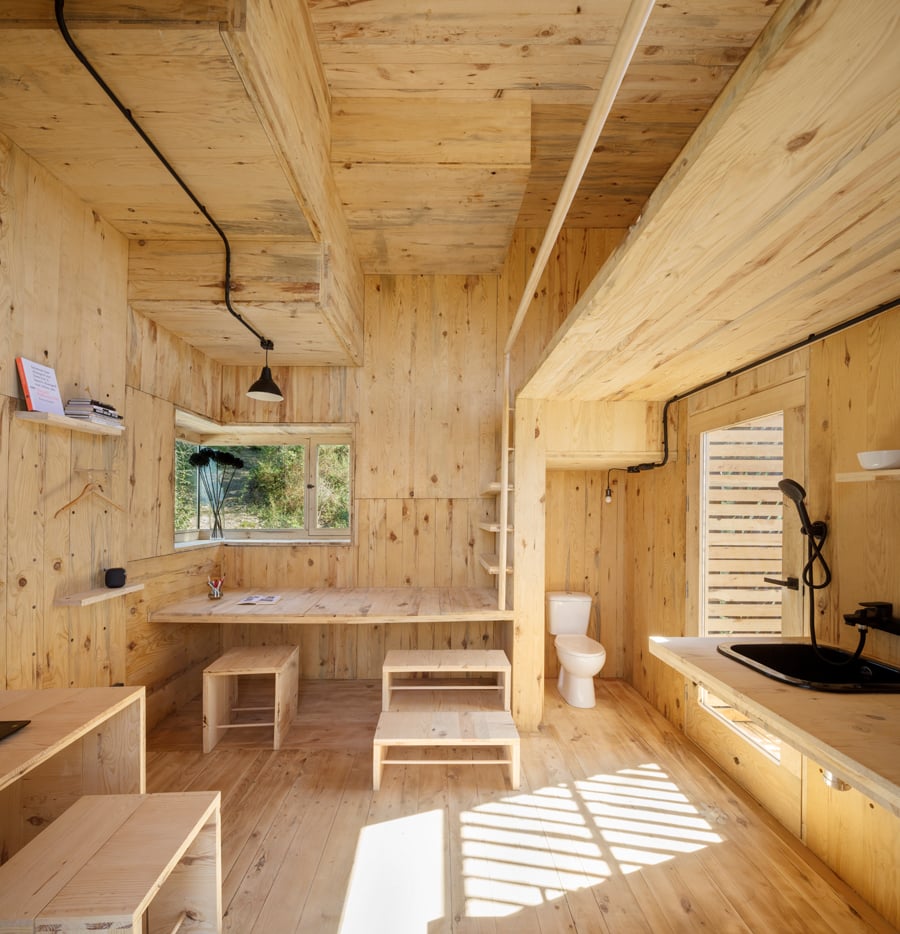 Inside, the Voxel has the feel of a hip eco lodge. With the exception of sanitary devices and glass windows, pine is the only material – down to the dowels that join the CLT panels together. An outdoor platform serves as the shower, fed by a system that incorporates both rainwater collection and gray water cycling.
"The process is the design," claims Guallart. He explains that the isolated conditions under which the students were working steered the end result, particularly its minimalism. "No-one external was allowed to enter the site for five months. Materials were restricted to what we could source locally. In many ways this made the project more social than previous ones we have done."
With a roof garden, fantastic mountain views, and the assumption that the biogas sewage system didn't fail you, it's hard to imagine a more pleasant place for self-quarantine.
But what about its application to other environments?
"We have had a few phone calls from people who want to establish alternative forest communities," continues Guallart. "But this is not a business initiative. First and foremost, we want to create urban buildings. The Voxel is a small prototype for a bigger vision."
You may also enjoy "Los Angeles's Standard Plan Program for ADUs Takes Aim at the Housing Crisis"
Would you like to comment on this article? Send your thoughts to: [email protected]
---
Register here for Metropolis's Think Tank Thursdays and hear what leading firms across North America are thinking and working on today.