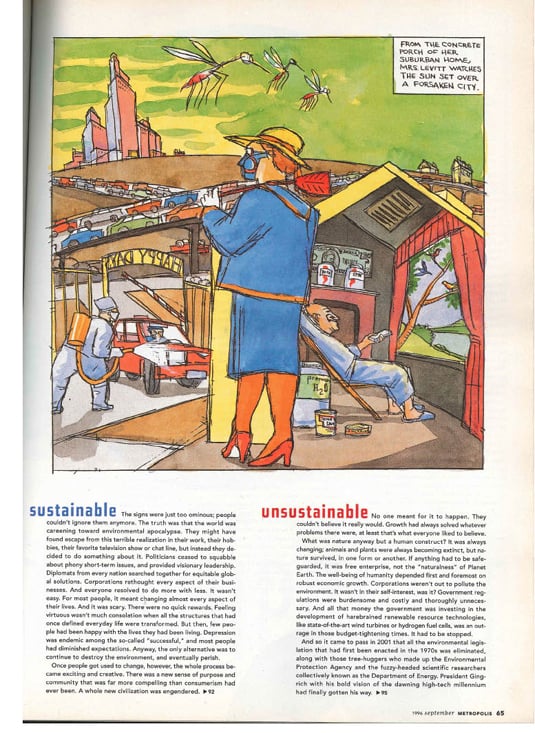 January 28, 2013
Ben Katchor Has a New Book
The zany world of Metropolis columnist is recorded in a new book.
Before his graphic commentary on the urban environment and its quirky denizens began to occupy the last page of Metropolis in 1998, we asked Ben Katchor to contribute to the magazine. His provocative visual-verbal narratives on urban manufacturing and sustainability grounded our preoccupation with these topics, still in the headlines. (Note President Obama's second-term inauguration speech, in which the economy and climate change play important roles.)
On our May 1995 cover, Ben brought to life our story, Made in New York: The Art of Urban Manufacturing. He envisioned the look and feel of a many-layered city occupied by ordinary people, who are never quite so ordinary, making everything from Chinese food products to plywood shiva benches. When, in September 1996, we took a deep deep-dive into the subject of sustainability and the built environment, Ben showed what the city might look and feel like in 2030, if sustainable practices prevailed or if they didn't. He saw a lively green city with bustling street life versus an abandoned pile of skyscrapers seen in the distance,  "From her concrete porch in her [subterranean] suburban home, Mrs. Levitt [wearing a gas mask] watches the sun set over a forsaken city."
---
More from Metropolis
---
Each month for 15 years now, I look forward to reading Ben's column as the magazine is being produced. And each month I chuckle at the foibles of teeming humanity negotiating the complex, friendly, awful, graceful urban environment where the new dukes it out with remnants of an ever-present past.  This is where we meet the architect who over-designs a light switch only to have a contractor install a cheap, noisy mechanism behind it, scaring the kids; or a man inside a Miesian skyscraper desperately trying to meet up with a woman on the windswept plaza below but she will have none of it. Modern architecture, it seems, can stifle romance.
Ben Katchor's Metropolis columns are now collected in his new book, Hand-Drying in America (to be published next month). His books' titles alone, The Cardboard Valise and Julius Knipl, Real Estate Photographer, signal that you are about to enter the zany world of an inventive and original mind who is endlessly fascinated by the great city where he lives. In a recent interview Ben talked about his interest in his own handwriting, which is so much part of the mood of his graphic stories, now drawn in Cintiq, a software program. Before everything went digital, he used to submit his watercolor, hand-lettered column, in person, every month. I coveted those originals each time. But of course, he needed them for his archives.
A consummate professional, Ben knows the world of magazine deadlines. He's also a teacher, MacArthur Foundation Fellow, and dynamic performer–an indispensable guide through the urban maze where I live. I'm only one among his many fans. Sometimes I spot his Metropolis column pinned up in an architect's cubicle in another city, far from New York.
Starting on April 6, you can read a collection of the columns and meet the author: Saturday, April 6—NYC Time tk — MoCCA signing at the Pantheon Books booth Monday, April 8—Portland, OR 7:30 pm — Powell's City of Books event. 2720 NW 29th Ave. Tuesday, April 9—Seattle, WA 7:00 pm — University Book Store event with UW architecture department. 4326 University Way NE. Wednesday, April 10—Los Angeles, CA 8:00 pm — Skirball Cultural Center event. 2701 N. Sepulveda Blvd. Thursday, April 11—San Francisco, CA 6:30 pm —  Mechanics' Institute event. 57 Post Street, Room 406. Monday, April 15—Brooklyn, NY 7:30 pm —  Greenlight Bookstore event with Nicky Dawidoff.  686 Fulton Street. Tuesday, April 16—Washington, DC 7:00 pm — Sixth & I event with Politics & Prose. 600 I Street NW. Saturday, April 20—Little Rock Arkansas Literary Festival. Thursday, April 25—Miami, FL 6:00 pm — Books & Books at Museum of Art in Ft. Lauderdale with University of Miami School of Architecture. 1 East Las Olas Boulevard. Friday, April 26—Miami, FL 8:00 pm — Books & Books event. 265 Aragon Ave., Coral Gables. All illustrations are by Ben Katchor.