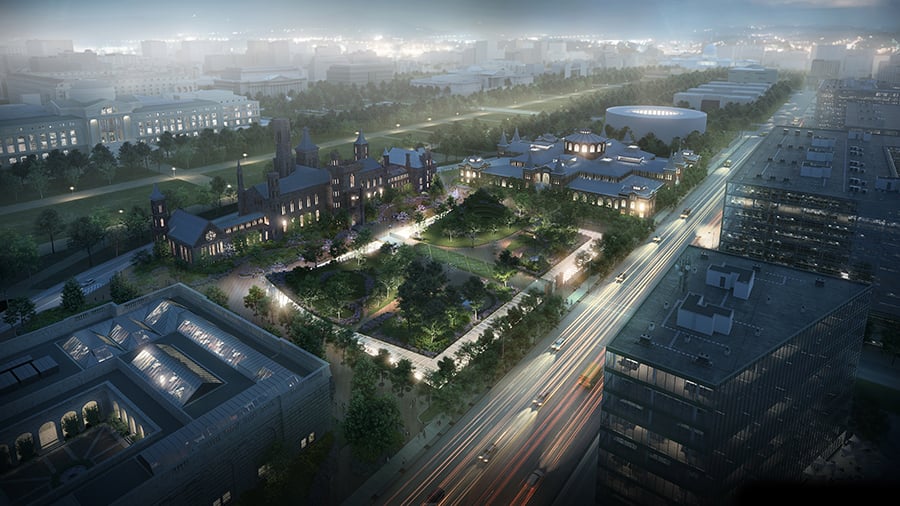 February 13, 2018
BIG Releases New Smithsonian Master Plan
The new plan responds to pushback from some preservationists and members of the public, preserving the existing landscape while expanding upon The Smithsonian's existing facilities.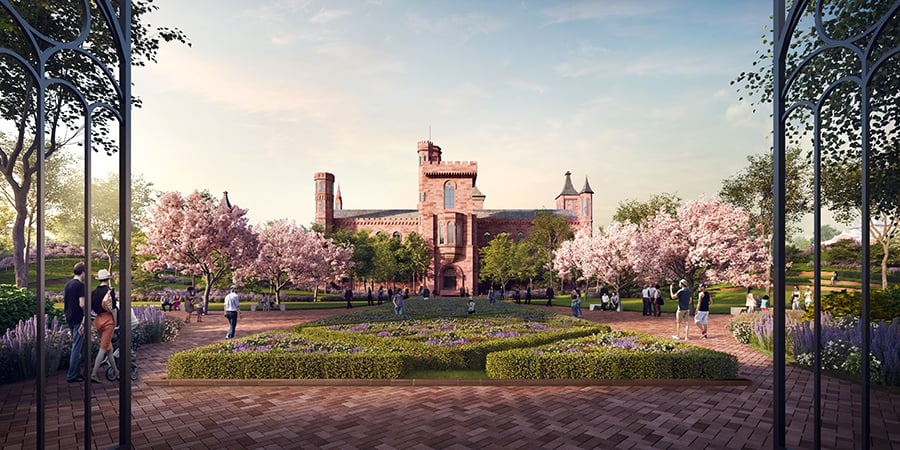 ---
In 2014, when Bjarke Ingels Group (BIG) announced plans to redesign the Smithsonian's South Mall Campus—a 17-acre area that includes the Castle, the Arts and Industries Building, the Freer Gallery, the Hirshhorn Museum and The Sculpture Garden—the prospect was met with opposition from preservationists and members of the general public. BIG had been charged with re-energizing visitor engagement with the adjacent National Museum of African Art and Sackler Gallery, both of which suffer from low attendance and recognition. The campus's lack of a cohesion have only compounded these problems.
BIG's renovations entailed reconfiguring the Haupt Garden, a 1987 Victorian-style-design by architect Jean Paul Carlhian done as a collaboration between Shepley Bufinch and Sasaki Associates that foregrounds the Smithsonian Castle, and improving the experience of the existing underground gallery spaces. The corners of the new landscape would peel up to create portals leading directly to the exhibits below.

While members of the National Capital Planning Commission, a committee that protects historical and cultural landmarks in Washington D.C., praised the Smithsonian's attempt to connect the buildings and gardens more effectively, the demolition of the Haupt Garden sparked concern. According to The Washington Post, "several members [of the commission] suggested museum officials were too focused on the Mall and its tourists." Commissioner Beth White added that the garden "is a hugely significant cultural landscape [and] a sacred space for many people." In an interview with the Washington Post published last April, Richard Wilson, a professor of architectural history at the University of Virginia, opined that with the renovation project the Smithsonian was "totally ignoring both the historical and present-day importance of that Quadrangle and the garden."
---
More from Metropolis
---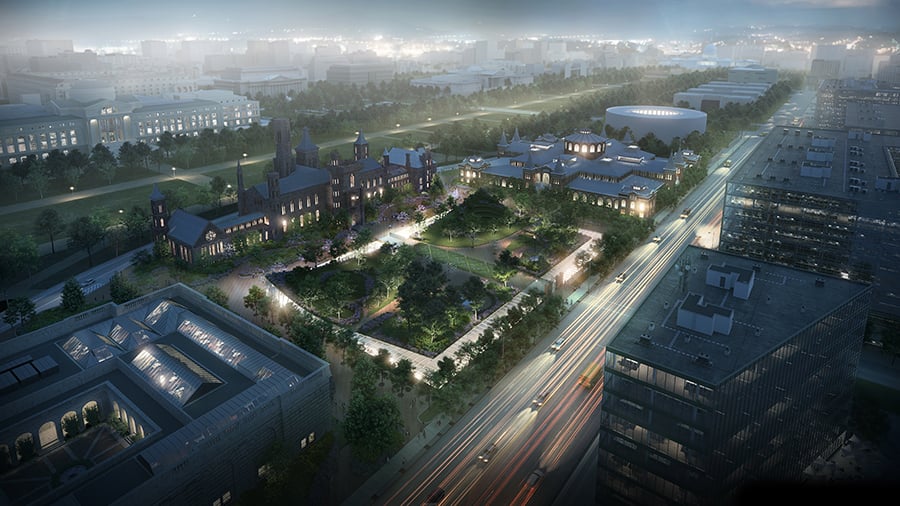 "Since our last proposal, we've been listening very closely to the public," said Bjarke Ingels in a January press release. "We wanted the general feeling and fondness for the Haupt Garden to remain the same while also increasing its enjoyment and use." BIG's new, retooled proposal, which they have dubbed "The Master Plan," also seeks to improve existing facilities on the South Mall Campus and provide more intuitive pathways to the rest of the Smithsonian. By reconfiguring the entrances to the National Museum of African Art and the Sackler Gallery, BIG's latest proposal aims to create more visible and intuitive pathways between the museums and the gardens. "The Master Plan looks to address the deficiencies…and maintain the secluded character of the Haupt Garden," Aran Coakley, project manager at BIG, told Metropolis. Coakley explains that the west side of the garden has a loading ramp that divides the Haupt Garden from the Freer Gallery of Art. "The clatter [of] delivery trucks using the ramp make [the] garden feel like a busy intersection rather than an oasis," Coakley says. "By relocating the ramp…the [Freer Gallery of Art] can be connected to the garden, and the diverse planting's…can be enjoyed without the racket of truck[s]."
This latest iteration of the Master Plan will also expand the Smithsonian's Visitor Center and create a new educational facility accessible through descending entryways facing the Mall. The project will also include earthquake reinforcement work on the foundations of the Castle. "The revised scheme is more sensitive to the site and how it is experienced," says Coakley. "Through our regular public meetings, we gained a better understanding of what makes the South Mall Campus an important experience to visitors and the community…the importance of maintaining the Haupt as a secluded garden will be the starting point for future studies."
The renovations, despite the setbacks, are finally set to begin in 2021. "The Master Plan shares Smithsonian Institution's overall purpose, [which is] the increase and the diffusion of knowledge," says Coakley. "The Haupt Garden is a diverse and living experience that the Master Plan looks to maintain and expand."
You may also enjoy "BIG Will Design WeGrow, a School From WeWork."