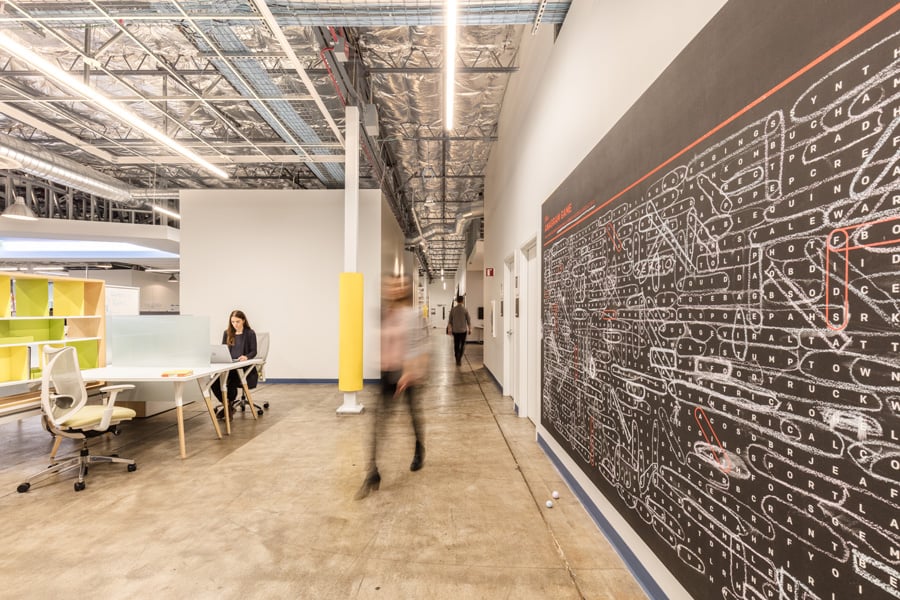 June 13, 2018
At SFO, a 1960s Airplane Hangar Conceals a Working Design Office
Big Room, a temporary workplace constructed inside an airplane hangar, brings teams together by leaning into scrappy solutions and a sense of fun.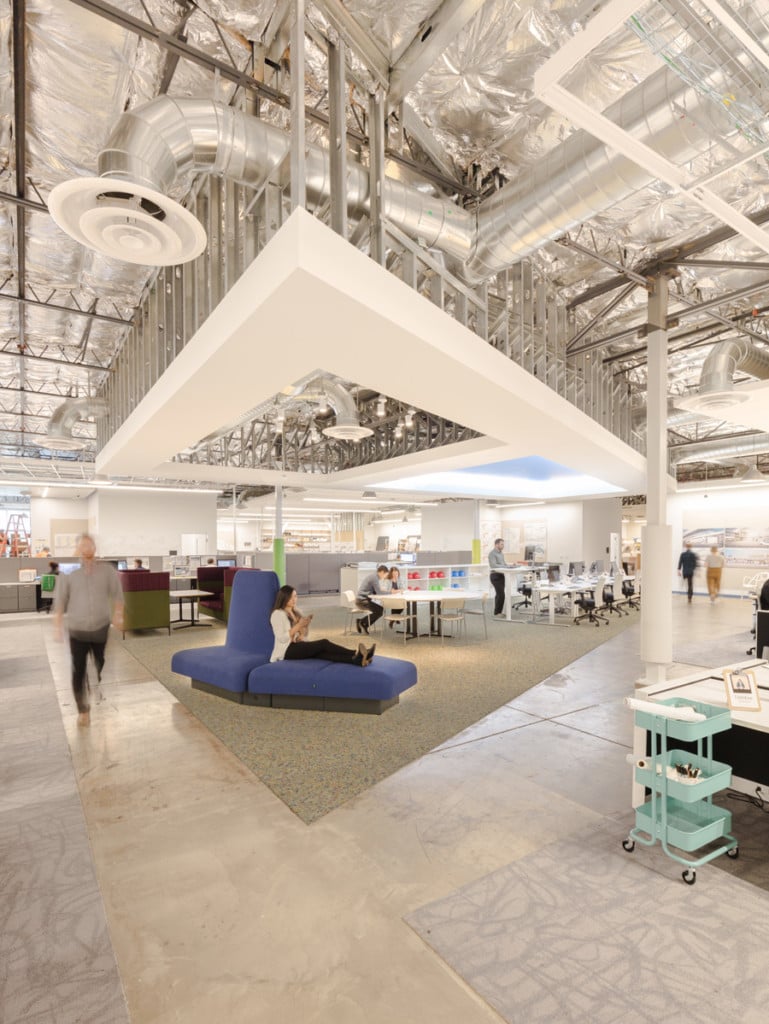 ---
"Turducken" isn't a term you'll hear invoked by many architects about their work, but for Big Room—a more-than-36,000-square-foot building-within-a-building on the grounds of San Francisco International Airport (SFO)—it rolls off one designer's tongue without hesitation. Other terms bandied about on a recent visit: "Yellow Brick Road." "Down and dirty." "Follies."
Then again, Big Room is an odd bird: a temporary office building housed in a 1960s airplane hangar. Designed by Gensler and Kuth Ranieri Architects as a five-year solution to accommodate the design-build teams responsible for renovating SFO's Terminal 1, Big Room has been home to engineers, airport personnel, and architects—including members of Gensler and Kuth Ranieri—all at work on the most extensive construction undertaking that the airport has planned to date. And the mission of Big Room (a title coined from the eponymous colocation strategy) is to foster collaboration between these diverse teams as they labor toward a common end. In other words, Big Room is an exercise in management as much as in design.
For an entity as large as SFO, which averaged nearly 4,700 flights each week in 2017, the closure of a terminal for renovation presents major logistical and financial challenges. Every day of construction is a day of nonoperation, at considerable expense. The teams were tasked with an integrated delivery process, and being on-site at the airport was essential.
---
More from Metropolis
---
The hangar, situated at the rear of 710 McDonnell Road, which houses some of SFO's main corporate offices, presented a convenient answer. In a six-week design sprint, Kuth Ranieri and Gensler conceived a raw structure within its larger hall: their Turducken, a mint-green Sheetrock box. How to find it? Follow the yellow brick road. (A lane, outlined in school-bus-yellow paint, leads the way from the hangar's side entrance.)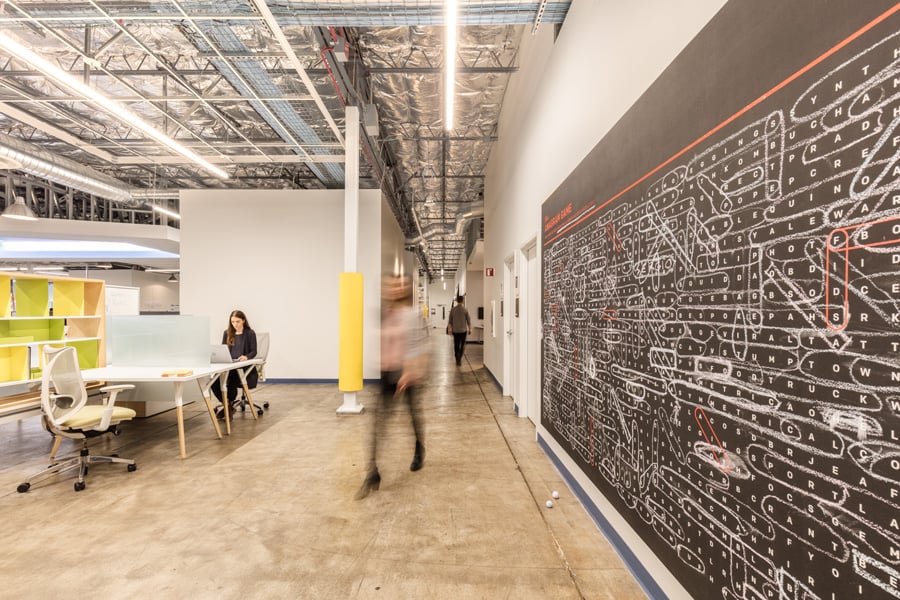 ---
But the proximity cut both ways: With 747s roaring overhead and a busy tract of highway bordering one side, the location demanded significant attention to environmental considerations like air quality and noise pollution. "Essentially, we had to build a barrier between us and the outside world," says Melissa Mizell, Gensler's lead designer on the project. "We needed to protect ourselves acoustically. We needed to protect ourselves seismically. Then we had to protect our air." Most of the project's shoestring budget, she explains, went to ensuring a safe atmosphere for workers.
While batt insulation, floating acoustic clouds, and carpet worked to absorb sound for the 240-person office, an even greater challenge was bringing natural light into the space. Because it is a box-within-a-box, any skylight installed in Big Room would open up to an unfinished industrial ceiling. The ingenious fix was to carve a niche in the drop ceilings that the design team had used to define community areas, and employ a trompe l'oeil lighting technique to (convincingly) mimic blue skies.
With environmental concerns squared away, the architects made an important decision early in the planning process to move the framework away from a grid, an idea broached during a charrette at Gensler. "The box is a mindset," explains Liz Ranieri, a founding member of her namesake firm. Subtly shifting the plan, the firms sketched out what they call an "urban approach" and laid out "neighborhoods" within Big Room to alleviate the boxed-in geometry. Throughout, Kuth Ranieri and Gensler selected elements to underscore the whole project—Big Room and its raison d'être—as a work in progress. "If it's all finished, it doesn't send the right signal," says Mizell, "because this is something we're in together."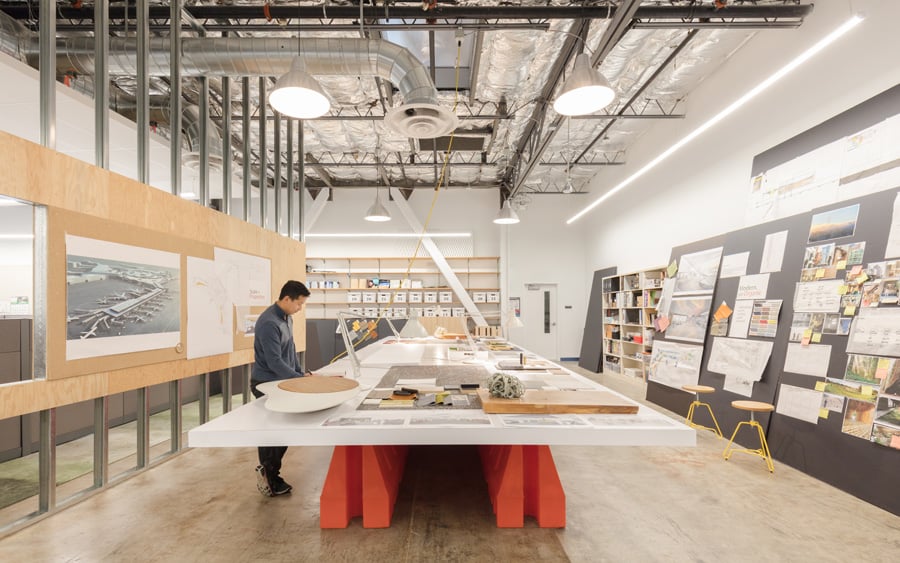 ---
Among the neighborhood zones, identifiable by changes in floor or ceiling treatments or the arrangement of furniture, are all-in social spaces, like a long work/dining table adjacent to the communal kitchen, and an expansive, lust-worthy materials station. There are also informal meeting spaces, such as a pair of dueling high-backed sofas for tête-à-têtes, and "follies," smaller focus areas with plywood walls located at the outer corners of the structure. Since schedules vary across departments, individual workstations are divvied up between assigned seats and hot desking, with furniture options for the space ranging from sit-stand desks to cubicles to work tables and upholstered, lounge-y nooks.
With only a tiny budget for furnishings, Kuth Ranieri and Gensler got scrappy, embracing a philosophy of "beg, borrow, and steal," laughs Mizell. But, she adds, "we didn't lower our standards just because we knew there was going to be a budget constraint." More than 50 percent of the furniture consisted of high-quality repurposed items from a host of sources—some of them fortuitous. AECOM's Oakland, California, office, for instance, happened to be relocating at the time the design teams were outfitting Big Room, and unloaded some of its furnishings in the move. Gensler, for its part, donated items like red Eames chairs; Rainieri and her partner, Byron Kuth, contributed beanbags from their own collection to a quiet room. Teknion offered "test" workstations on long-term loan, and various prototypes for airport seating have accumulated over time. The designers even hit up thrift shops. Of course, it doesn't hurt to have crafty staffers: One of the space's most popular meeting points, a tall secondhand table originally designed by Gensler and donated by Allsteel, has been knit-bombed by Ophelia Wilkins, the job captain from Kuth Ranieri, to disguise some wear and tear.
This willingness to embrace happenstance, grit, and fun can be attributed in part to the fast-track timeline of the design-build, as well as Big Room's ephemeral nature. Compared with other projects, Ranieri says, "there was more experimentation, and there were more random acts of design. You felt free to try it out because maybe they would only be there for so long." Kuth agrees. "It led to a different kind of process," he adds. "There was tremendous freedom." The ad hoc character of the furniture acquisition, as well as the intersecting program, also means that the space offers enormous variety, a trend increasingly present in contemporary offices as many move away from one-size-fits-all work arrangements.
One of the greatest lessons learned, Mizell says, is the importance of being sensitive and open without giving up the big picture. Although Big Room may have a looming expiration date less than three years from now, it has already had an impact on many who have worked within the box-within-a-box. Ranieri has even hosted a Big Room workshop for outsiders to explore integrative thinking. Call it breaking down the Sheetrock walls.