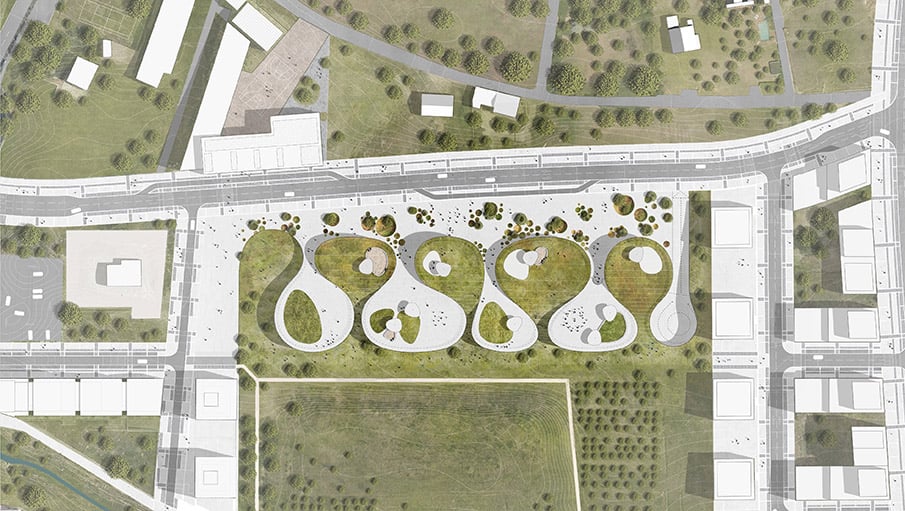 November 21, 2013
BIG Wins Bid for Museum of the Human Body
Oh the humanity: BIG unveils winning design for a museum dedicated to the human body.
Where ancient civilizations built for gods and emperors, architects since at least the Renaissance have pursued a decidedly humanist building culture. This lineage flows from da Vinci to Le Corbusier, whose famous modular men embodied often conspiratorial theories of divine proportions. It's in this tradition that one might expect the design for a Museum of the Human Body to be firmly rooted. The project renderings, however, tell a different story.
The project for Montepellier, France, was designed by Bjarke Ingels Group (BIG) and a long list of collaborators. Officially the Cité du Corps Humain, the center will be devoted to exhibitions, performances, and workshops that aim to challenge standard perceptions of the human body. The scheme, which beat out five other international firms to win the commission, situates the new 84,000-square-foot museum in parkland near the Montpellier city hall. A series of ovoidal pavilions are interwoven with splotches of grassy lawn, creating an alternating figure-ground pattern BIG likens to "individual fingers united together in a mutual grip"—the first of the project's many anatomical metaphors. Alternatively, the circuitous building plan resembles the blobby shapes of human cells, the curlicues of crowd movements (or "swarms"), and the cul-de-sac lines of fingerprints. Take your pick!
---
More from Metropolis
---
All images courtesy BIG + MIR
Rather than fixate on an idealized and often genderized human body, the design smartly takes a pluralistic approach to what constitutes both human anatomy and identity. The biological referents are elastic enough so as to be applied across the building's various scales, from the window louvers to the floorplan and even the massing itself. The latter all too neatly fuses the manmade with the natural, sure. But as seen in the plan and perspectival drawings, the juxtaposition of pavement and park—a combination that BIG says typically go together like "oil and vinegar"—is surprisingly effective.
The pavilions are lined front to back. Those that face the street are topped with a garden, while those facing the opposite direction, towards the park, are covered in hardtop. Together, as the project release relates, they form a sprawling "ergonomic garden," where visitors are encouraged to "explore and express their bodies in various ways."
Construction is slated to begin in 2016, with the museum's opening scheduled for 2018.