August 7, 2018
BIG Completes Pair of Skyscrapers in Shenzhen, China
The facade of the office towers, which contain approximately 1,000,000 square feet of space, features a low-tech solution to resisting solar heat gains.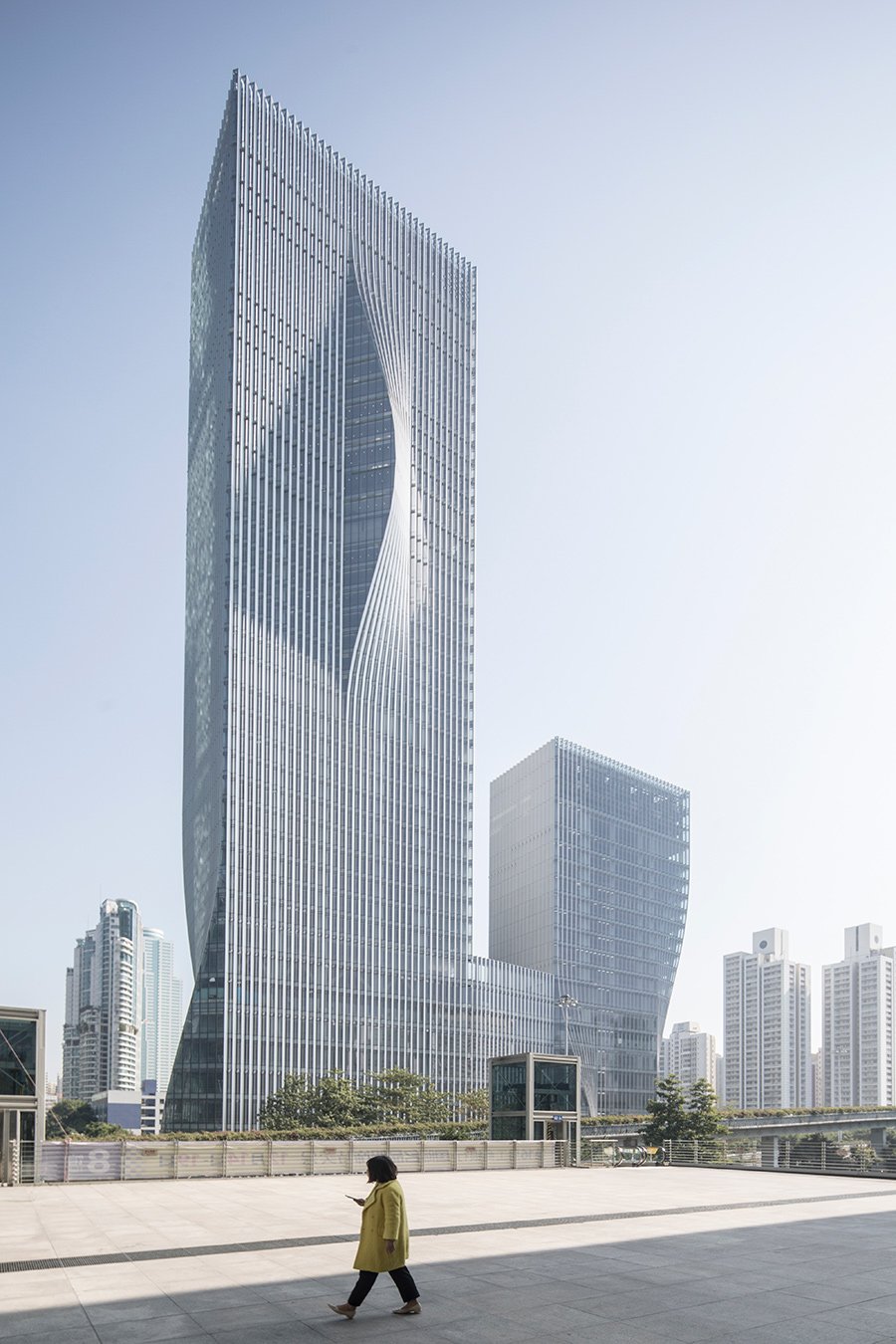 When Joseph Paxton's all-glass Crystal Palace opened in 1851, it seemed like a miracle of modern architecture. Capitalizing on newly available cast plate glass, the structure was quite literally spectacular. But just as miraculous was that the palace stayed cool: an expert in greenhouses, Paxton deployed cooling canvas shades and a multi-level passive ventilation system that kept the interior temperate. Many architects have found their own ways to leverage glass's transparency without wreaking thermal chaos, and Bjarke Ingels Group (BIG)'s just-completed project in China puts its own twist on those time-tested strategies.
The project was nearly a decade in the making, beginning in 2009, when BIG won a competition to design the Shenzhen Energy Company's new headquarters. Working with engineering firms Arup and Transsolar, the architects sought to use glass without incurring exorbitant cooling costs—a challenge in Shenzhen's humid subtropical climate. The height and volume of the skyscrapers—one rising 722 feet and the other 394 feet—were fixed by a pre-existing master plan, but the team had plenty of wiggle room when it came to the building envelopes. Consequently, they devised a pleated skin that would orient glazing to the northwest and northeast while cladding the southwest and southeast faces with powder-coated aluminum panels that were backed by insulation. As built, this passive system achieves a solar-gain reduction of 30 percent.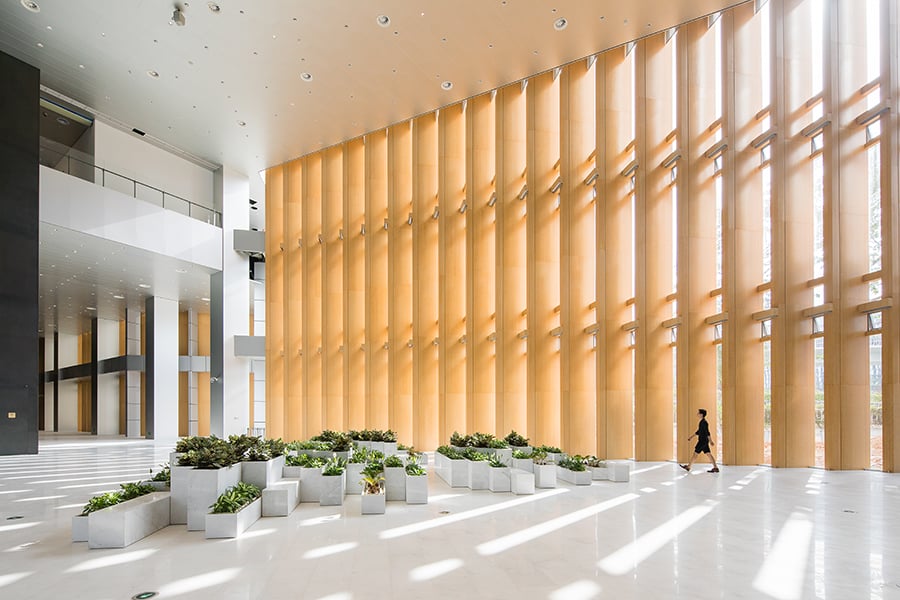 BIG founding partner Bjarke Ingels said in a press release that the project, dubbed the Shenzhen Energy Mansion, represents "our first realized example of 'engineering without engines'—the idea that we can engineer the dependence on machinery out of our buildings and let architecture fulfill the performance."
---
More from Metropolis
---
Given the project's impressive scale, this pleating takes on urban dimensions. In several areas, the facade bulges outward to impart especially sweeping views to select meeting rooms, breakout areas, and staff facilities. (The Shenzhen Energy Company occupies the building's upper floors while renting out the lower offices.) On the ground floor, the facade peels away to reveal the building's entrances.
While modern architecture has come a long way since the Crystal Palace, the basic material properties of glass are roughly the same. If anything is different, it's that climate change now demands greater sensitivity to those properties, as buildings consume nearly half of our energy. The Shenzhen Energy Company headquarters demonstrates there are still simple ways to create those energy savings.
You may also enjoy "Metropolis Magazine's 10 Powerhouse Design Cities of 2018."