September 5, 2018
Set Alongside a Lush Crater, Kunlé Adeyemi's New School Plants Deep Roots in Tanzania
Adeyemi and his team from NLÉ draw from the verdant local landscape and age-old building traditions for the design of the Black Rhino Academy.
---
For many, the road through Karatu marks the gateway to the beginning of the world. The Tanzanian town, characterized by rust-colored earth, bustling streets, and vibrant rooftops, sits on the brink of the Ngorongoro Conservation Area, a 3,200-square-mile swath whose namesake caldera hosts one of the planet's richest ecosystems, and is home to zebras, lions, giraffes, and the highly endangered black rhino. Masai pastoralists and tourists now traverse this lush expanse, but humans have existed here for nearly two million years, as evidenced by discoveries within the Olduvai Gorge, one of the world's most significant paleoanthropological sites, in the northeastern reaches of the region. It's little wonder that the word Ngorongoro translates roughly from the Masai language as "gift of life."
Back in Karatu, just beyond the crater's rim, an ecosystem of another kind is in its nascency. The Black Rhino Academy, a recently completed boarding school, is setting a new standard for education in Tanzania. Here, learning isn't informed by pedagogy alone, but by the place itself, as demonstrated in a series of low-lying brick buildings designed by the Nigerian architect Kunlé Adeyemi of the Amsterdam- and Lagos, Nigeria–based firm NLÉ.
The campus's four buildings dot an undulating parcel of land alongside a coffee plantation, part of a multi- stage master plan that will grow with its students. Black Rhino inaugurated its first phase, a block of dormitories and classrooms linked by a lightning bolt of white pavement, this past January, welcoming its initial group of first-graders and kindergartners. Fashioned from ruddy local brick, these simple structures provide ample room to learn, play, and daydream, with sweeping views of the surrounding farmland and bush. "I wanted a space where the education was not only about formal education but really where the students are inspired by the environment," Adeyemi says.
---
More from Metropolis
---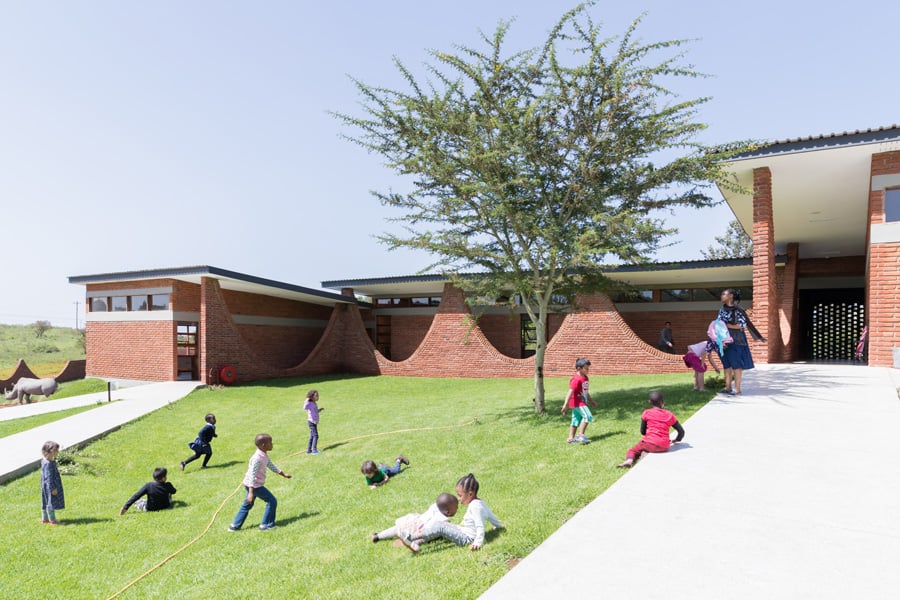 ---
How a Nigerian architect wound up designing a school in rural Tanzania is just as fortuitous a tale as that of Black Rhino's cofounder, a German émigré named Caroline Epe. After completing her master's degree in development, Epe relocated to Tanzania permanently to work for a local clinic. There she identified a need for an international school—one whose curriculum would be steeped in Tanzanian history and culture, but with a global perspective.
"I'm always hesitant to call it an international school," Epe says via Skype from Karatu. "When I think of Black Rhino, I think of a Tanzanian school that was built for Tanzanians. We want to enable kids who are ready for a global world and still include Tanzanian language and history in the curriculum."
Epe wanted the same ethos to shine through in the design of the school. "I had no idea what it was going to look like," she says, but "we wanted it to fit into the environment. We wanted to build in a way that local people were already using."
A family friend and architecture buff (who notably helped bring Frank Gehry to Düsseldorf in the '90s for the Neuer Zollhof complex) recommended that Epe get in touch with Adeyemi. Though Adeyemi has worked on many building types—including the Qatar National Library and the Shenzhen Stock Exchange while an architect at OMA—school design gained him international acclaim. While researching the potential for water-based communities in Lagos, Adeyemi and his team designed and built a prototype floating school—a humble A-frame structure that would drift through a lagoon, providing much-needed educational programming while addressing rapid urbanization and environmental pressures in that city. (Three such prototypes have been constructed; the first, after several years of use, tragically collapsed during unprecedented rainfall in 2016.)
---
Upon agreeing to help Epe with the school, Adeyemi and his team paid a visit to Karatu in September 2014, "looking around at what was possible, how people were building," the architect recalls. During this trip, they engaged with local schools, observed brick-making techniques and construction practices, and toured Masai and Iraqw settlements.
Adeyemi was particularly struck by the Masai's centuries-old planning approach, in which structures are organized in a variety of programmatic clusters and ensconced in a thorny barrier—or enkang—for protection. Adeyemi applied these principles to Black Rhino's master plan, with discrete "islands" devoted to living, learning, and playing. The architecture that followed, according to Adeyemi, is quite simple. But the buildings' beauty belies their minimalist construction methods. Hugging the gently sloping topography, the two new "live" and "learn" blocks take on the same tawny color as the surrounding landscape, thanks to the use of local brick.
The classroom section is surrounded by an arcade of rhythmic catenary arches formed by hanging chains. Breezes flow through these enclosed walkways and the brick screens at their ends. Though the classrooms are spare (tile floors, timber detailing), light and nature spill in through clerestory lighting and rectilinear bands of glazing. "It's about creating this relationship where the children have visual access [to the outdoors]," Adeyemi explains.
The same principle applies to the two completed dormitories (one for boys, one for girls), whose low-slung geometries echo those of the learning spaces. Here the catenary arches reappear as the silhouettes of dramatic windows. Inside, Adeyemi (drawing in part from his own boarding- school experience growing up in Nigeria) wanted the living quarters to feel as homelike as possible. Each dormitory accommodates 24 students and includes a bathroom, quarters for a supervisor or caretaker, and a living area, complete with a replace. The bunks—more tree house than bed—feature primary-colored A-shaped metal supports and dark timber frames. All can be built locally, flat-packed, and assembled onsite. The bedrooms offer dramatic views and face the rising sun, so "you'd come out feeling like you could take on the world," says Adeyemi.
---
That dawn is just beginning at Black Rhino. Last month, the school inducted its next class of students, a new cohort of kindergartners. Epe has her sights set on raising funds for the next phase of the master plan, a large multipurpose dining, administrative, and event hall (most of the capital will be raised through the school's namesake foundation). When the master plan is completed, the school will accommodate 250 preschool–12 students.
At the school's inauguration ceremony in January, Adeyemi and Epe, along with dozens of local dignitaries and supporters, gathered beneath bright white tents to celebrate. A wooden model of the future classrooms and school hall covered a round table fitted with a cream-colored tablecloth. Though the clouds opened up and rained on the festivities, locals assured Epe that it was a sign of good luck.
Epe is similarly optimistic about what lies ahead for both the growing campus and future students, a hope she holds close (as it happens, she also has a view of the school from her house). "I want to give this generation of kids all the tools that they need so they can decide how they want to bring their country forward—how they want to effect change, how they want to have an impact in their own communities," Epe reflects.
"The rest," she adds, "is up to them."
You might also like, "Case Design Combines Local Craft, Art, and Architecture for a School in Mumbai."