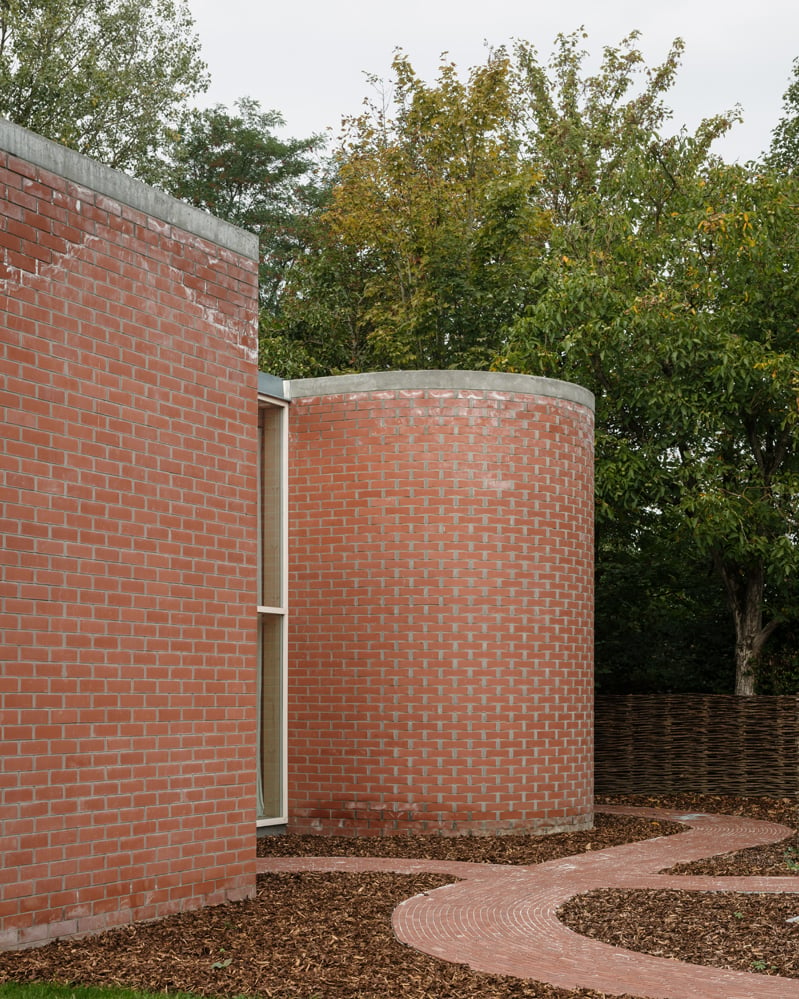 June 11, 2021
In Belgium's Vast Suburbia, a House Avoids the Generic
Local studio BLAF Architecten designed an adaptable, materially eclectic layout for the fmM house, which it calls "a theater for current and future uses."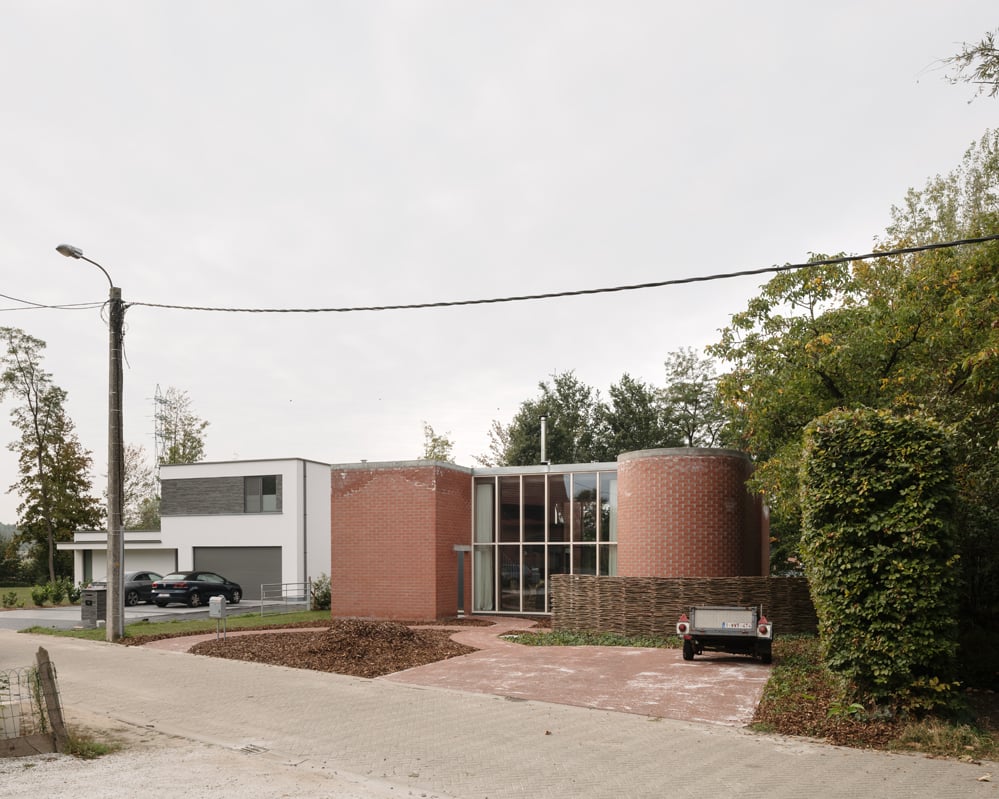 ---
The fmM house sits quietly on a quiet side street in the periphery of the small town Mechelen, Belgium. The surroundings are largely dominated by detached single-family houses, which is to say: There are only such houses around, each on its own small parcel with a bit of greenery—an embodiment of the dream of a private but cost-efficient house. Belgium is famous for this suburban world, which dominates the country's built landscape. This is also the world where many Belgian architects find their first commissions—designing a private family's home is very often the starting point for a young offices in the Western European country.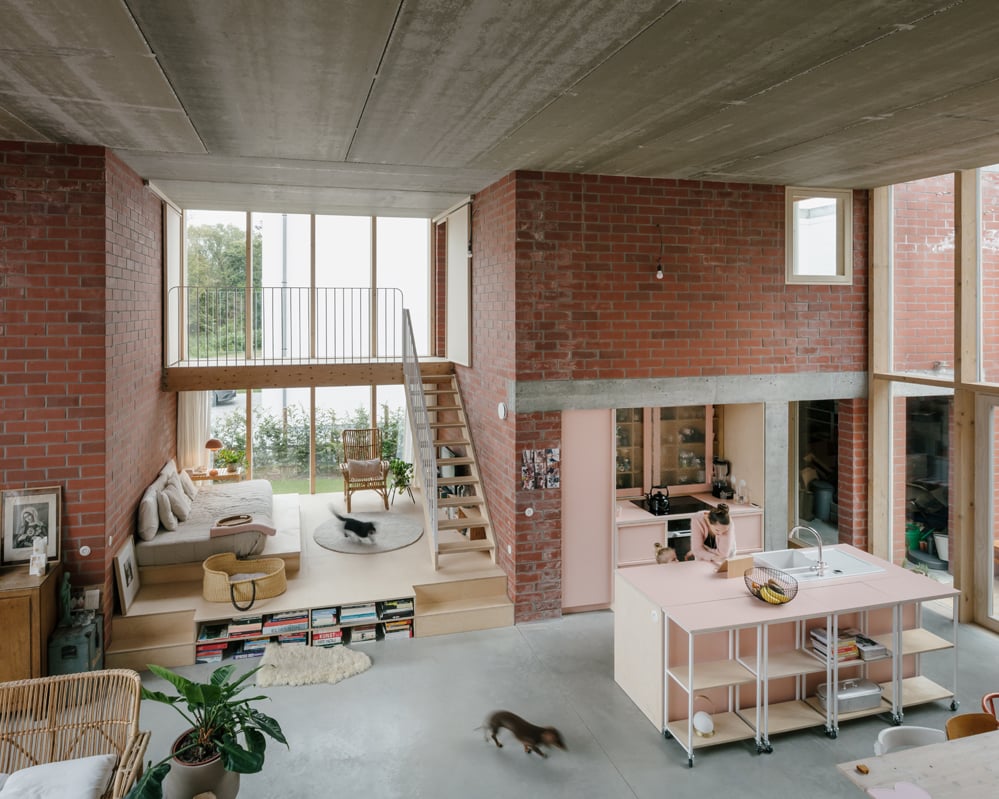 ---
Though it specializes in such commissions, BLAF Architecten is not a young office anymore. It was set up by Lieven Nijs and Bart Vanden Driessche in 2003 in Lokeren, another archetypically Belgian small town in the "nebular city" of single-family houses between Antwerp and Ghent. Since BLAF started, they have primarily worked on single-family houses. Having achieved a firmly self-assured stance in this category, they work with sculptural volumes, raw materials, and sustainable construction techniques. A demonstration of all this is one of their most recent projects, the fmM house in Mechelen.
---
Its composition is based on simple volumes and basic forms, square and circle, adding up to 1,850 square feet of living space. A large double-height hall forms the center of the house, looking out onto to the outdoor spaces on all four sides via large glass walls. In each corner of this hall, a robust volume of reddish brick, either rounded or square, contains a private room for sleeping, cooking, or washing, as well as two little patios directly attached to the bedrooms. These volumes are largely closed, like towers, connecting via sliding doors and internal windows to the hall. The compactness of these areas seems to enlarge the wide openness of the light-filled central hall. Two wooden galleries connect the towers above, turning them into two couplets with shared gallery space. Above the brick volumes sits a flat concrete roof.
---
More from Metropolis
---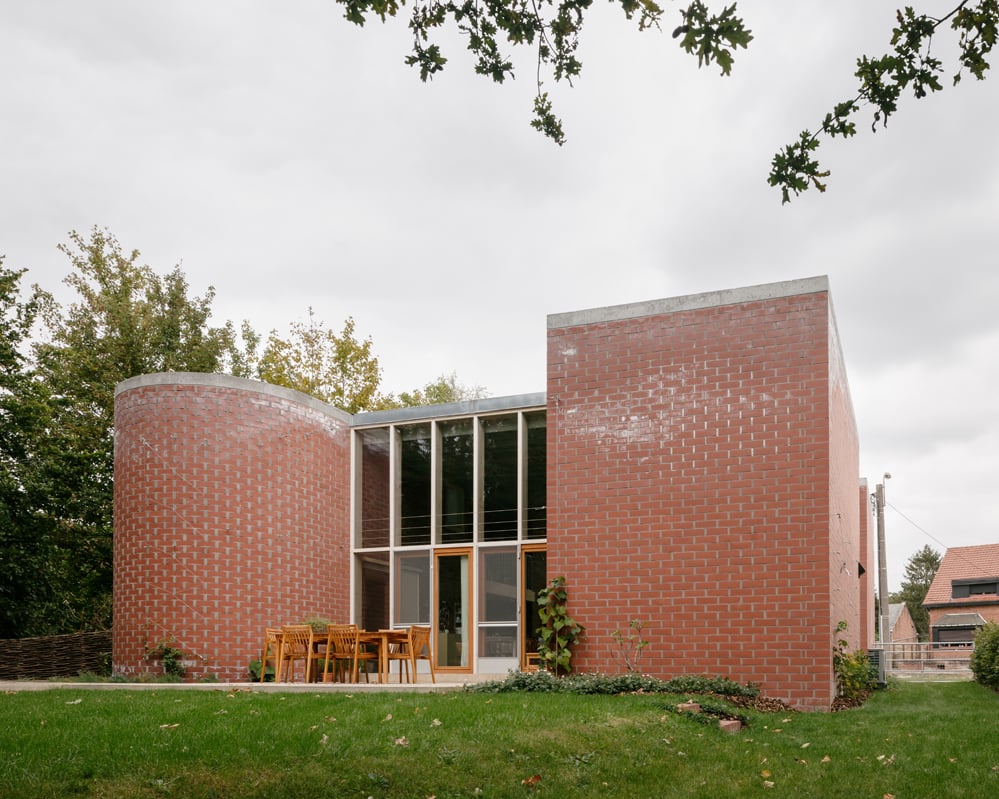 ---
Inside and outside, this house shows a clear separation of materials; each volume or element gets its own material treatment: brick for the walls, glass for the transparent walls that connect inside and outside, wood for the galleries and stairs, and concrete for the roof. This separation of the materials is sustainable, as the architects point out, in the way that they can be sorted and reused separately. At the same time, it celebrates the aesthetic of each material and creates a certain abstraction within the house. The materials also bring their unique spatial characteristics in terms of light, sound, smell and feel. This variety prevents the large living room from being a generic wide space, rather creating zones fit for different activities—like the more cozy zones underneath the wooden galleries that create a more private, secluded space. Yet this is not pre-defined by the architects but for the inhabitants to find out, depending on where they are comfortable with which activity. Bart Vanden Driessche calls this a "theater for current and future uses." With the potential to add secondary structure inside the central hall, this house could also change to something the architects didn't foresee at all—a potential which BLAF aims to create across their projects.
You may also enjoy "Gabled Roofs Experience a Revival Across North America"
Would you like to comment on this article? Send your thoughts to: [email protected]
---
Register here for Metropolis's Think Tank Thursdays and hear what leading firms across North America are thinking and working on today.