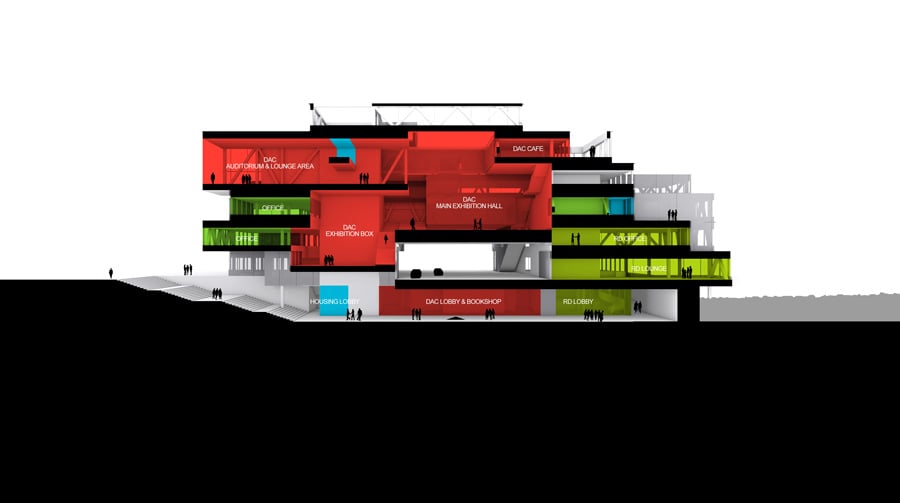 April 27, 2018
Take a First Look at OMA's New Mixed-Use BLOX Project in Copenhagen
OMA's mixed-use project, which was 12 years in the making, rejects typical "nice" Danish urbanism—but is that a good thing?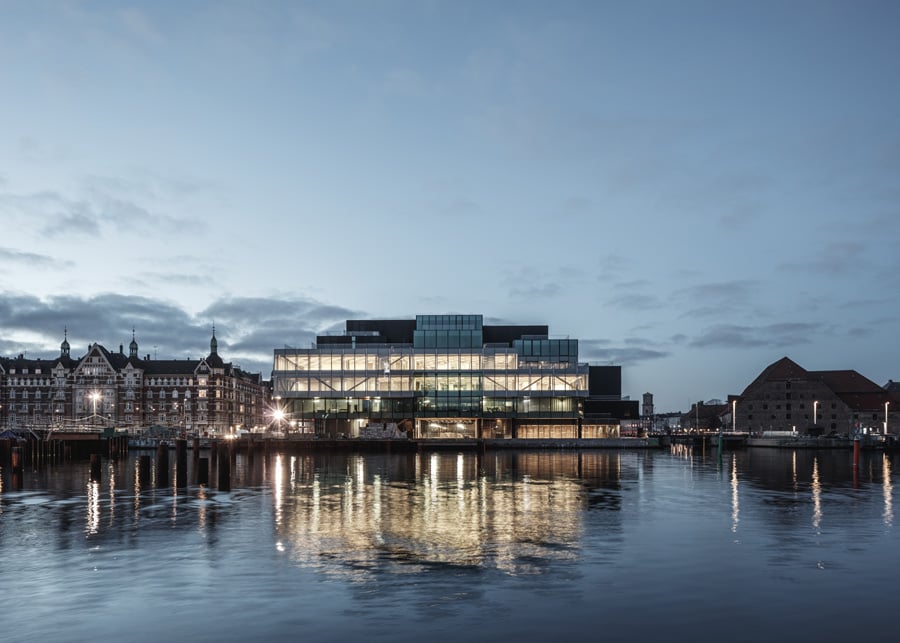 ---
"I had one conversation with Jan Gehl and I got into a fight with him," says OMA partner Ellen van Loon, referring to the prominent Danish architect and pioneer of the country's livable cities movement.
The root of her disagreement with Gehl is an "urban passageway" which connects Copenhagen's center with its harbor-front via BLOX, OMA's latest mixed-use project due to open to the public May 7. "He said it should go around the building," says van Loon. "I have a public building; I want to get them through the building."
Considering BLOX is the new home of the Danish Architecture Center (DAC), this refusal to be Dane-splained on public space is bold, even by OMA's standards. Yet van Loon goes even further, arguing BLOX is even a critique of Danish urbanism: "It's all a bit too nice," she says. "There's this strong tendency of having no noise around here. What's wrong with noise? Noise is life. Noise is energy."
---
More from Metropolis
---
BLOX is certainly noisy, both sonically and visually. Located within a 300,000-square-foot site, the BLOX building includes the DAC, 22 apartments, a gym, an automated car park, a playground, and BLOXHUB, a new co-working space and corporate members association for professionals in the built environment, such as engineers, architects, and construction specialists.
One of the central design concepts is the visual and physical connections between these various functions. The blocky structure thus facilitates near constant reminders of others living and working nearby through interior voids and windows. For example, the playground leans onto the DAC's educational space while apartments overlook BLOXHUB's terraces.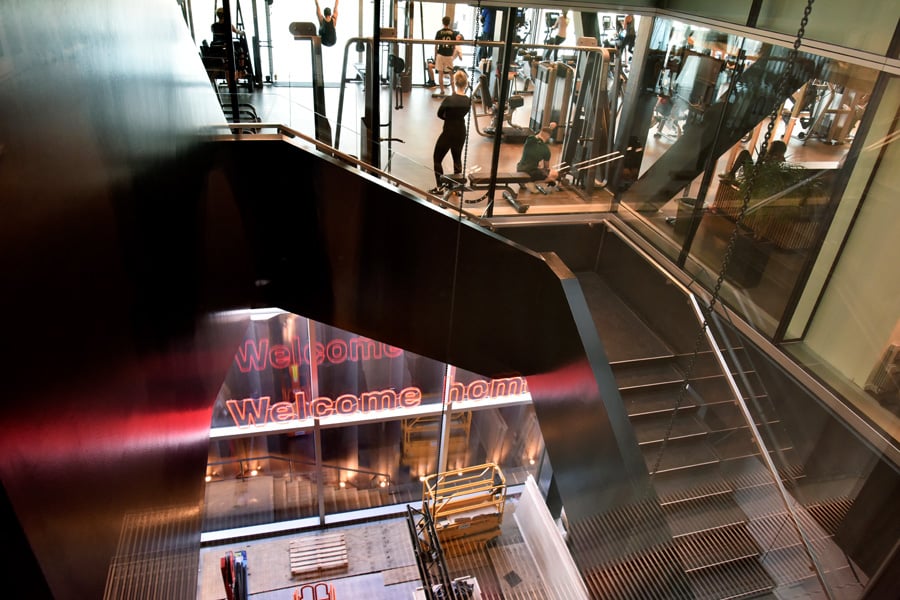 ---
The point is, however, labored to the extent that it feels uncomfortable. The DAC's main gallery space, which will open with an exhibition on Danish housing, is overlooked by offices, a connection which is both distracting and claustrophobic. Somewhat farcically, one the DAC's main staircases, which will also double as an exhibition space, is overlooked by the BLOX gym. Sure, there is a "building" metaphor here, but do gallery-goers really need to watch a man struggling through pull-ups while enjoying an architecture show, or vice versa?
The complex intermingling of functions and volumes also makes the building somewhat difficult to read. Viewed from the nearby Langebro ("Long Bridge"), BLOX is reminiscent of OMA's Timmerhuis, a pixelated sibling conceived at a similar time. BLOX's black and dark green boxes protrude and cantilever from the structure; the building hulks over a road teeming with traffic.
These features appear to be the only concession made to BLOX's environs: the green a reflection on Copenhagen's iconic copper rooftops; the bridged road, a reluctant nod to the neighboring Schmidt Hammer Lassen–designed national library, better known as the Black Diamond.
According to Chris Carroll, a director at Arup and longtime collaborator with OMA, this is the most complex project he's worked on with the firm on account of its irregular structure and interlinking forms—quite a claim from the man who made the CCTV tower stand up. This structural complexity also partly explains why the project has taken 12 years to complete (the global financial crisis didn't help either, pausing progress from 2008-2012).  
Approaching BLOX from a generous public plaza on the north side, visitors are drawn sharply down via the disputed "urban passageway." From here they can either enter the DAC via the gift shop, or continue beneath a ring road and back up to the waterfront. A public plaza and pedestrian/bike bridge connecting over the sea are due to be completed later in the year. Located directly beside the busy road, presumably this plaza will be for those who share van Loom's predilection for noise.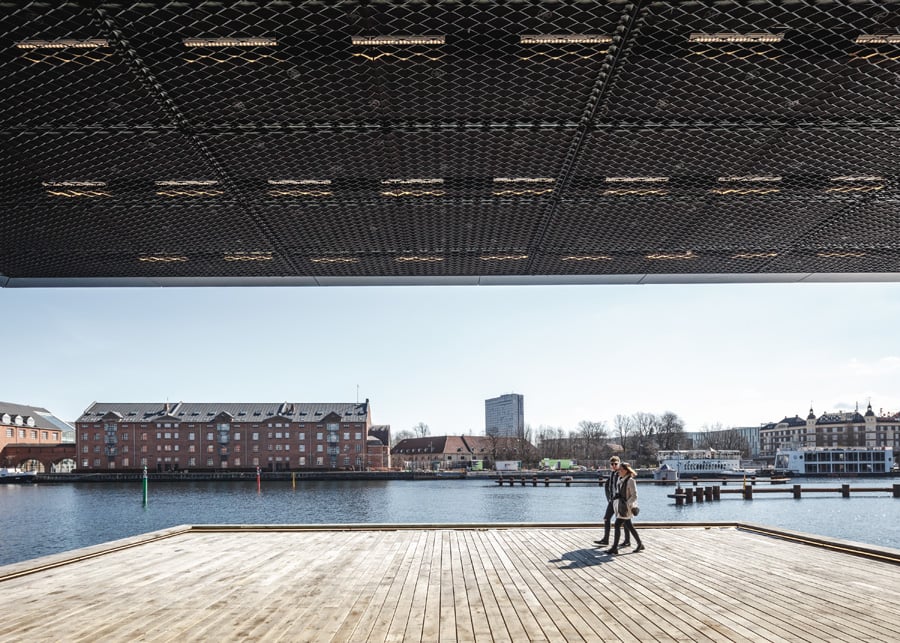 Residents and members of the BLOXHUB access the building differently: through elevator cores that straddle the vehicular ring road and lead to the private sections of the building. Complete with swings, break-out pods and a VR-studio, BLOXHUB is dressed as a comfortable cliché of a millennial co-working space, although posters advertising seminars on sustainable architecture and a pitching session with Gehl's eponymous firm reveals its thematic specificity.
BLOXHUB aims to export the "Danish way of living" around the world, according to Jesper Nygård, CEO of Realdania, the member-based philanthropic organizations who commissioned the project. Annual membership of the hub, which allows access to communal facilities and events, is offered at a fairly low one-off cost—$1,300 (8,000 DKK) for businesses of 6-50 employees—although actual desk space per month is a far-steeper at around $975 (6,000 DKK).
The 22 apartments form the upper-most sections of the blocky whole and add little to the ensemble. Most occupy a single floor, which seems to be a missed chance to emulate some Habitat 67-style pixels, although they do enjoy generous terraces with spectacular views over Copenhagen and the water. Realdania retains ownership of the apartments, which will rent for between $4,000 to $8,000 (25,000-50,000 DKK) per month.
For all its structural and functional complexity, there is a simple logic to the success of BLOX: the further from ground level and its public elements that one progresses, the more complicated and unappealing it becomes.
At ground level the playground, public plazas and a dramatic vertical void indicate a welcoming and intriguing complex. Delve further inside, however, and welcoming becomes watched, intriguing becomes befuddling.
Perhaps Danish urbanism wasn't such a bad idea after all.
You might also enjoy, "OMA Unveils Dramatic New Community Center for Historic Temple in L.A."