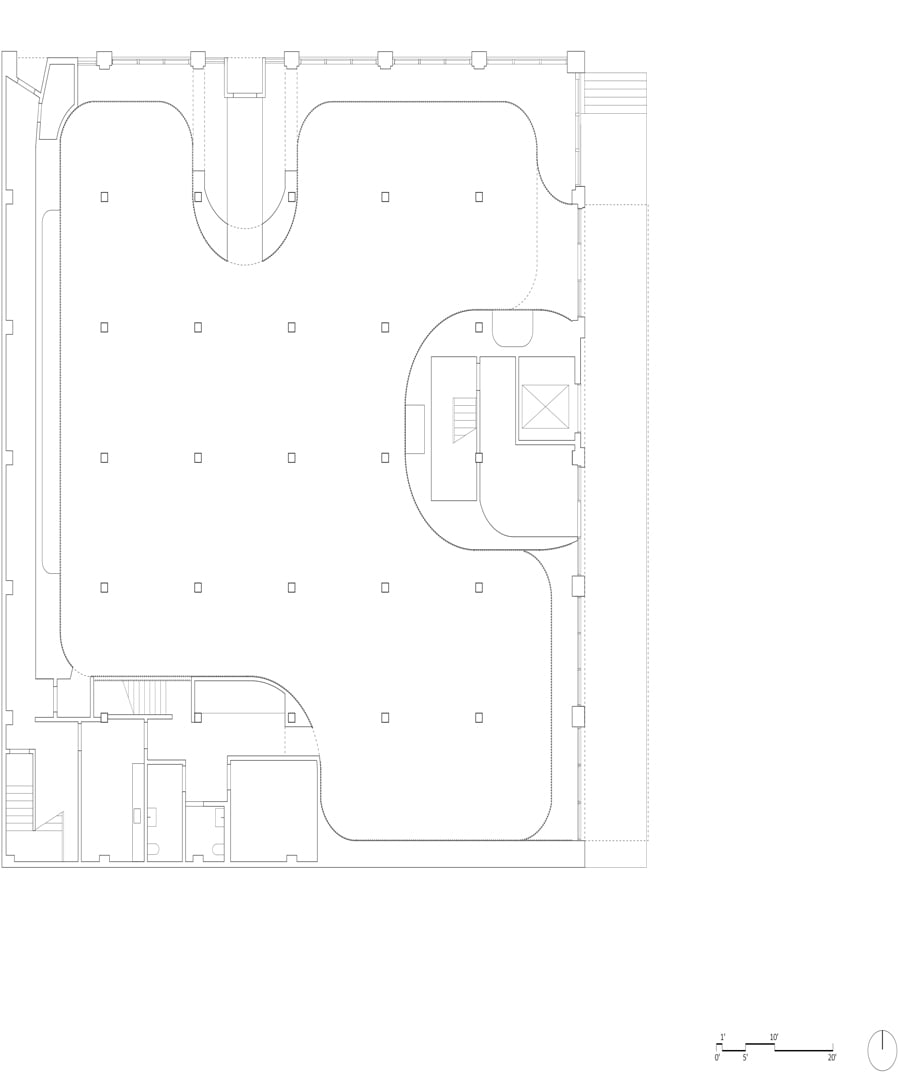 November 4, 2020
Rafters and Ribbon: A New Home for Blu Dot in Portland
Blu Dot's Portland showroom by Waechter Architecture combines historic craft and contemporary curves—much like the furniture company's aesthetic.
When architect Ben Waechter's firm was commissioned to design a showroom for furniture manufacturer Blu Dot in Portland's historic Kerr Building, he could tell right away its heavy-timber architecture had potential. But the former factory, dating to 1921 and located in the city's fashionable Pearl District, had long ago been converted to offices and subdivided into a rabbit-warren of little rooms. "The sort of raw, simple beauty was really lost when you walked through the space," Waechter recalls. "It was there but you'd have to look for it."
Once the office tenants moved out, removing drywall to reveal the Kerr Building's original timber beams and columns was ultimately just the start. Waechter Architecture's design needed to balance historic and contemporary style, and make the building a stage set for Blu Dot's furniture. "They were demanding clients, in a way. It's a furniture brand that's interested in craft. They really expected a lot, and they were highly involved," the architect adds. "But their input was always on point."
The building is part of the larger 13th Avenue Historic District, a collection of early 20th-century industrial buildings just north of downtown united by brick facades and loading docks. It was originally home to the Kerr Glass Jar Manufacturing Company, which all but invented the practice of shipping fruit juices in concentrate and, after patenting one of the world's first self-sealing jars, became well known for its glass. The ground-floor space now occupied by Blu Dot was also once home to the Edison Phonograph Company.
---
More from Metropolis
---
Waechter's design manages to celebrate the interior architecture by making it, in his words, all one vessel: Exposed ceiling beams, columns, and floors were all painted white, highlighting the colorful furniture on display. But the signature design move for the showroom is a ribbed white partitioning that Waechter calls a ribbon.
"The ribbon is this two-dimensional thing that contains the overall space, but is weaving around the room," he explains. In some cases, the ribbon camouflages eyesores like mechanical equipment on the mezzanine. In other cases, it functions more like an interior wall, breaking down the showroom's wide-open volume into more intimate sub-spaces for displaying bedroom, dining, or living-room sets.
"This is a larger intervention for us than most of our stores," Blu Dot cofounder John Christakos said on a January tour of the showroom, pointing to Waechter's ribbon. "The risk is that it becomes about the architecture and not the furniture. That didn't happen here. I think it still ends up being a nice, quiet, interesting background. You notice it. It really elevates our stuff. But it's not foreground."
The ribbon and the original structure do a kind of dance as well-matched partners.
"We wanted it to be clearly separate from the heavy timber building," explained Maurice Blanks, another cofounder, during the tour, "so the details of it had to be just right."
Though the ribbon is painted white to blend in, in curving through the store it provides a simple geometric counterpoint to the original architecture's rectilinearity.
Since its founding in 2008, Portland's Waechter Architecture has won widespread acclaim for single-family homes, but retail and hospitality design have always been a quieter specialty. The firm's second-ever project, 2009's J-TEA in Eugene, Oregon, won an American Institute of Architects award for repurposing a small historic house into a tea shop with a striking contemporary canopy. Earlier this year, not long after winning the Architectural League Emerging Voices Prize in 2019, Waechter's Society Hotel Bingen, a converted former schoolhouse, opened in the Columbia River Gorge.
Similarly, Waechter's design for the Portland showroom installs a curved canopy over the Kerr Building's original loading dock. Yet like the interior ribbon masking clutter, the canopy installation replaced a mishmash of non-original windows with a single piece of glass. The marriage of old and new actually brings greater clarity to the overall composition.
"All of a sudden the beauty of the grid and the rigorous nature of the facade is revealed," Waechter says, "and you experience it in a stronger way than before."
You may also enjoy "An Off-Grid Retreat Has Lofty Sustainability Goals"
Would you like to comment on this article? Send your thoughts to: [email protected]
---
Register here for Metropolis Webinars
Connect with experts and design leaders on the most important conversations of the day.