February 20, 2019
Facing a Tight Budget, a California School Transformed Its Architecture With Color
The 800-student Caliber ChangeMakers Academy, built for $144 per square foot, saw architects, a nonprofit, and students collaborate on a vibrant color palette.
"Fabulous cool" and "sparkly smart" were the two color palettes that students could vote for to enliven their new school, the Caliber ChangeMakers Academy in Vallejo, California. Designed by San Francisco–based architecture firm TEF, the K-8 charter school shows how the mundane but cost-effective concrete tilt-up can be transformed through the thoughtful application of color.
Vallejo, a working-class town 30 miles north of San Francisco, has struggled since its largest employer, a naval shipyard, shut down in 1996—about 70 percent of its students are from economically disadvantaged families. TEF was hired in 2015 to design the first ground-up building for Caliber, a local charter school organization with big dreams to create an optimal educational system and learning environment. Originally, the idea was to create a complex of separate buildings to serve 800 students, but the plan turned out to be cost-prohibitive. "We brought all the classrooms together in a single building, and placed a courtyard at the center so that each classroom would still have light from two sides and there was a heart of the building that everyone could use," says Bobbie Fisch, principal at TEF.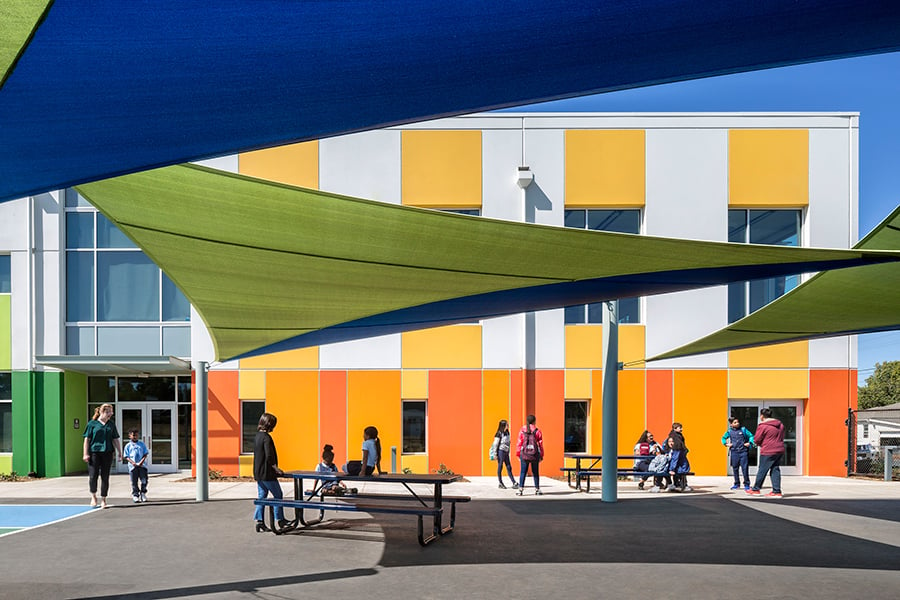 To get the most building possible within the constraints of their minimal budget, the architects settled upon a concrete-tilt up structure. The two-story, 65,300-square-foot school was built for $9.4 million, or $144 per square foot—less than half the cost of a typical commercial building. The client wanted the school to be colorful and identifiable, so the design team gave the building's facade different colors that map on to where the grades are located on the first floor (K and first-grade classrooms are blue, grades two and three are green, and the multipurpose room is yellow). "The reveals [i.e., grooves in the concrete] and placement of the windows are the enlivening parts of a fairly flat facade, and color adds a third dimension," says Fisch. The lower level is coated in darker hues to ground the building, while the upper floor floats upward in lighter shades.
---
More from Metropolis
---
The 3,200-square-foot courtyard offered yet another opportunity to bust out gallons of paint. TEF designed a large mural that runs along the floor and goes up the stairs and wall. The abstract graphic of straight lines reflects the streamlined language of the facade and deftly incorporates the four words—"heart," "smart," "think," and "act"—that stand for the core skills that Caliber strives to instill in students. The design team also partnered with Berkeley, California–based Project Color Corps, a nonprofit founded by color specialist Laura Guido-Clark in 2011, to bring the students into the design process. Guido-Clark surveyed the students about the feelings they wanted the space to convey, held two color seminars tailored to different age groups, and created two palettes based on the survey, which the students then voted on. ("Fabulous cool" won over "sparkly smart," a palette of slightly lighter colors.) "[The mural] isn't something that happens randomly to them, it's a reflection of how the kids want to feel at school," says Guido-Clark. "We want to implement color and pattern and infuse a sense of well-being here."
You may also enjoy "Five Finalists Announced for 2019 Rudy Bruner Award for Urban Excellence."
Would you like to comment on this article? Send your thoughts to: [email protected]