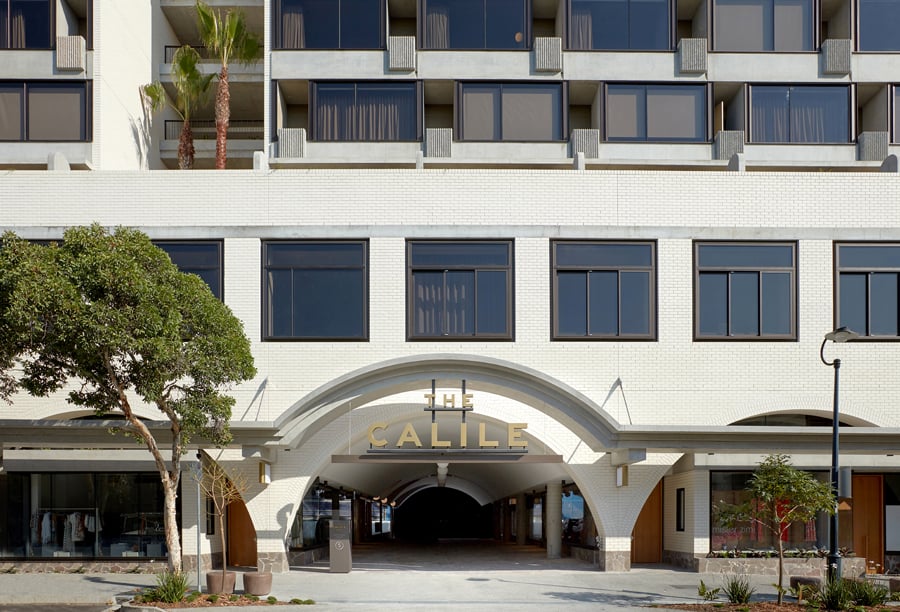 August 29, 2019
This Hotel in Brisbane Blends Brutalism and Tropical Splendor
Architecture firm Richards & Spence avoided local stereotypes at The Calile Hotel in Brisbane by taking its cues from the climate.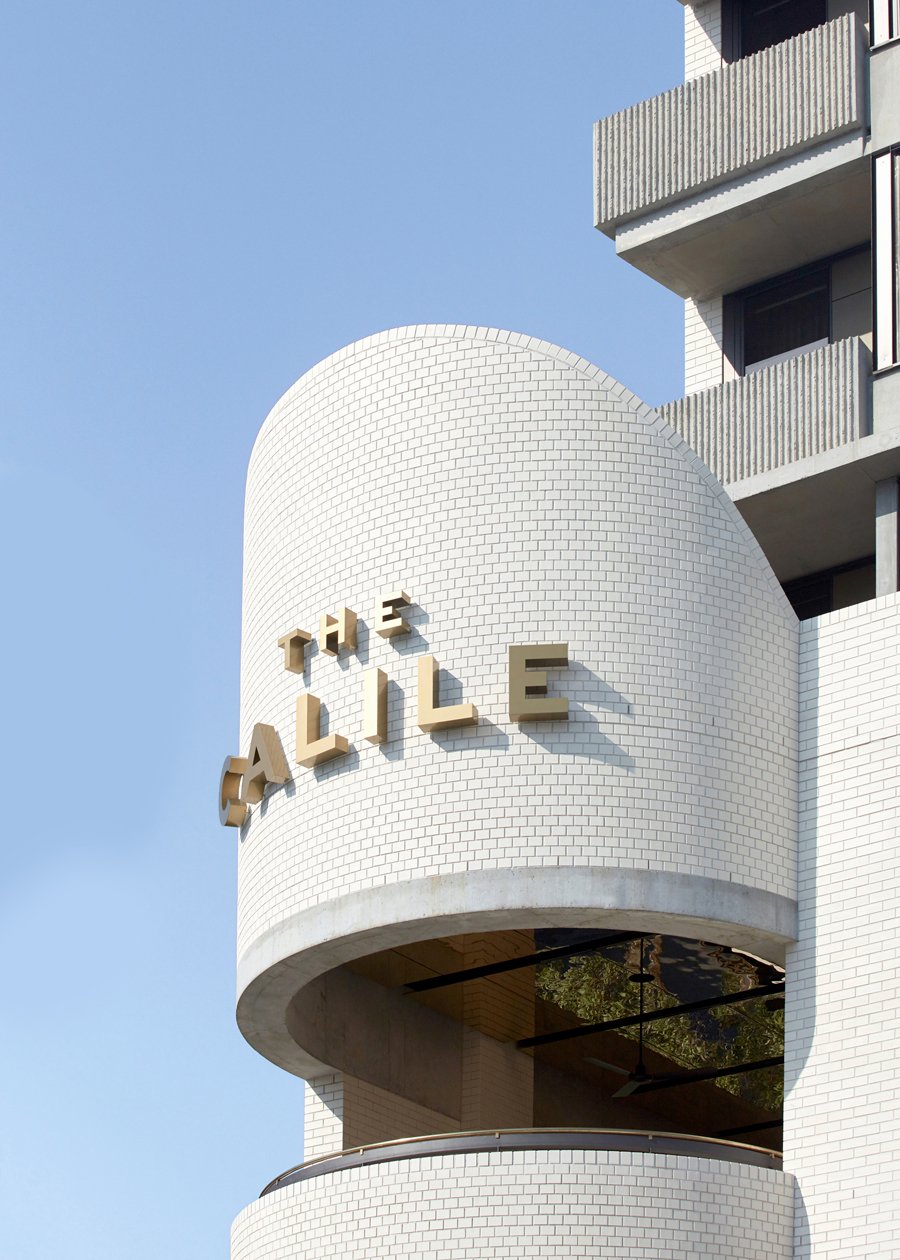 Hot tropical climates usually bring with them a more casual approach to life. That's always been the case for Brisbane, Australia's third-most-populous city, which has never quite managed to project the sophistication of Sydney or Melbourne. But a glamorous change is in the air, partly thanks to the opening of The Calile Hotel, a 175-room "urban resort" on James Street, what was once an inner-city strip of industrial warehouses and is now a swanky retail and lifestyle–focused locale.
Unless you happened to be familiar with the James Street Precinct's evolution, it would be easy to think The Calile's striking concrete and white-brick facade had been there for years. That was exactly the aim of Richards & Spence, the local firm that already had a hand in shaping the area's architectural identity. "We looked for those pure minimalist geometric shapes, so that their age is kind of indeterminate," says co-principal Adrian Spence.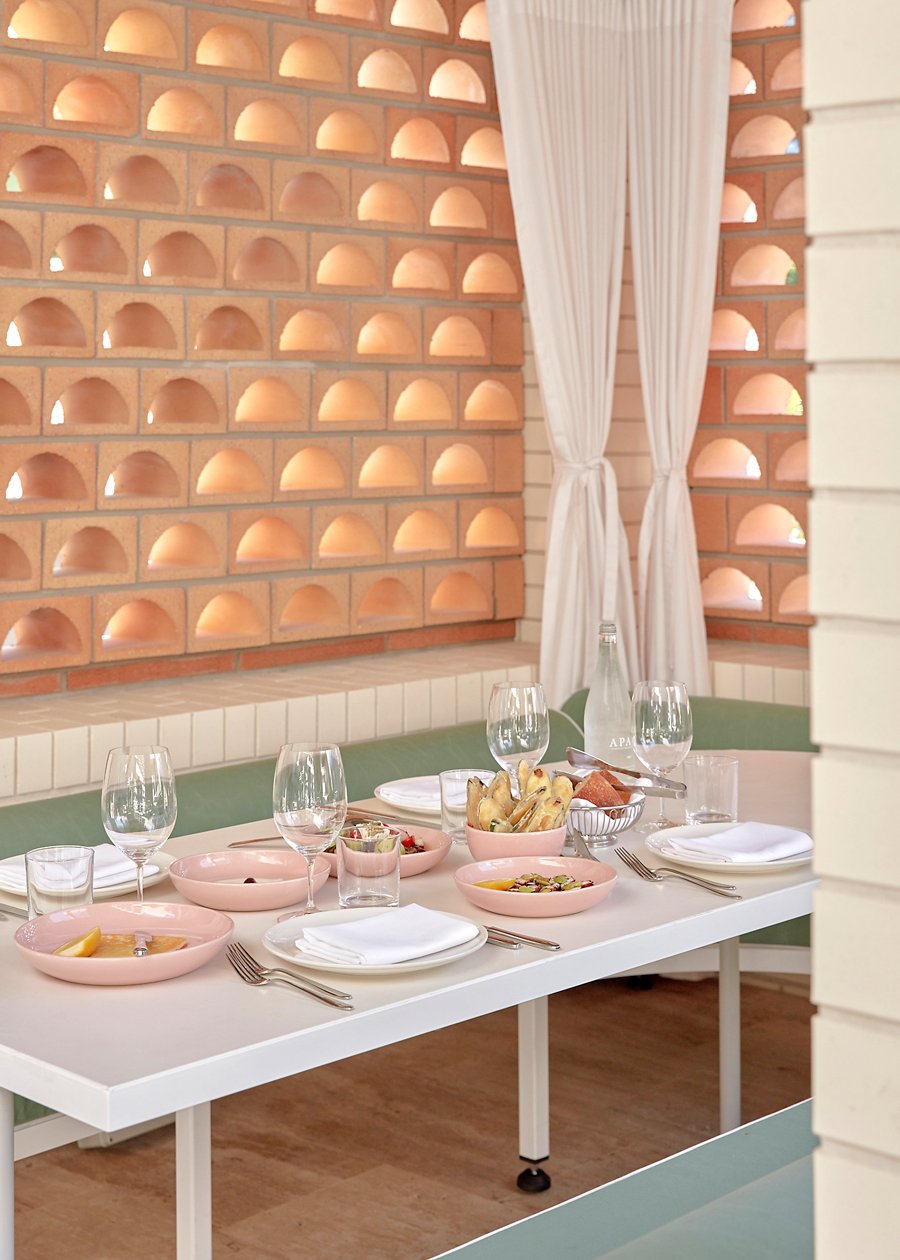 Inside, the sun-bleached tropical palette of blush pink, sky blue, and mint green evokes the breezy allure of 1970s resorts. Warm, unadorned surfaces and well-tended plants create an altogether pacifying ambience throughout. The mood, suggests Spencer's co-principal, Ingrid Richards, is a "gentle Brutalism." At the heart of it all is a lavish pool, which, rather than being tucked away on a roof- top or in a basement, acts as a focal point.
---
More from Metropolis
---
Brisbane already had more than its fair share of luxury hotels, but most of them catered to a strictly corporate crowd— anyone seeking a sun-drenched vacation was likely to skip the city and head instead to the nearby Sunshine or Gold Coasts. Brothers Cal and Michael Malouf, two of Brisbane's most prolific developers, were determined to change that. "The majority of urban hotels follow the same generic formula," explains Michael. "Corporate in look and feel—modern homogeneous spaces with lots of commercial carpet, glass, and painted metal surfaces. We resisted this."
Richards and Spence, for their part, were careful not to fall victim to the sentimentality that has long dictated much of the city's architecture. "I think we suffer from a nostalgic legacy of 'the Queenslander' that gets applied to architecture here," Spence says, referring to the ornate timber and corrugated-iron houses of the region. "So we looked to other hot-weather climates like Miami, Palm Springs, and Rio de Janeiro to find an alternative."
While the architects made sure to avoid such aesthetic nostalgia, they did retain one key element of tropical living: bringing the outdoors in. "One of the biggest defining things about Brisbane is our climate and the fact that we live outside pretty much all year," Spence explains. "So we had this idea of externalizing as much of the building as possible."
The Calile's guest rooms are accessible via naturally ventilated corridors and stairwells; moreover, all of them feature balconies and operable windows. Even the public spaces—the restaurant included— are designed to capture the temperate breeze and get you close to the elements without being inundated. (Brisbane is prone to spectacular summer thunderstorms.)
Since opening late last year, The Calile has not only become something of a darling of top-tier travel publications. It's also proved the elusive enticement that Sydney and Melbourne sophisticates needed to justify a jaunt to Brisbane—after all, if there's one thing those cities lack, it's year-round beautiful weather. And therein Brisbane has perhaps finally hit on the secret to its success: being itself.
You may also enjoy "Hacin + Associates Reinvents the Tiki Bar—in the Heart of New England"
Would you like to comment on this article? Send your thoughts to: [email protected]