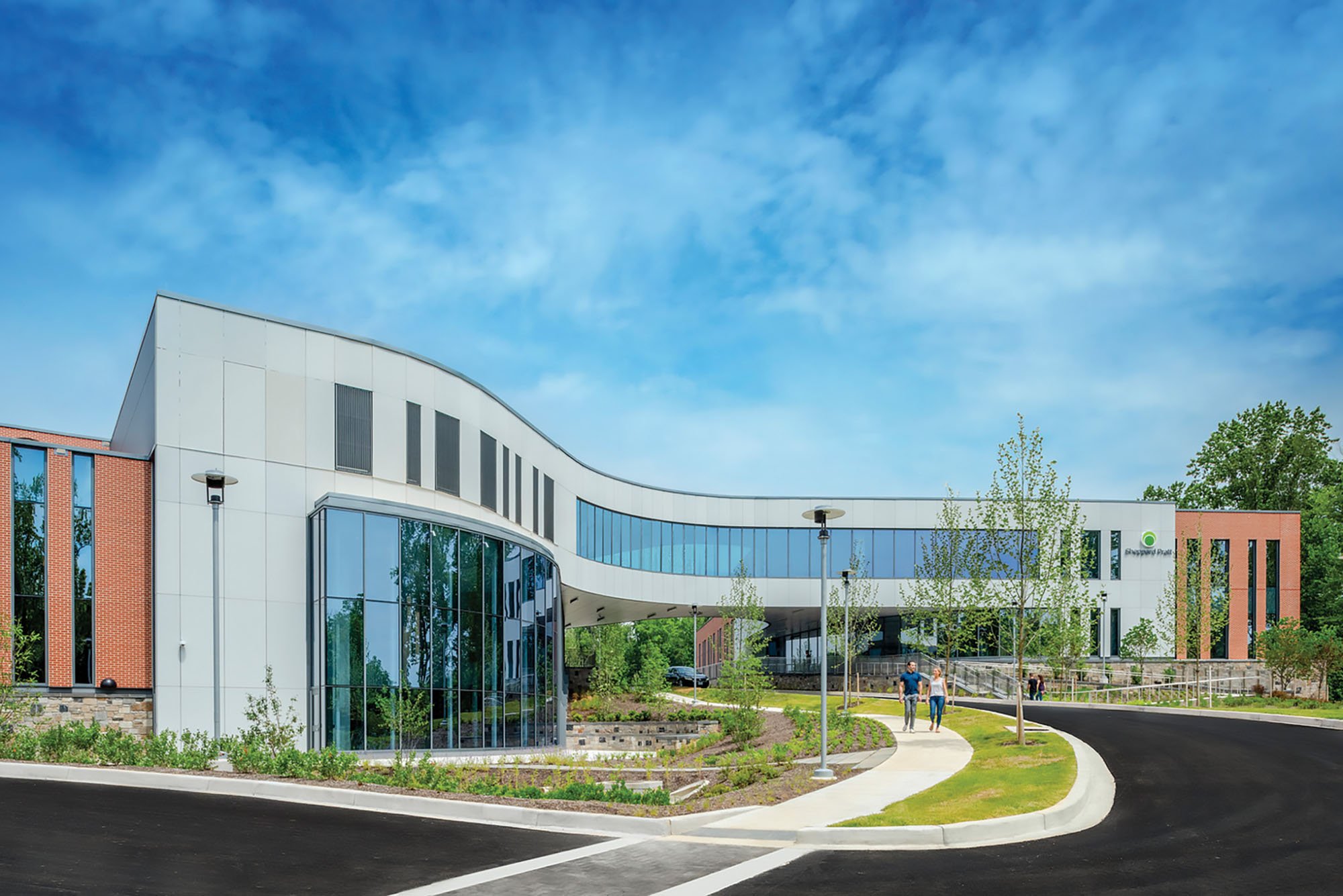 August 8, 2022
A Behavioral Health Hospital Takes Cues from Nature
Nature plays an important role in the Elkridge, Maryland, facility. Because the site had existing hills, hollows, and wetlands, the architects created a lush walking campus where patients can interact with flora and landforms. "I think this is one of the great things that CannonDesign brought to the conversation from the outset," says Dr. Harsh K. Trivedi, president and CEO of Sheppard Pratt.
---
More from Metropolis
---
CannonDesign designed the rooms with large windows that bring in abundant light and give patients visual access to the lush landscape on the 50-acre campus. Additionally, interior courtyards and exterior pathways offer opportunities for patients to connect with the outdoors.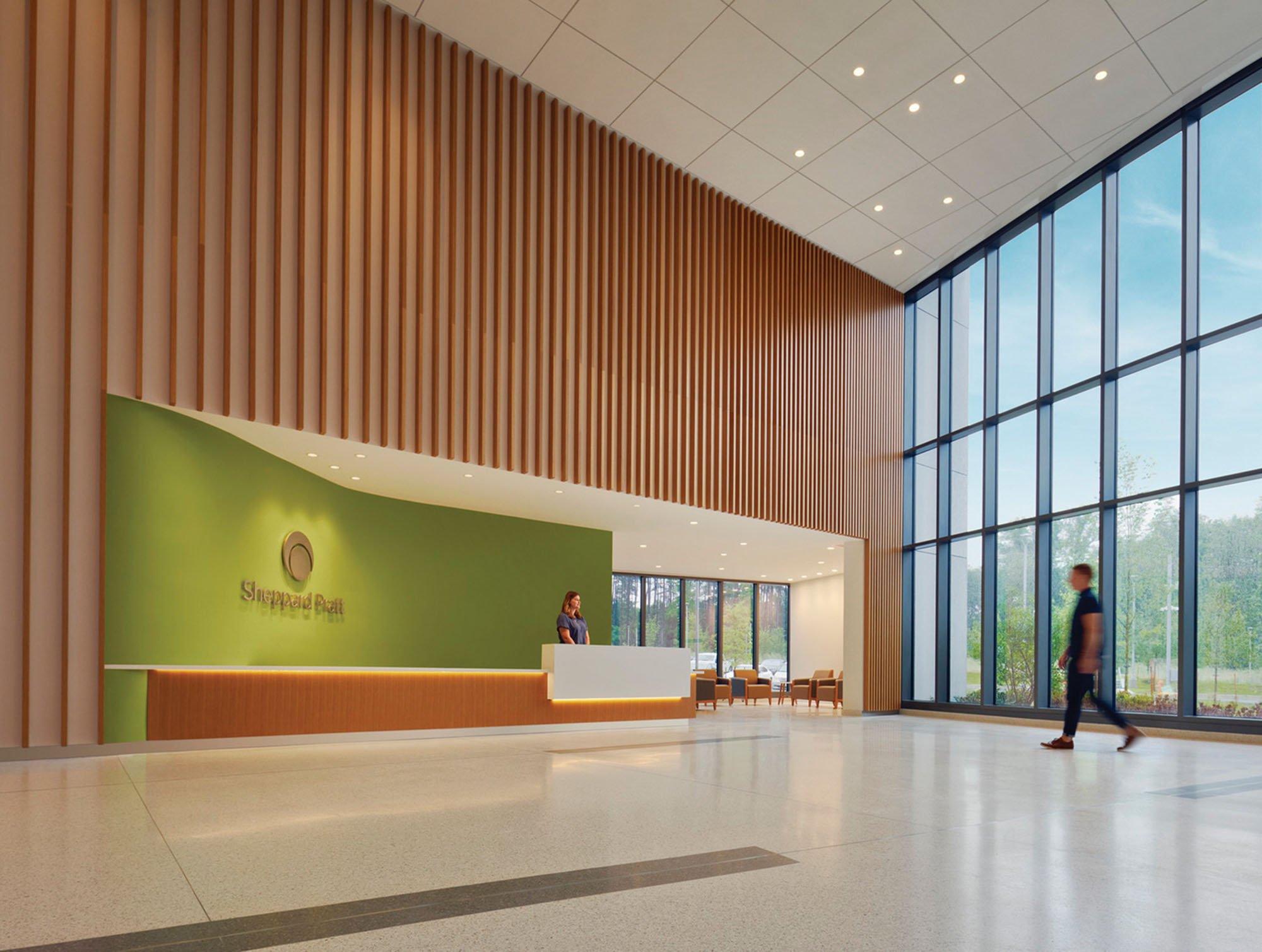 One of the goals for the 85-bed facility was to be different from the typical mental health institution, Trivedi says. "We wanted to make it feel like a welcoming, inviting place," he explains. "We wanted to dispel every misconception of what a psychiatric hospital is. So, as you walk into the entry it feels like you are walking into the warm, welcoming lobby of a five-star hotel."
Wood battens give the lobby a calming feel, but also "conjure the image of a cluster of trees standing strong together, similar to patients' reliance on community support during their time in the building," according to the firm's project summary. Ceiling elements imitate tree canopies, providing a feeling of protection in larger, open spaces.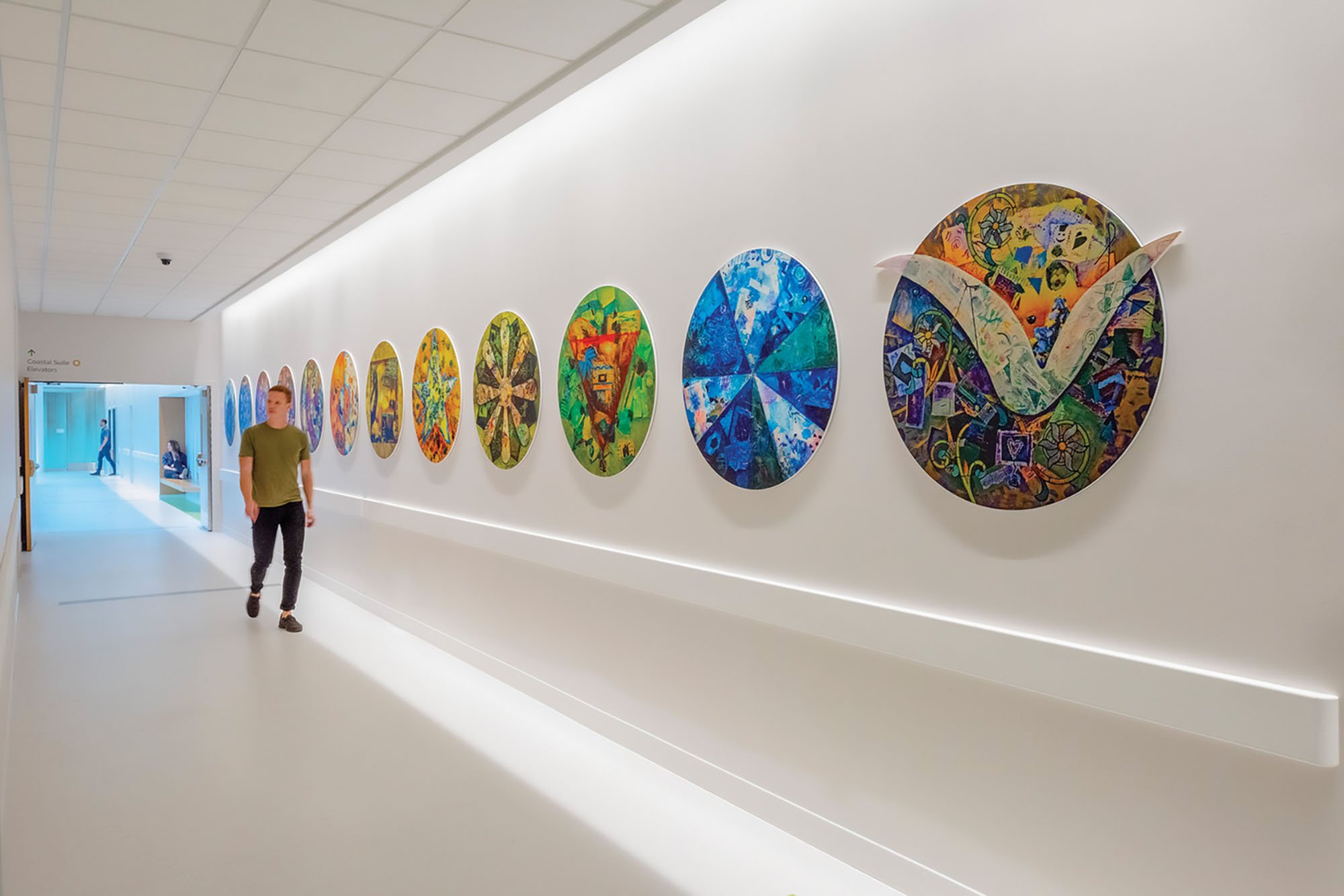 To pay homage to the hospital's 1880s campus in Towson, Maryland, the architects selected a mix of historical and modern materials such as rough-cut natural stone, red bricks, and a glass curtain wall system. The team organized the hospital into three zones: one section for education and connection with the community, an outpatient zone for patients and families, and a zone exclusively for patients. "This is the most restrictive zone, but it's separated from other parts of the hospital by internal courtyards so patients can go outside and enjoy a little more freedom," Rommel says.
Offering a variety of services, Sheppard Pratt is a sprawling health-care network with numerous locations around the Baltimore/Washington area. The system is always expanding, so Cannon designed the 156,000-square-foot facility for future expansion in a way that will not disrupt the existing operations.
"In this case, we used a horizontal expansion strategy," Rommel explains. "The site is set up for utility runs and so on, so that when the facility does need to [grow] nothing has to be moved or replaced." Additionally, the infrastructure, chiller plant, and boiler plant are already sized to handle future growth.
Would you like to comment on this article? Send your thoughts to: [email protected]