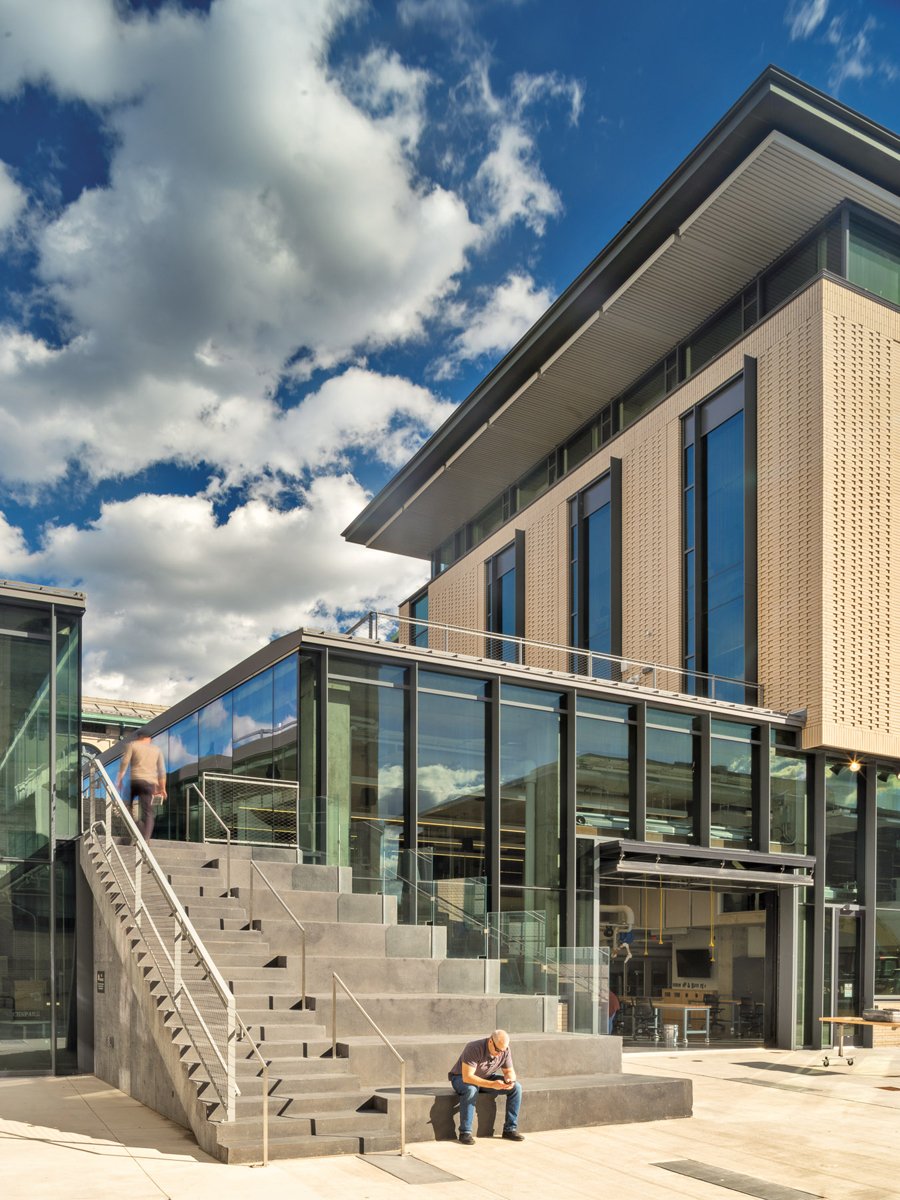 April 8, 2021
ANSYS Hall Weaves Advanced Technology into a Historic Campus
The new hive for teaching, prototyping, and fabrication at Carnegie Mellon University adds capacity for the school's robust engineering program and compliments its historic character.
Along the western edge of Carnegie Mellon University's campus in Pittsburgh, a parking lot and loading dock were converted into a new innovation hub: ANSYS Hall, designed by Bohlin Cywinski Jackson (BCJ). Named for software company Ansys, which specializes in engineering simulation and flow visualization tools, the hall needed to join adjacent engineering school buildings within the university's maker ecosystem. While CMU already had nanotech and microscale facilities, ANSYS now offers a high-bay workshop capable of accommodating the next scale up for fabrication, a final stage for macroscale prototype development along a connected pathway.
Yet while the 36,000-square-foot building was meant to be a connector, it was also at a point of conflict: A major east-west pedestrian thoroughfare—part of a campus walkway—began at the site; however, future users of the new space insisted on being able to transport models from adjacent Hamerschlag Hall, which would create an unwieldy cross-flow of people and objects. BCJ's solution was to elevate the walkway, bridging over the engineering path and beneath a Henry Hornbostel–designed archway—which principal Kent Suhrbier likened to threading a needle: "The solution teased out was what if we put them at different levels, and tuck one underneath? If we have nowhere to go laterally, we have to go vertically," he explains. "We measured, remeasured, checked it four times, and we had a couple inches to spare."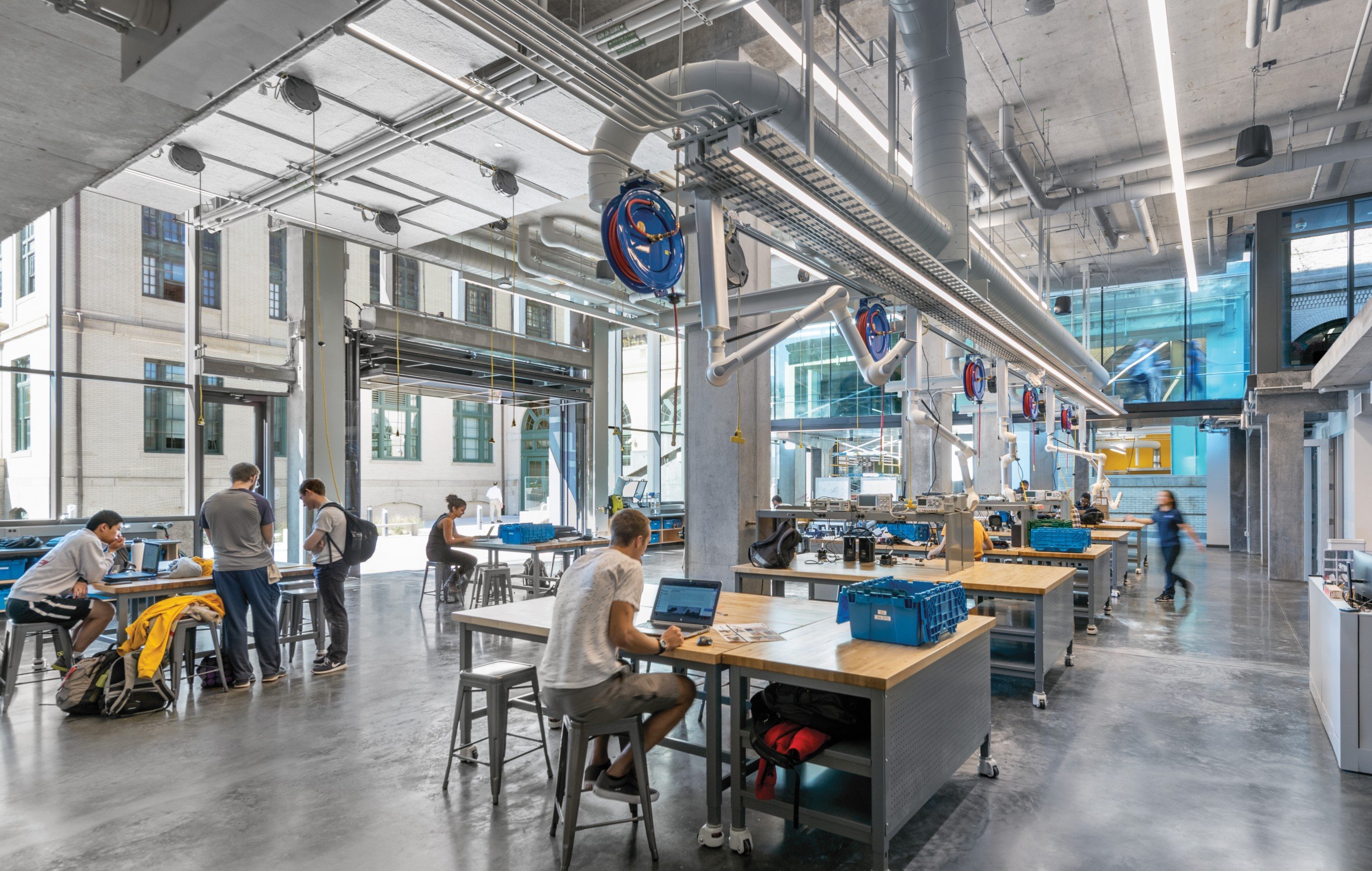 That level of precision is one that BCJ has honed over decades of practice—both on campus for CMU and for exacting tech clients such as Apple—and is evident in the glazed cut-through bridge, suspended above the high-bay space, allowing passersby to pause and observe activity below. Within the building, an accompanying simulation lab, which naturally runs the full Ansys suite (Ansys funded the project and has a corporate suite within the building), also overlooks the fabrication bay. This direct visual link between the production space and the simulation lab allows iterative prototyping augmented by what's shown in the software visualizations, so that students can simply head downstairs to begin tweak-ing built prototypes according to digital feedback, while visitors get a peek at the engineering on display.
---
More from Metropolis
---
Suhrbier likens the fabrication facility to an armature that the engineering school can continue to grow into: It's more of a framework than a set space, with mounting points and powered connections everywhere, which should allow adaptability as technology—and along with it, the school's focus—advances. One commitment from the university that helped reduce some of the complexities of a prototyping space was for the curriculum to focus on electric projects. Without a reliance upon combustion, BCJ could then eliminate specific automotive exhaust systems—or, put more simply, people and electric vehicles could safely occupy the same space.
Despite the advanced technology within the building, its architecture also exhibits a deferential relationship to the Hornbostel building beside it. "Our approach for how to touch his work was first, only to touch it where we had to," Suhrbier says. "The best way to respect it was not to mimic it or copy it but to understand his initial intent. We tried not to ignore the clues. We used them as part of the piece but looked more toward what he was intending to do, and strove to do even pieces of that in what we were doing."
In Hornbostel's brickwork, for example, he would begin to pull pieces outward from the wall, creating texture. So BCJ's response was to inspect the detailing and evolve it, thinking of patterns of void and solid, of relief and niche, that would begin to generate an interplay of surfaces not only within the ANSYS facade but also in dialogue with its neighbors. For the hall's upper-level lounges, BCJ opted for a straightforward glass facade, which borrows the historic copper-clad window walls of the building next door to form the fourth walls of the lounges. Hornbostel's fascination with terra-cotta finds new interpretation on a west-facing glass prow at ANSYS Hall, which is faced in terra-cotta baguettes to provide sun shading. By studying some of Hornbostel's own research into materiality, BCJ was able to understand his intent and iterate on it.
"Our goal as a practice is to place ourselves within an ever-evolving continuum of work," Suhrbier says. "So you're looking forward, but also looking to understand where you've come from."
You may also enjoy "Terra-Cotta Meets High Tech at the University of Arizona"
Would you like to comment on this article? Send your thoughts to: [email protected]
---
Register here for Metropolis's Think Tank Thursdays and hear what leading firms across North America are thinking and working on today.