July 6, 2021
Detroit's Caterpillar Residence Marries Landscape and Steel
Located in Motor City's quiet Core City district, the stretched Quonset hut building is the newest addition from local developer Prince Concepts.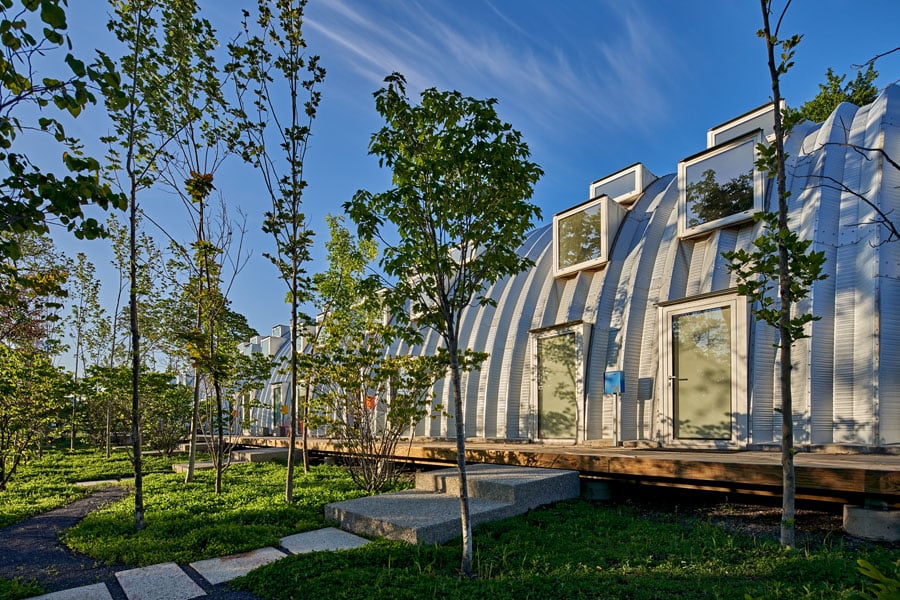 ---
Outspread roads, ample land, and low-rise buildings are traits that distinguish Motor City from other metropolitan areas. Located in the Core City neighborhood, the Caterpillar emphasizes Detroit's unique urban texture. Nestled in a tranquil green setting, the eight-unit residential building eschews invasiveness with its striking yet humble architecture. For developer Prince Concepts and architect Ish Rafiuddin, subtlety is key, especially when introducing new construction to a rapidly developing area.
"Open land is synonymous with Detroit, and we had to elevate that aspect," says Rafiuddin, the founder of the local firm, Undecorated. "While density creates social engagement in other cities, here, there are pauses between concentrated destinations, and Core City is one of them." His firm's name, he notes, reflects an emphasis on function over decoration in architecture. "I am interested in the present, not the wrapping paper around it."
The elongated, 9,000-square-foot Quonset hut structure sits on a lush green landscape designed by Julie Bargmann of Virginia-based D.I.R.T studio. "The ground cover is a 'cheap and cheerful' strategy of simply seeding white and crimson clover, which is an ordinary plant you'd find everywhere, but here it's planted as a monoculture, meaning it's more like a farmer's cover crop," Bargmann explains.
---
More from Metropolis
---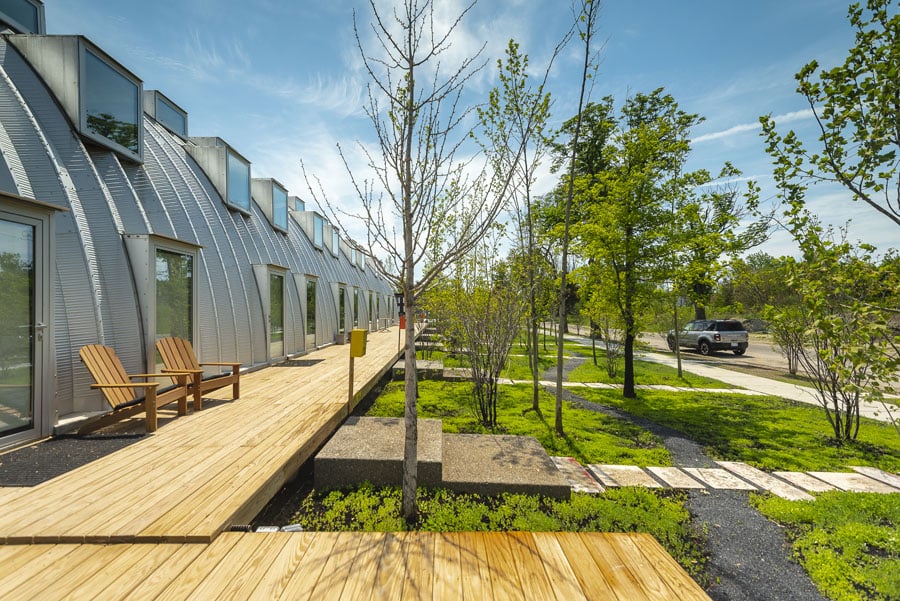 ---
While the Caterpillar gives the impression of an alien spacecraft that has silently landed onto the grove, the Caterpillar's industrial corrugated steel materiality is not foreign to the neighborhood. Traditionally used for military base and barn construction, Prince Concepts first utilized the steel structure in True North, a Core City project developed with designer Edwin Chan in 2017.
Cost-efficiency and durability were the main draws for Rafiuddin whose singular, pre-engineered form diverges from True North's nine-hut structure. "The circular form is an ideal way to efficiently span a distance," he says. On a vast plot of land where the maximum height permitted is 35-feet, the final form measured 46-foot wide and 23-feet tall. While eight is the highest zonal permit for units in a residential building, Prince Concepts founder Philip Kafka was disinterested in creating "a monster that would eat up the neighborhood's energy."
As for interiors, each unit includes what the architect calls "a wooden box," which houses a bathroom, shower, and laundry room while also serving as a divider between the living room and private space. Each unit opens up to a wooden patio, an important trait of the city's residential architecture and an important site for residents' social life. "If we erase that vast space, we will lose Detroit," Kafka says. He plans to wrap up development by adding 40 more units to the current 22 within the next five years.
---
Kafka began acquiring land in Core City after Detroit's 2012 bankruptcy and has since amassed 17 acres. After transforming one-third of the 62,000-square-feet industrial property into housing, the developer dedicated 18,000-square-foot to public space, including  Core City Park, which is within walking distance from the Caterpillar. The site features over 400 trees that orchestrate a poetic contrast with the Quonset hut's metallic sheen.
Rafiuddin and Kafka cite their own home and one of Detroit's architectural landmarks as the inspiration behind their collaboration: Mies van der Rohe's Lafayette Park. Blending ample green space with Modernist design and light, the housing project includes two twenty-two-story buildings and a series of townhouses surrounded by a lush park. The complex's oasis-like presence within the city's overall industrial landscape served as proof that 90 percent of a site could be reserved for green space.
"Light, volume, and landscape," Kafka says, "are the three critical elements to create housing."
You may also enjoy "Path Architecture Builds a Modern, Mass Timber Answer to Assisted Living"
Would you like to comment on this article? Send your thoughts to: [email protected]
---
Register here for Metropolis's Think Tank Thursdays and hear what leading firms across North America are thinking and working on today.