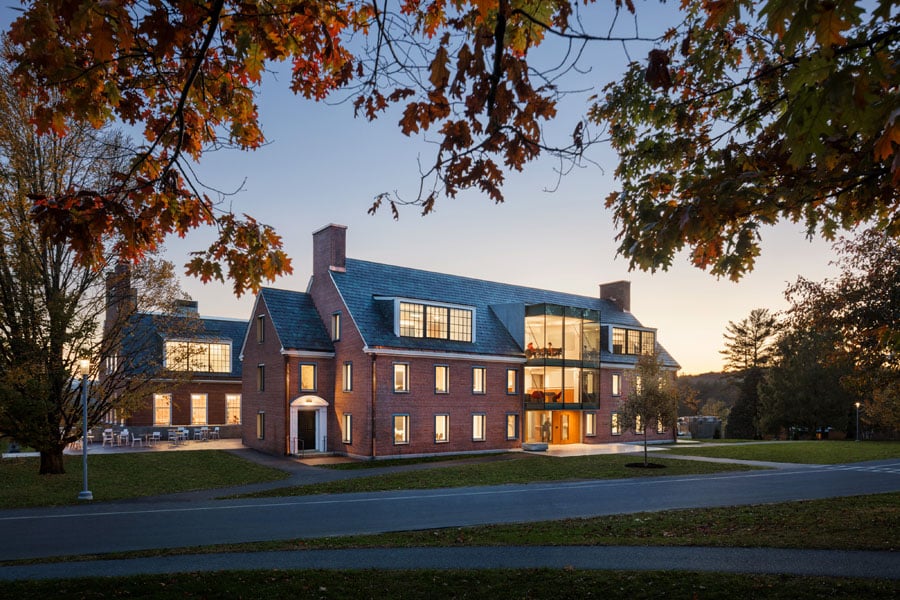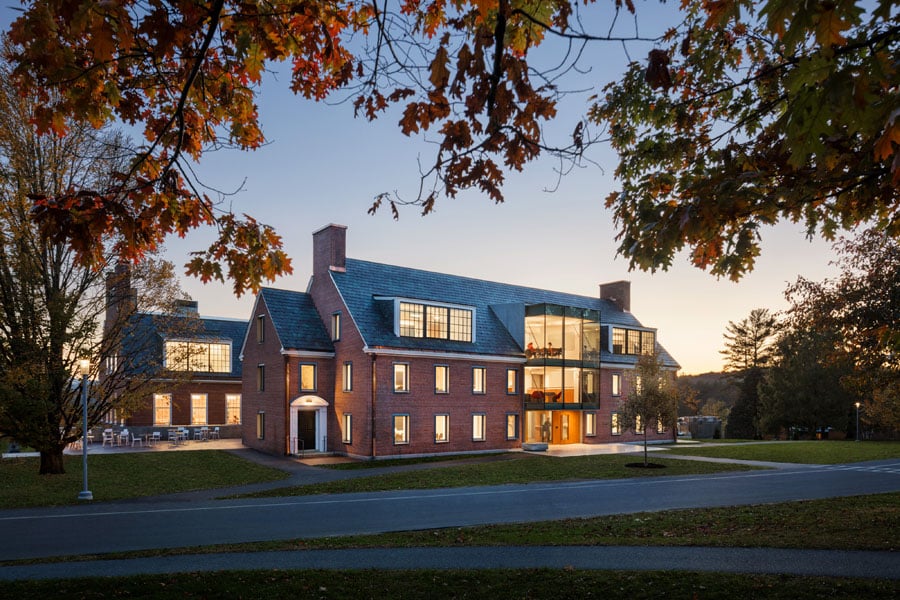 July 23, 2020
Bennington College's Renovated Commons Was Designed with Porosity in Mind
Christoff:Finio Architecture's update of the landmark building added a student center that is more in line with a new era of learning.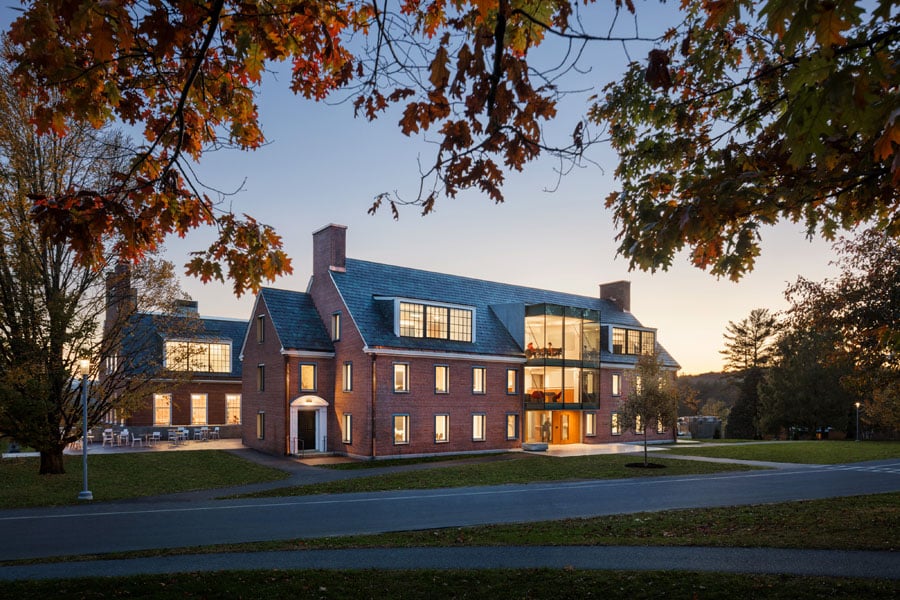 New York-based firm Christoff:Finio Architecture (C:FA) used sleek, contemporary design language to transform the Commons at Bennington College in Vermont into a forward-looking, flexible hub before the pandemic shifted learning environments. Although it has long served as the school's center of student activity, previously the three-story, 45,000-square-foot Beaux Art landmark was characterized by stuffy, outmoded interiors and a rigid layout that hindered circulation and prevented it from adequately serving a growing student body. Now, the renovated edifice supports an enhanced multidisciplinary program and functions as a vital pedestrian link, which connects two halves of the campus.
According to C:FA partner Martin Finio, creating porosity was the first order of business. Originally conceived in 1932 by Boston-based architects J.W. Ames and E.S. Dodge as a front-facing structure, the Commons' back-of-house spaces were placed along the north facade, blocking passage through the building. Finio describes the old design as "impenetrable." "Its back side didn't have a way in," he says.
To reorient the landmark to its current central location, the design team removed several columns to allow for long, open spans, and reconfigured the food preparation spaces on the first level into front-of-house kitchens for the newly expanded dining facility, in turn opening up central north-south and east-west pathways. A double-height glass-box insertion cantilevers over an enlarged entry on the north facade, giving a formal and contemporary expression to the red-brick exterior.
---
More from Metropolis
---
In contrast with the ornamental main south facade, which was left intact, the interiors are pared down and airy. "It's a very small school, so we wanted spaces that felt domestic in scale and in feel," says Finio, "and that were authentic to the 21st century while operating within the language of the original building." The designers opted for a material palette of douglas fir, iron-spot brick, and smooth, white plaster walls for a bright, clean look.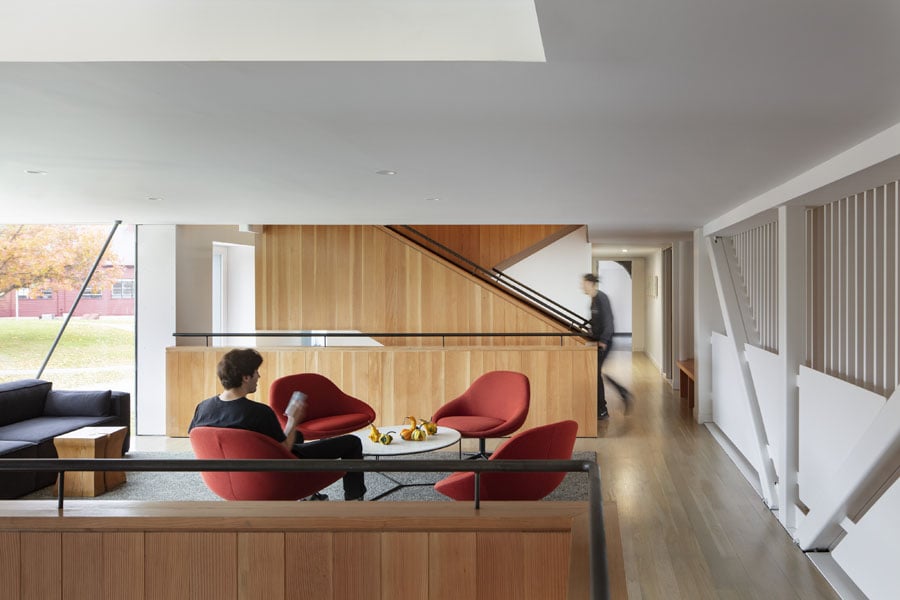 In bringing the dated building up to code, the architects recaptured 12,000-square-feet of unused space on the third floor. There, they converted what was once art studios and a small theater into the Peer Learning Lab and a multiuse forum, respectively. Now, 14-foot-high pivoting wood doors at the proscenium visually connect the two areas, lending a feeling of openness and continuity. Throughout the structure, C:FA was able to add 16 new classrooms, as well as a bookstore, cafe, bakery, several lounges, and a food hall that doubles the building's previous dining capacity.
Completed at the start of the year, the new Commons is positioned to meet the needs of students and faculty for decades to come. And while protocol will no doubt be different when life returns to campus in a post-coronavirus world, Finio believes the building's flexible design should help it adapt. "We provided many kinds of informal but intimate study spaces and nooks where an individual could settle a safe distance from anyone seated around them. And from a teaching perspective, there are a wide range of classroom sizes, so I could imagine smaller seminars being conducted in some of the larger rooms," says the architect, adding "I can also imagine we'll be seeing a lot of hand-sanitizer stations dotting the interior landscape."
You may also enjoy "Elkus Manfredi's Glass Insertions Restore and Update Emerson College's Little Building."