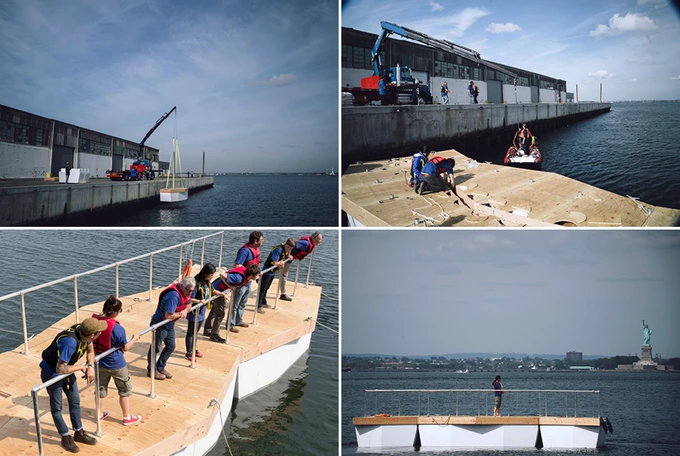 May 19, 2016
Citizen Bridge, NYC's First Floating Bridge, Reaches Kickstarter Goal
Citizen Bridge will connect Governor's Island to Brooklyn, allowing pedestrians to stand in the middle of the water—as New Yorkers did over a century ago.
All images via Citizen Bridge Kickstarter Campaign
Governors Island is a small, pedestrian-only island to the south of Manhattan and to the west of Brooklyn. It's just across from Red Hook, the Brooklyn neighborhood known to many a Manhattanite as the home of New York's only Ikea. To get there, you have to take the East River Ferry—that's the only option. No subway, no bus, no rail. But it wasn't always that way.
Nancy Nowacek is a Red Hook-based artist whose vision, since 2012, has been to create an alternative way to reach this backyard of New York City. She has always had a close relationship with the waterfront, but many, she suggests, do not.  "It's really hard to get to the water's edge from most points inland," she says. "It's not a part of the New York that the kids in my building…live in, nor many others who live a few miles away geographically, but experientially are a world away."
Yet, when Nowacek lived in Austin, Texas, a city without access to a coastline, she noticed that people had a close association with the water. "There are signs everywhere you go that tell you what watersheds you're in and when you're crossing from one watershed into another." The signage, according to Nowacek, brings people in contact with water, a vast public asset.
---
More from Metropolis
---
With a similar idea in mind, her latest project aims to bring people to the water in a more direct, physical way, via a floating bridge (it would be New York City's first). Citizen Bridge is a community-built and crowd-funded project; Nowacek has consulted with everyone from engineers to students, yielding a total of six prototypes throughout the process. The Kickstarter campaign, which raised over $25,000 from nearly 500 backers just this morning, aims to get the project off the ground with an installation of a segment of the bridge.
Once completed, the full bridge would allow pedestrians to walk across Buttermilk Channel and stand in the middle of the water—as New Yorkers did over a century ago. During her research, Nowacek came across photos from the early 20th century in which the Channel was "teaming with people." In these photos, she saw people using the water– in boats, swimming, even attending floating churches. Her goal is to effectively restore that public utility: traversing that 1,400-foot stretch should remind us that that the water is public space like any other. And it should be used.
Robert Moses, that contentious figure in New York city planning known for massive infrastructure projects like the Triboro Bridge and the Cross Bronx Expressway, similarly proposed a bridge that would connect Manhattan and Brooklyn. The Brooklyn-Battery Bridge proposal– shut down in 1939, ostensibly for reasons relating to obstruction of access to the Navy Yard– would have opened up Governors Island to six lanes of automobile traffic. Instead, the bridge was abandoned for the Brooklyn- Battery Tunnel, which passes over the northern end of Governors Island.
Nowacek believes that the fact that Moses' bridge was never built indicates the historical importance of pedestrianism as an integral element of New York City.
What Citizen Bridge does is provide a people-oriented alternative to Moses' highway: by the people and for the people. Moreover, Citizen Bridge is designed not to reach straight across Buttermilk Channel, but to interact with different areas and different parts of the water. It's about experiencing the bridge and the space it opens access to, about standing in the middle of the water and taking in everything around you—and it's about experiencing that with other people. It's still a bridge, but not one that facilitates fast access to an endpoint. It emphasizes the route over the destination.