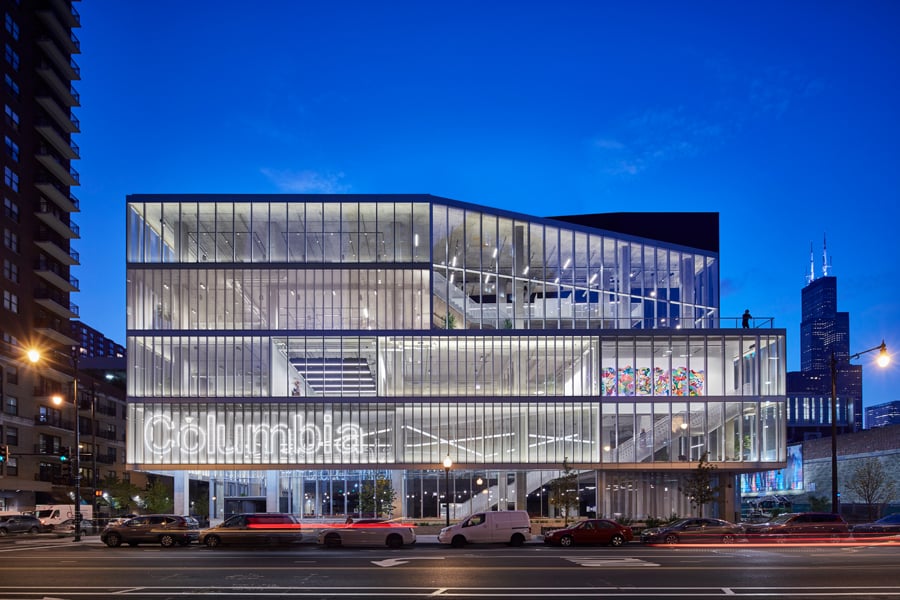 February 24, 2020
At Columbia College Chicago, Gensler Turns the Atrium Building Inside Out
The college's new student center reimagines the typically strict delineation between spaces that exist on urban campuses.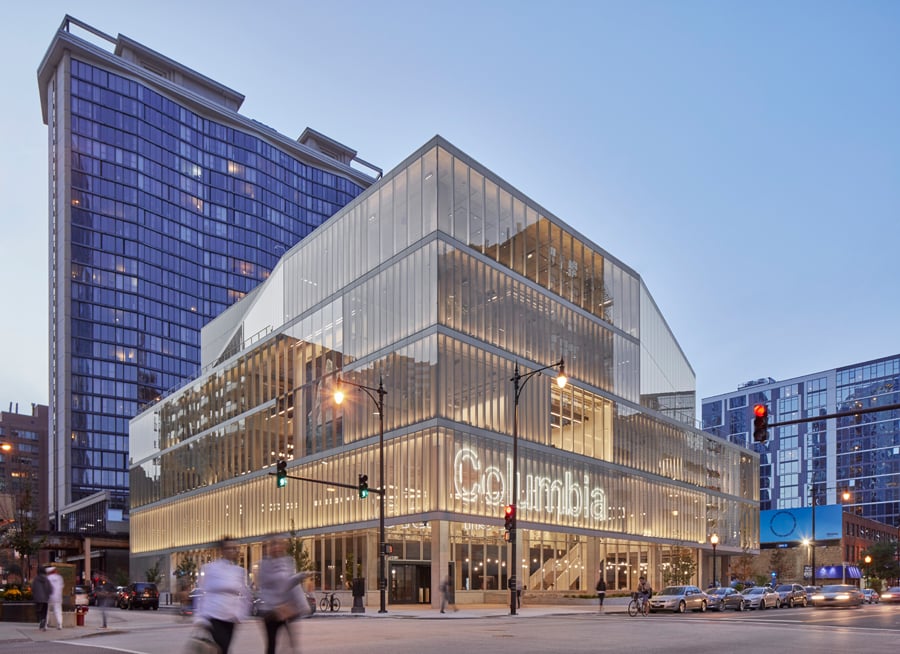 On Wabash Avenue in Chicago, the fritted glass skin of Gensler's new Columbia College Chicago Student Center floats overhead, shrouding the street corner and holding its space somewhere between public and private. A set of glass doors give way to the interior, which greets the visitor with a program rarely found anywhere downtown—a set of high tables with stools where anyone can walk in off the street to charge their phone, or send an email, or post up with a book, no purchase required.
This bold, open greeting hints at what's to come in the rest of the building, which reimagines the typically strict delineation between spaces that exist on urban college campuses like Columbia College. Its buildings, spread out across Chicago's South Loop, had no dedicated space for student interaction. "Those kinds of meetings happened in public spaces or even in the hallways of buildings," says Brian Vitale, principal and co-managing director of Gensler Chicago. So, the central task of the student center, as only the second purpose-built Columbia College facility, was to encourage people to come together in ways not possible elsewhere on campus.
To achieve this, Gensler produced a complex execution of a relatively simple parti—turning an atrium building "inside out." The spaces in the center of the building—clad on every floor in that same black-stained plywood that lines the entrance—house permanent programs, while the spaces that line the perimeter remain flexible. Concrete stairs move around this perimeter space, tying floors together physically and creating moments of inter-floor openness that provide visual and aural connection. Glass walls like the ones that surround the Makerspace on the second floor encourage curiosity and make private spaces—like the quiet reflection room on the fourth floor, a product of the direct collaboration with students in developing the building's program—feel that much more special.
---
More from Metropolis
---
Just as important as the internal connections are the links to the city found on every floor. A terrace on the northeastern corner of the fourth floor reaches out to the city, in anticipation of the college's early graduation parade. And, just outside the second-floor lounge on the building's southwestern side, almost close enough to reach out and touch it, the train whooshes by. "We wanted to have a little fun with moments like that," says Scott Hurst, senior associate and design director of Gensler Chicago. Like the whole building, it's a bold move—but Gensler seems to have just gotten away with having their fun.
You may also enjoy "Behnisch Architekten Completes an Energy Test and Simulation Lab in Germany."
Would you like to comment on this article? Send your thoughts to: [email protected]