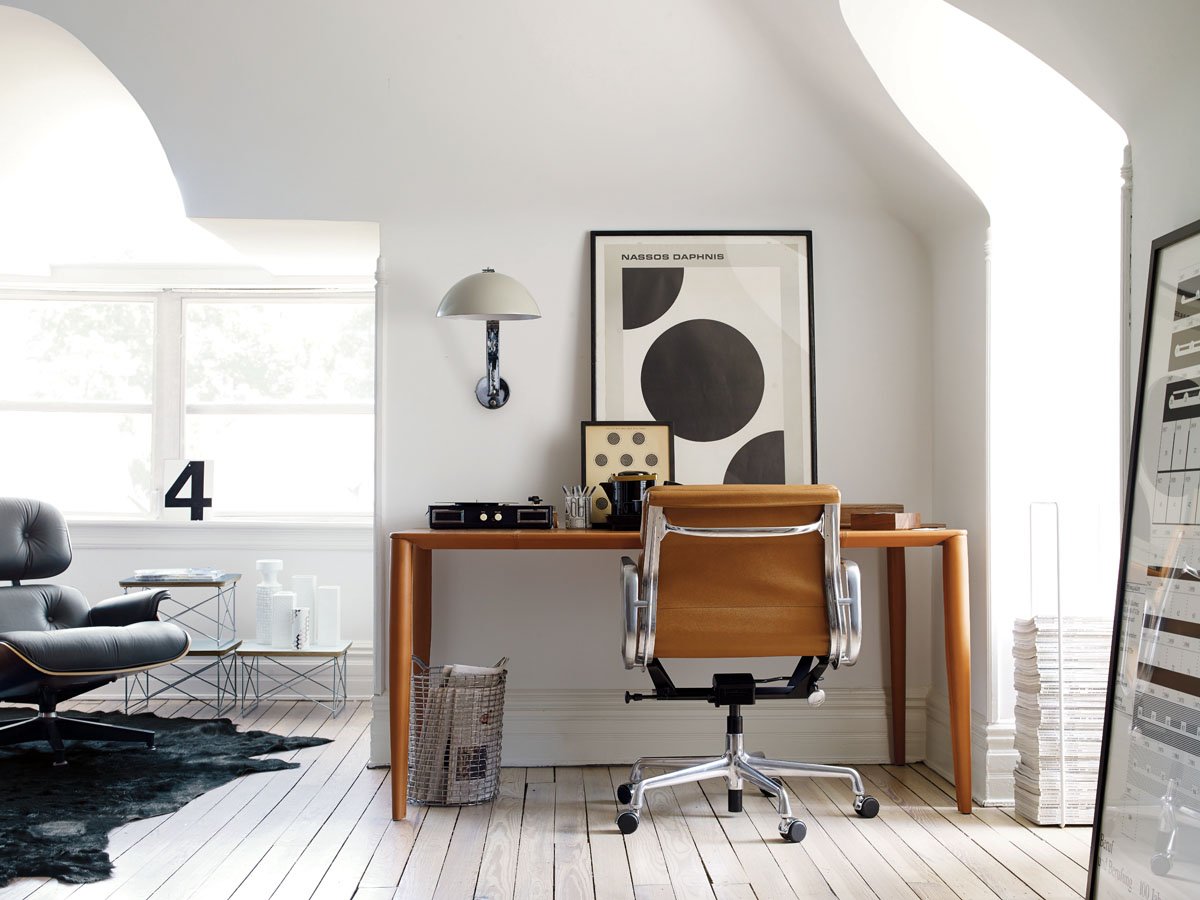 May 14, 2014
The Contract-Furniture Industry Pivots to High-End
As the contract-furniture industry faces an uncertain global market, the big players respond by investing in a sector showing unwavering growth: high-end residential interiors.
The Design Within Reach tableau illustrates the phenomenon facing the contract-furniture industry, as home and work blur. Featured here: the Bottega Leather Desk, designed by Michele di Fonzo, and the Eames Soft Pad Chair.
All photos courtesy manufacturers
There was a time—not too long ago—when the contract-furniture industry seemed to run on autopilot, decades when all of the major players filled floor upon skyscraper floor with acres of cubicle and panel systems. A time when a steady stream of corporate and government clients assured consistent double-digit growth. That time is past. "Our industry is in a historical moment of change," says Franco Bianchi, president and CEO of Haworth Inc., the office-furniture giant based in Holland, Michigan. "As recently as twelve years ago, our profession was all about the workstation, especially in North America. Now it's about reducing real estate, using space efficiently, and adapting to new technologies that allow workers to be increasingly mobile."
With the domestic market largely saturated, the world economy still in neutral, and the dramatic changes in the work space, furniture companies are moving decisively to refashion themselves as they approach new markets at home and abroad. Much of that refashioning has involved acquisitions of high-end residential and commercial brands. This past February, Haworth announced it had purchased a majority interest in the Poltrona Frau Group, a consortium of venerable Italian manufacturers that includes Capellini, Cassina, and Alias, and owns a huge back catalog of classic designs. That news came just two days after competitor Knoll announced its acquisition of Holly Hunt Enterprises, Inc., an industry leader in luxury home furnishings founded by the eponymous designer.
The Split Dining Table (above) and Shadow Dining Chair (right) are both from Holly Hunt.
Knoll and Haworth are hardly the first wave in an industry-wide shift that is part sea change and part land grab, as major players scurry to expand their footprints. Last year, Herman Miller—which also has a North American distribution agreement with Italian furniture producers Magis and Mattiazzi—purchased New York–based textile designer Maharam. Teknion, which recruited designers Jeffrey Bernett and Nicholas Dodziuk to launch its boutique office design division Teknion Studio in 2013, signed an exclusive North American licensing, distribution, and manufacturing agreement with B&B Italia for its Project Collection. Even smaller players have joined the procession, with Swiss furniture manufacturer Vitra purchasing Finland's Artek last September.
"The market for luxury brands has never been stronger," says Rob Kirkbride, senior editor of Monday Morning Quarterback, a publication that covers the office-furniture industry. "It seems to be a segment of the market that rarely experiences the market fluctuations of lower-end brands. So these acquisitions make sense. The major manufacturers gain a new cachet, and access to an upscale market—to a class of customers they don't have now."
Classic pieces from the Herman Miller Collection: Tuxedo sofa by BassamFellows; Alexander Girard pillows for Maharam; AGL table by Leon Ransmeier; Landmark chairs by Ward Bennett; and Domino credenza by Isay Weinfeld, for Geiger.
But there is more at stake here than cachet. The industry shift represents the culmination of long-term trends driven by the economy, emerging technologies, and the changing demographics of work. The companies are also responding to a marketplace demanding solutions that are original, economical, and can be realized in record time. "The traditional walls between the commercial and residential markets have been challenged by the marketplace," says David Schutte, former chief marketing officer at Knoll and now president of Holly Hunt. "People are shopping everywhere now. Commercial, residential, hospitality, big office, home office, start-up, even health care, are all borrowing from each other."
While there is no talk (yet) of transferring manufacturing from Europe to North America or Asia, there are substantial distribution issues to iron out. The contract companies conduct most of their sales through trade-only showrooms and manufacturers' sales representatives. Logistically, there shouldn't be a problem getting merchandise to buyers. But neither of these channels is currently fitted for luxury or residential items. "The contract players are trying to hedge their bets," says John Edelman, CEO of contemporary furniture retailer Design Within Reach (DWR). "When the systems business goes down, they can focus on their luxury interiors. But I don't think they can simply swap the two. Buying a luxury item is part of a lifestyle, like buying a piece of art. Going to a dealer to buy a high-end chair is not a luxury experience."
Mattiazzi's Solo Chair was designed by Nitzan Cohen.
And then there is the issue of coexistence. Haworth and Knoll emphasize that their newly purchased divisions will remain autonomous. But what happens, for example, when Holly Hunt, who has put her personal stamp on her company, retires? "Each of the companies being acquired has a distinct following and culture that demands a very light touch," Kirkbride says. "Haworth, for example, has a history of heavyhanded management in the companies it acquires, although Franco Bianchi has deep roots in the Italian furniture world, which should help."
The Patricia Urquiola collection for Haworth will be launched next month at NeoCon. Several concepts and designs were previewed at last year's fair.
In virtually all cases, the acquisitions are part of an internal process begun during the halcyon contract days of the 1990s. "We've been having versions of this conversation for at least fifteen years," says Jack Schreur, vice president of the Herman Miller Collection, a high-end residential and workplace design unit within Herman Miller that offers both iconic and contemporary retail furniture. Founded in 1948 by legendary design director George Nelson, the Herman Miller Collection has grown rapidly over the past ten years, with revenues increasing tenfold. "We've been so many different kinds of companies—period residential, midcentury modern, ergonomic seating. But we've always maintained a point of view. You can't just be about what happened ten minutes ago. Frankly, we're doing what we've always done when the world shifts on us."
Teknion Studio's B&B Italia Project Collection includes AC Executive furniture, designed by Antonio Citterio.
Progetto 1 by Monica Armani.
For Steelcase, adapting to the twenty-first-century market has included a 2008 merger of three existing brands to form Coalesse, a premium brand conceived to respond to the increasing overlap between office, home, and leisure space. From a business standpoint, Coalesse has been a disappointment.* But it does drive much of the research and strategy at the parent company. "The idea behind Coalesse was not just to bring three existing companies under one heading," says Lew Epstein, general manager of the Bay Area–based Coalesse. "It was to bring them together to set a new direction, one that could drive deeper relationships with existing partners and attract new ones."
The Vitra/Artek showroom at VitraHaus, in Weil am Rhein, Germany. The concept space was designed in collaboration with Studio Ilse.
One of the most interesting—and promising—new entities created over the past two years is the one generated through Vitra's purchase of Artek, a family-owned Finnish manufacturer of wooden furniture founded by Alvar Aalto and associates in 1935. "Both our companies have similar philosophies," says Simone Vingerhoets-Ziesmann, executive vice president of Artek. "Both work in the contemporary sphere. Vitra is more about steel and plastic. We're more about wood. They can offer sleeker environments, and are stronger on the traditional contract side. We can offer warmer, fuzzier environments." The new marriage has already borne fruit, with Artek presenting a new chair named Rival at both Milan and Orgatec (the European contract exhibition). Designed by Konstantin Grcic, Rival combines the two companies' manufacturing capabilities: it's a wooden chair with a plastic seat.
Whether through acquisitions, partnerships, or internal remakes, all of these approaches are driven by the same goal: to diversify capability and be poised to expand into new or under explored markets that might fuel growth. These strategies are largely a response to a still-sluggish economy that continues to weigh on many of the industry's traditional customers. Banks and brokerage houses appear unlikely to return to their pre-2008 spending levels. Government work, another steady moneymaker, has also withered. The demography of work has also changed, with Millennials and Gen Xers, casting vastly different shadows than their Baby Boomer predecessors. The contract industry now finds itself operating in a world where people can—and do—work anywhere, anytime. If there ever was a handbook for creating office space, it's been tossed.
"This is a creative economy, where there is a constant sharing of ideas," says Charlie Bell, general manager of Teknion Studio. "The atmosphere in those companies is not unlike what happens at home in family communications and interactions. Today's workplace has to support that. We're focused on the spaces in between—spaces outside, within, and around traditional systems products. Still, let's be clear. Our goal is not to make furniture reminiscent of home. You can't just simply take a residential product and place it in a work environment that may be used 24/7."
The first cross-company collaboration between Vitra and Artek is Konstantin Grcic's new Rival chair. It has a wood frame and plastic seat
Despite the challenges, the contract industry cannot and will not abandon its core business. Tech companies like Google and Apple are here to stay, but so are, despite recent hiccups, Procter & Gamble, Bank of America, and General Motors. "I see two types of contract companies," says Haworth's Bianchi. "One kind that is running away from contract office furniture and into residential and consumer. And a second group, like Haworth, is redesigning itself to be able to speak with customers no matter where and how they're going to work. Unlike some of our competitors, we're bullish on the office-furniture market."
The contract industry seems to be saying that the best it can do is ready itself for a series of outcomes, all of which are possible and none of which are certain. "The key for them is to focus on long-term lifestyles and not on trends," says DWR's Edelman. "Following trends can kill companies of that size. Wireless connectivity is not a trend. Shared office space is not a trend. Then again, the owners of those big companies are intelligent and understand this. They've managed their businesses from typewriters to computers. Now they're going to manage them from being plugged-in to being unplugged."
Below, Lew Epstein, general manager of Coalesse responds to our characterization of his company's business.
---
Firstly, we want to thank Metropolis for agreeing to include Coalesse in the article, which we understand was to speak to the mergers in our industry, as well as their impact on creating a more residential feel in the workplace. However, there were some misperceptions and erroneous statements about Coalesse's business, research and strategy in the article, for which we offer the following clarifications. They are:
To the statement "From a business standpoint, Coalesse has been a disappointment" – Our core business is well-established and continually exceeds our industry's annual growth rate by a wide margin. We are also continuing to experiment with other channels and evaluating their progress for the future.
20 years ago the Steelcase Design Partnership helped create new categories in our industry, e.g. work lounge, driven by the research and strategy of these originating Coalesse companies. Today, however, we are driven by a more integrated approach toward research and strategy where we are able to leverage world-leading and industry defining research that Steelcase is renowned for based on its affiliations with forward looking education institutions and think tanks.
Sincerely,
Lew Epstein, Coalesse, general manager