January 23, 2020
A City Dwelling in Monterrey Is Inspired by the Mountains Around It
Casa Ocho Vigas, designed by Mexican firm Covachita, features a host of sustainable details, like natural ventilation, reclaimed casting boards, and a large elm tree.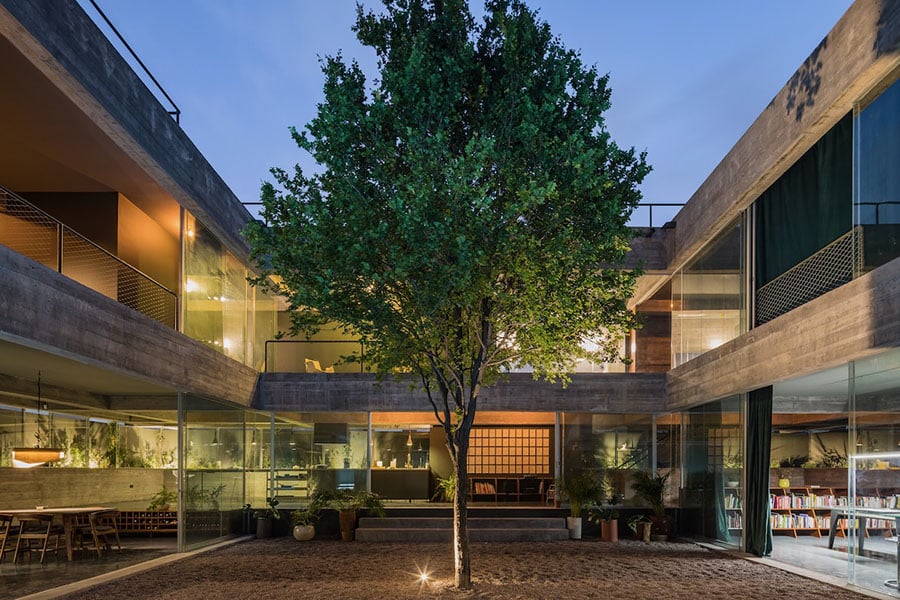 In a city defined by its mountains, a house takes note. Mexico's third largest metro area Monterrey lies at the foothills of the Sierra Madre Oriental, a long and tall range of peaks. Just about every corner of the city, which is also the capital of the northeastern state of Nuevo León, provides views of these fringing rocky cliffs. With this local context informing both material and texture, Mexican architecture firm Covachita conceived Casa Ocho Vigas, a breezy two-story volume of imperfectly cast concrete.
"The gray color palette and roughness make a direct connection to the mountain range," says Roberto Núñez of Covachita, who acted as principal architect on the 5,900-square-foot project and also lives there, with his wife, two young children, and two dogs. To both trim expenses and preserve the house's raw, pitted surface, its concrete is made from local sandstone and cast with regional techniques that use reclaimed wood. Salvaged from the second or third use, wood casting frames were reused up to five times to produce concrete units. Covachita treated the flooring with a dark gray epoxy paint provides sleek contrast.
Further cost-cutting for the three-bedroom home is achieved through an emphasis on indoor and outdoor connections and air circulation—in this region of Mexico, temperatures can exceed a scorching 100 degrees Fahrenheit. In order to maximize fresh breezes, Casa Ocho's geometry is a square framing a central courtyard. With the supporting structure of the house resting on the perimeter of the site tucked away from the eye and no visible supporting columns, the upper level seems to float. On the second floor, with sliding glass windows on either side, a hallway connecting the bedrooms "is primarily for winds to have cross ventilation, like the front porches in traditional northern Mexican homes," Núñez explains. Large windows in bedrooms also help introduce fresh breezes.
---
More from Metropolis
---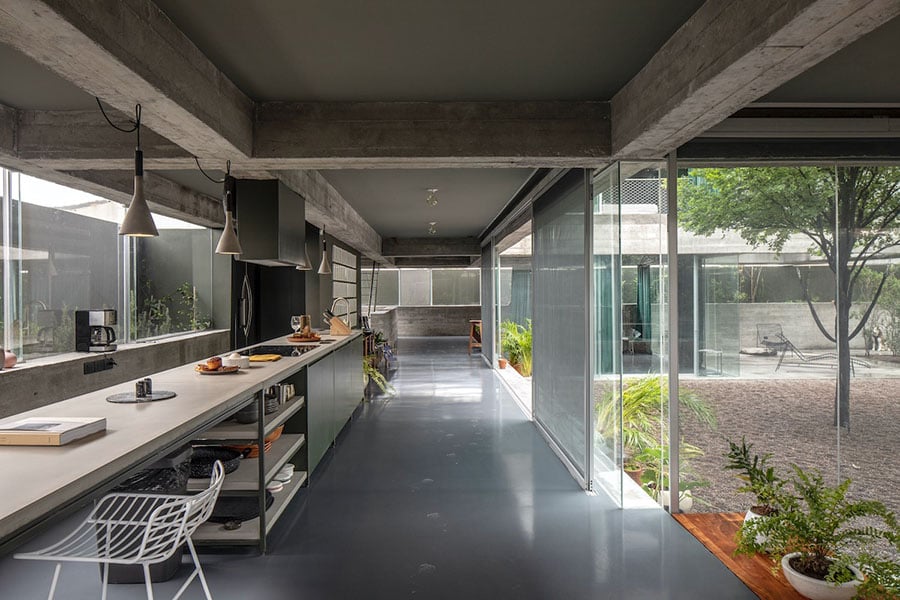 Craned in after much of the volume was already built, an elm tree in the heart of the courtyard provides shade. "It was strategically placed so that in five years the tree's canopy would cover the entire courtyard, allowing livable space even during the summer months," says Núñez. A native 200-year-old sweet acacia that survived the area's urban development already fills this function for the main entrance.
Either custom-built or sourced from a mix of emerging and established Mexican designers, furnishings are functional and flexible, keeping in mind the couple's two young children. To channel what Núñez describes as "really smooth surfaces continuing the volume's materiality and play of textures," everything in the kitchen is custom. In warm-hued distinction to the concrete, wood accents can be discovered in every room—mostly Tzalam, a local hardwood. In the dining area, this means an eight-foot-long table, chairs by Andres Mier y Terán, and a custom wine cabinet, which all incorporate the honey-hued wood species. So do custom beds.
The interior's only prominent color is a dark forest green—in the form of velvet drapes. It's also the one hue that can be seen within the crags of the surrounding peaks.
You may also enjoy "Switzerland's Venerable Tanzhaus Zurich Now Straddles a Sloped Riverside Site."
Would you like to comment on this article? Send your thoughts to: [email protected]