August 19, 2021
A Revisioning of Los Angeles's Crenshaw Boulevard Puts Community First
The residential communities that branch off Crenshaw Boulevard provided extensive input for a new public art corridor that dovetails with the expansion of the L.A. Metro.
Crenshaw Boulevard, which runs through the center of Los Angeles like a spine, is flanked by churches, strip malls, soul food spots, and schoolyards—all pulsating with local residents who keep the area culturally rich. Over the past several years, an effort has aimed to update and expand Los Angeles's Metro network—a necessary public service in the sprawling, traffic-clogged county. One of several in-progress rail lines is the Crenshaw/ LAX, which will run alongside its namesake thoroughfare and is expected to serve 32,400 daily riders by 2035.
---
More from Metropolis
---
But the 8.5-mile extension is a fairly rare instance of a transit line in the city being built at grade, instead of either elevating the line or burying it underground. Community organizers and politicians in the Crenshaw District were concerned about the L.A. Metro's decision and swiftly began agitating for this to be reconsidered: Not only was the line a potential eyesore, but residents felt it could bisect neighborhoods, disrupt local businesses, and create challenges to pedestrian safety.
Residents also wondered why this approach was selected for the greater Crenshaw area, the nucleus of a network of predominantly Black neighborhoods, including Leimert Park, Baldwin Hills, View Park, Westchester, and Inglewood. Following the community's petitioning, however, the city ultimately agreed to bury two miles of it underground.
But with 1.3 miles of the Crenshaw/ LAX Line still at street level between 48th and 60th Streets, the challenge was to find a way to beautify that portion and turn it into a public space that could engage the community, stimulate the local economy, and attract visitors.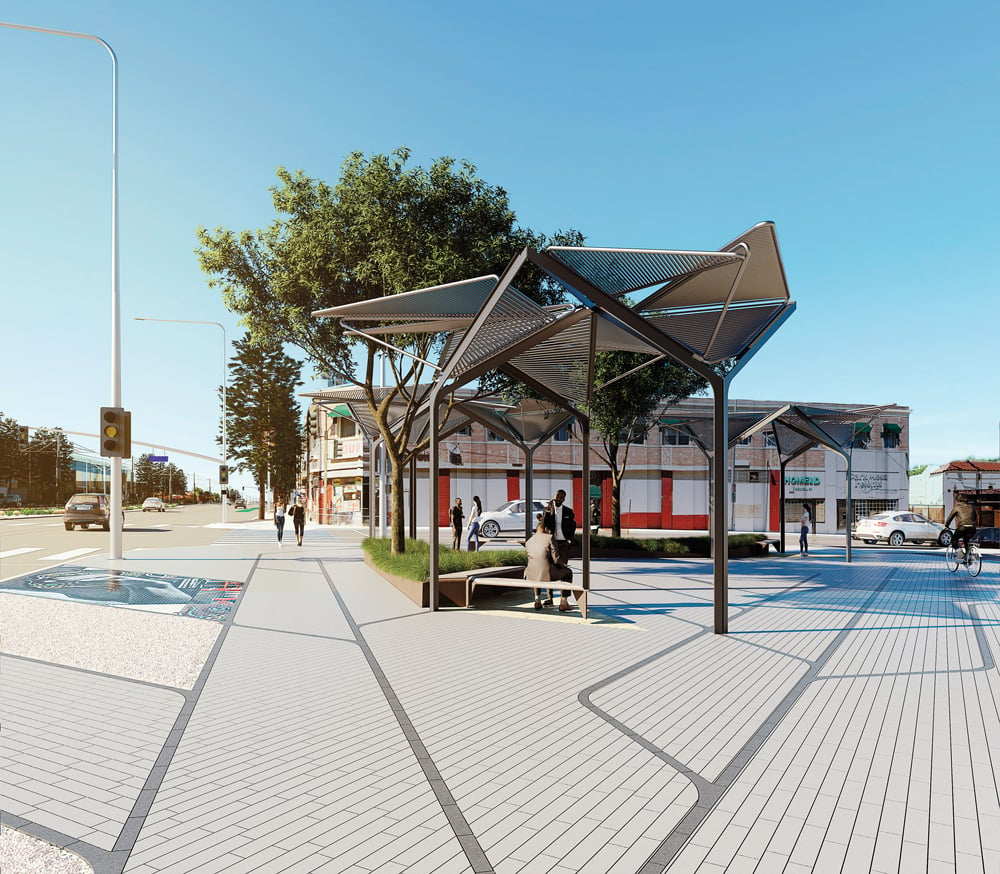 The solution was Destination Crenshaw, which community members hope will be an opportunity to promote the area's reputation for art and unapologetically Afrocentric culture.
Perkins&Will, the architecture firm responsible for the design and construction of this open-air museum and smattering of connected parklets designed specifically to celebrate Black Los Angeles, relied on the feedback of a community advisory council at virtually every stage of the design and development process.
"We're really designing a canvas for public art and cultural expression," says Zena Howard, a principal and managing director at the firm. Construction began in 2017 on the project, which is devoted to roughly 200 to 300 art commissions for artists rooted in South Central L.A. From murals to decorative light poles, the installations will give creatives the opportunity to act as ambassadors not only for the Crenshaw corridor but for the Black diaspora more broadly.
"There was a general consensus and excitement about turning lemons into lemonade," Howard recalls. "We really view ourselves as interpreters of their vision because this is a project—more so than any I've ever worked on—that is of the community and birthed from the community."
To engage residents and their needs from the start, Howard and her team invited locals to share the types of spaces that would most benefit them and which cultural references would best reflect the local demographics. They met with a group of 20 advisory council members on a quarterly basis; meetings often lasted an entire day, and members of the community were encouraged to bring personal photos and objects to help influence the design process.
Sankofa Park, which will sit at the northern terminus of the new transit line, is just one example of how the firm drew inspiration from the voices of community members. When Karen Mack, an advisory board member and CEO of LA Commons, a local arts organization, brought a Sankofa—a mythical bird in the African tradition that symbolizes looking back to move forward—Howard and her collaborators felt it was a fitting metaphor for Destination Crenshaw's narrative.
"It's about trying to reconstruct our connections to the past [because] that foundation was kind of taken away from us in some ways," Mack says. "I think that spiritual connection is very important for our healing."
Construction on Sankofa Park, which boasts a scenic outlook and operates as a de facto flagship space for the broader project, began in 2017 and is expected to be completed in 2022. The full build-out of Destination Crenshaw is set to officially be unveiled in 2024.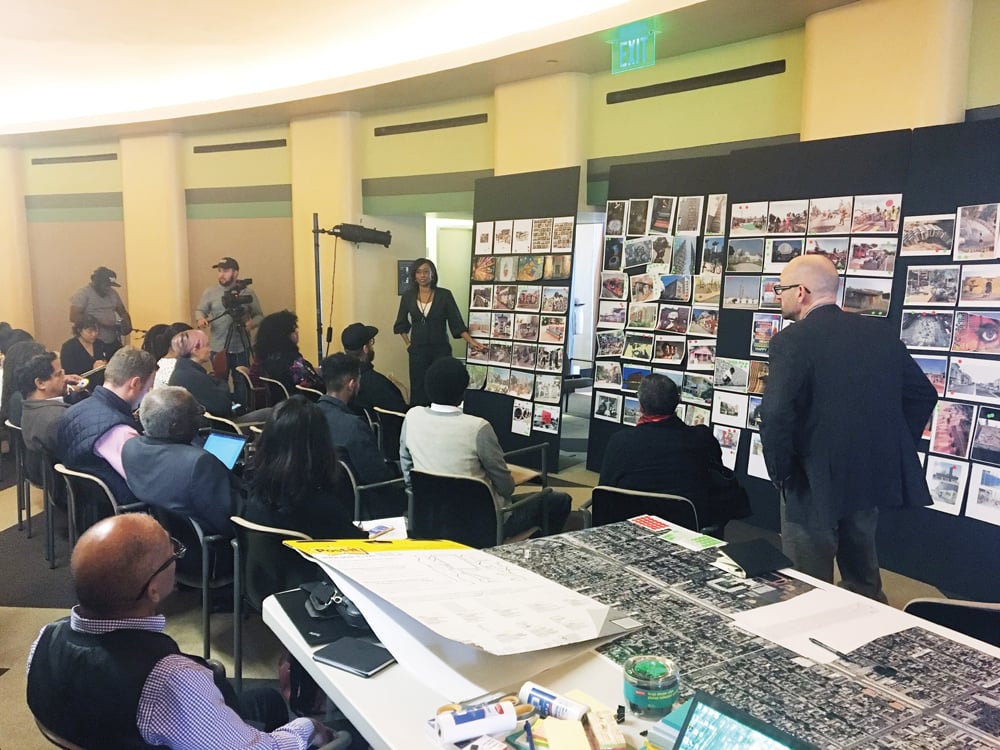 "They really took the community's visuals and storytelling and made storyboards that we responded to and used that process to design from the community up," Mack adds.
Though there were many considerations based on the needs of the community, like greening the urban environment with pocket parks and native plantings (designed by landscape firm Studio-MLA), perhaps chief among them was converting this series of eight new transit stations into a bona fide cultural attraction, a place for people to engage with and consume thoughtfully. As Howard says, "This is all about placemaking."
The planning behind Destination Crenshaw is also an experiment in prevention. Transit-oriented development is a double-edged sword for any community, especially one that has historically been underserved. Its upside is an opportunity for investment, but it can often be a precursor to gentrification and cultural whitewashing. Particularly in a city like Los Angeles, whose red lines have barely faded with time, getting ahead of the inevitable is a strong example of the community's prescience.
You may also enjoy "A Global Hub for Inuit Art Avoids Aesthetic Literalism"
Would you like to comment on this article? Send your thoughts to: [email protected]
---
Register here for Metropolis's Think Tank Thursdays and hear what leading firms across North America are thinking and working on today.