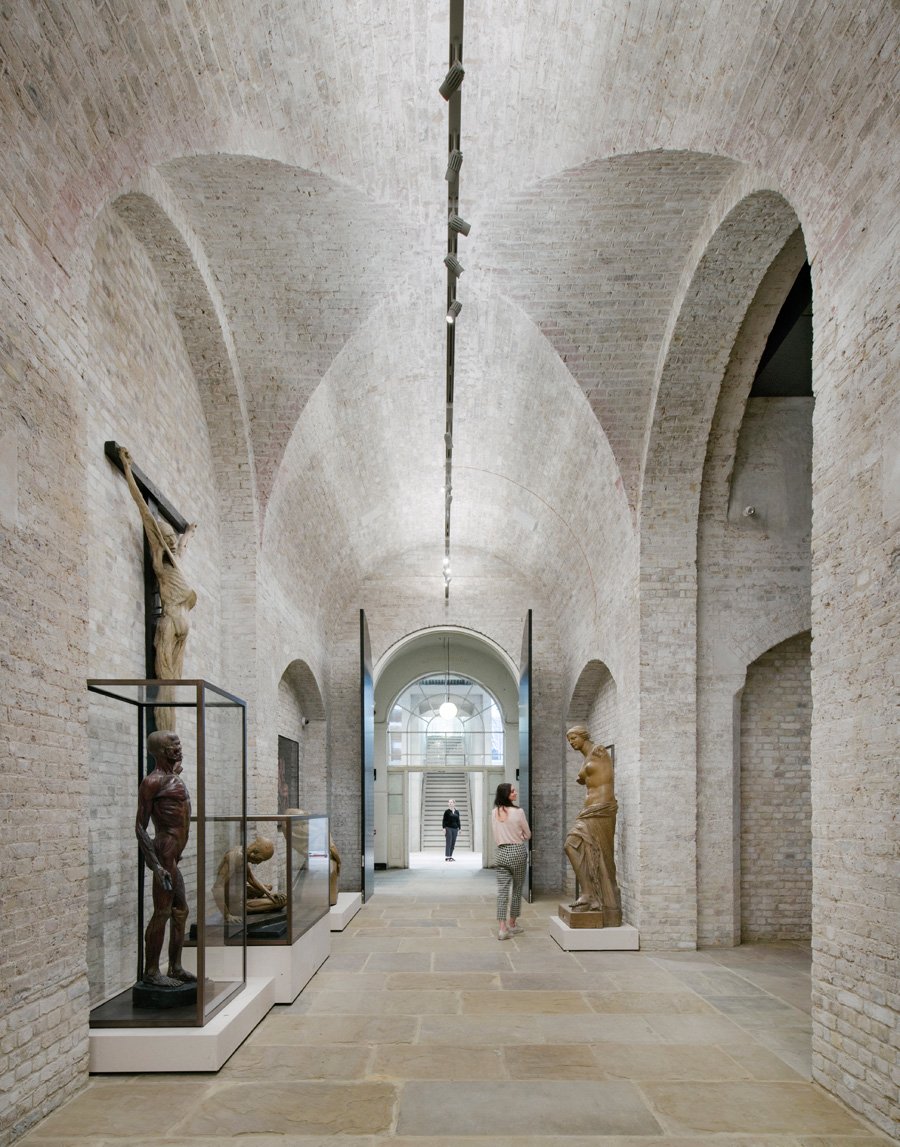 May 14, 2018
Take a First Look at David Chipperfield's Refined Refurb of London's Royal Academy of Arts
The revamped cultural institution "gives oxygen" to the RA's existing Victorian-era campus, says David Chipperfield.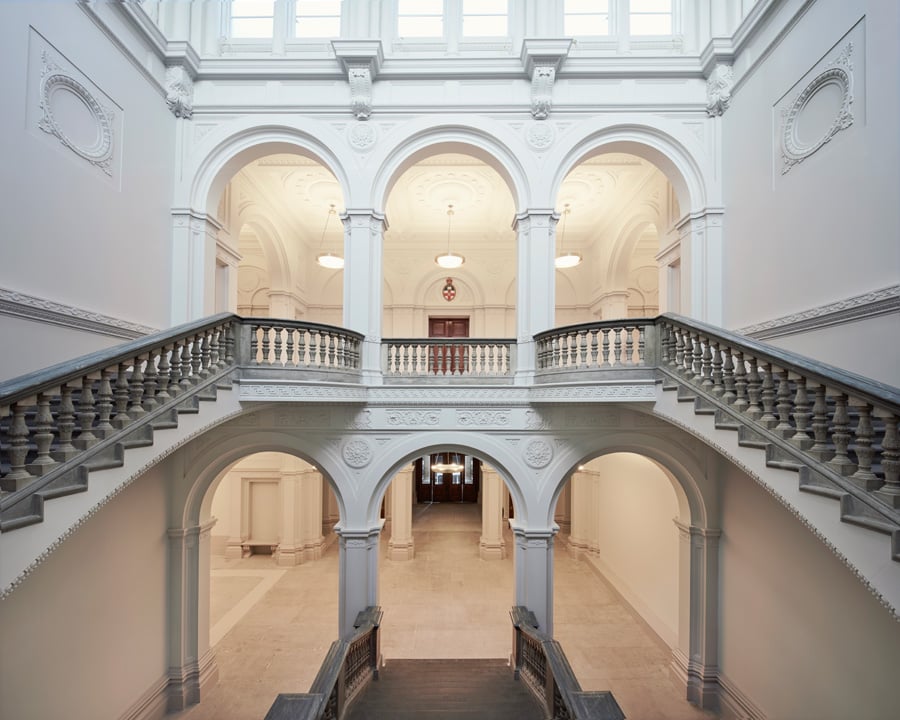 On the surface, the Royal Academy of Arts (RA) has always seemed to be a pretty impenetrable institution. Located on Piccadilly in the heart of London's fanciest shopping quarter, opposite Fortnum & Mason and The Ritz no less, the complex comprises a constellation of imposing, disconnected Palladian mansions accessed via entrances on parallel streets.
There are, however, some surprising facets to its operation as an arts institution. It's the only institution in the U.K. to offer tuition-free arts degrees (albeit to only 17 students per year) and is, according to Christopher Le Brun, an artist and president of the RA since 2011, "the world's foremost artist and architect-led institution in the world." That is, it's independent and privately funded, and has been led by generations of elected British artists and architects, so-called academicians, for its 250 years of existence. Architects among today's cohort include Norman Foster, Louisa Hutton, Farshid Moussavi, and David Chipperfield.
Fresh from completing the Neues Museum in Berlin, Chipperfield has, since 2008, been refurbishing and modernizing 6 Burlington Gardens, the somewhat crusty, unloved sibling behind the RA's Burlington House, it's home for 150 years.
---
More from Metropolis
---
The result seems typical of Chipperfield's delicate, surgical approach and certainly "gives oxygen to the whole campus," as he put it during a building tour today. The showcase addition to the complex is a subterranean bridge that connects the two neighboring buildings while creating additional gallery space in what was once a service corridor.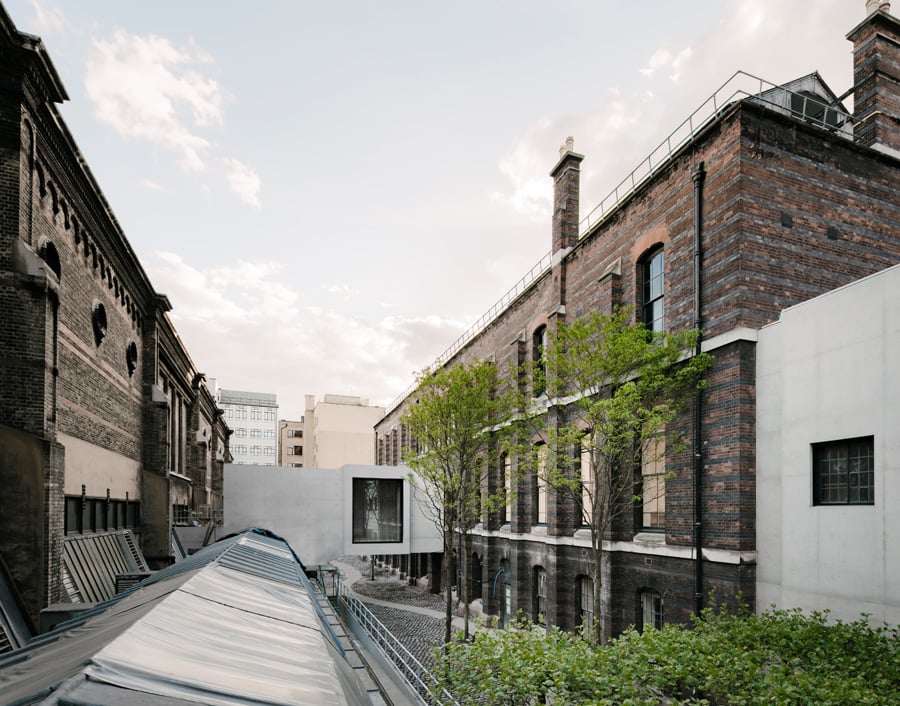 Chipperfield describes the bridge as an "infrastructural connection" as it produces a thoroughfare that runs through the building, connecting the two entrances. For Le Brun it's a "new Burlington Arcade," referring to the neighboring 19th Century shopping arcade renowned for its luxury goods.
The rest of Chipperfield's work seeks to enhance the pre-existing structure and its materiality. A stone floor has been uncovered in the entrance foyer where tiles sat previously; a 260-seat Victorian lecture theater has been reconstructed, complete with fine ironmongery and bench seating lined with racing-driver leather; a staircase, which once drew the residents of Burlington House into its (presumably lavish) gardens, has been restored and widened with a matching stone.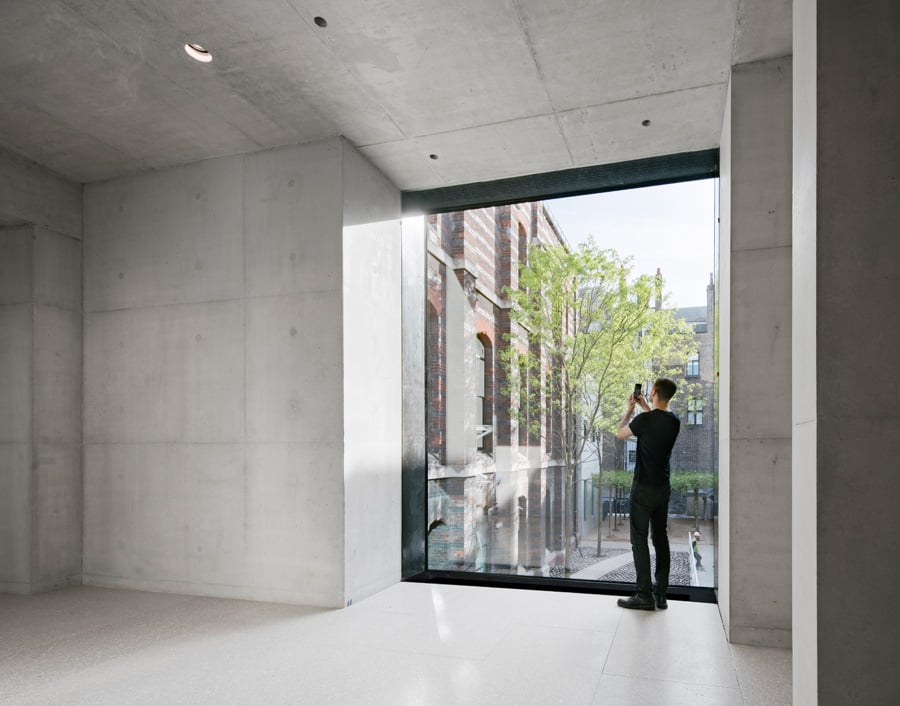 Where there are new additions, they are gentle; modern in their materiality but graceful in their execution. For example, polished concrete and a large window define the new sections of the bridge while terrazzo tiles line the floor of the restored Royal Academy Collection Gallery. Here a permanent exhibition titled The Making of an Artist: The Great Tradition features a 16th century copy of Leonardo da Vinci's The Last Supper alongside works from the RA's collection by Kauffman, Constable, Turner, and others. On an opposing wing of 6 Burlington Gardens (originally built for the University of London in the late 1860s), a three-room gallery space converted from a former Victorian medical facility, has been seamlessly integrated into the ensemble. Complete with exposed stone floor and restored skylights, the space is a cool triumph where Tacita Dean's LANDSCAPE exhibition will shine until August.
The combined effect of these, often subtle, touches is ultimately a success. Most importantly, the complex is immediately more legible and accessible thanks to the connecting bridge between the two buildings and their respective entrances. What's more, its use as a public thoroughfare is a highly-welcome antidote to the otherwise overbearing facades on either side.
As an institution, the Royal Academy is expanding its public program to draw a larger, more diverse audience on the occasion of its 250th birthday and beyond. Following Chipperfield's quiet, concise work, it now has a structure in which to do so.
You might also like, "Fondation Cartier Exhibition Invites You Into the Whimsical World of Architect Junya Ishigami."