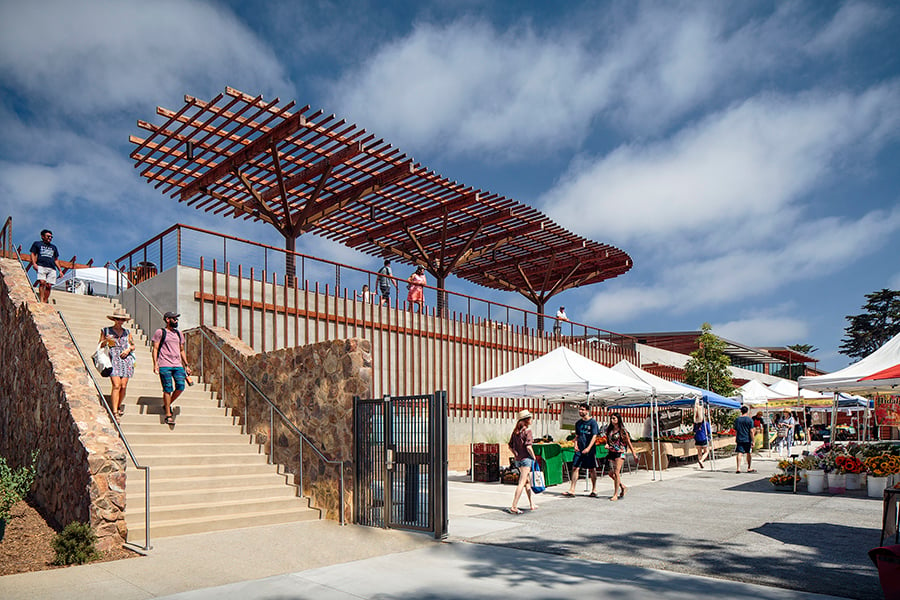 February 11, 2019
Miller Hull Leverages Indoor-Outdoor Design for Del Mar, California's New Civic Center
The building—which includes a town hall and city offices—features a 13,000-square-foot town commons that can host events and gatherings, such as the city's weekly farmer's market.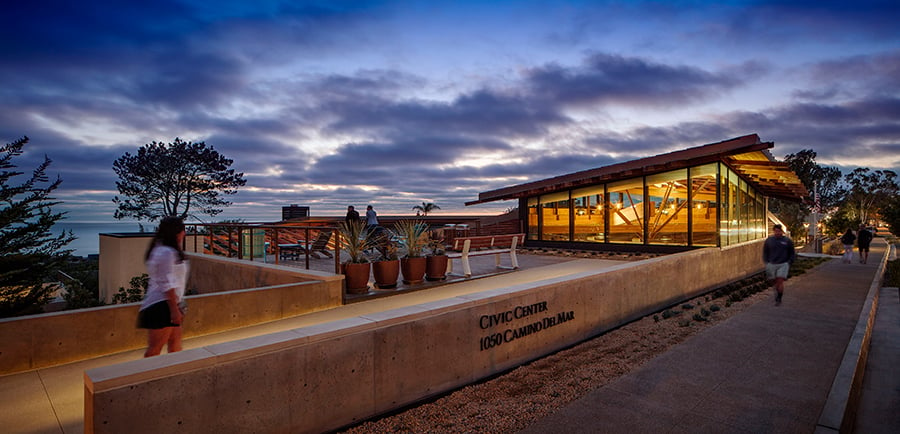 For decades, the civic realm of Del Mar, California, was scattered across the city. Today, a new civic center—designed by Seattle's Miller Hull and completed last June—draws public functions into a one multi-functional 1.5-acre location. Designed with community-building and sustainability in mind, the project takes the form of a series of elegantly interconnected structures that includes a 3,000-square-foot town hall and a 9,000-square-foot city hall, plus courtyards and terraces that provide sweeping views of the Pacific Ocean. (The town hall is a public forum and gathering place, while the city hall houses administrative offices and formal meeting areas.) Adjacent to the halls is a 13,000-square-foot town commons that will host events and gatherings, such as the city's weekly farmer's market.
The project was a long time in the making. The city of Del Mar had been committed to building a civic center for more than 30 years, but after two unrealized plans (including a  design from the '90s by Robert A.M. Stern), the time had finally come: "The civic center [site] was the only remaining parcel owned by the city within the Del Mar Village," says Miller Hull principal Mike Jobes. "It [re]presented the last opportunity to develop public gathering space there."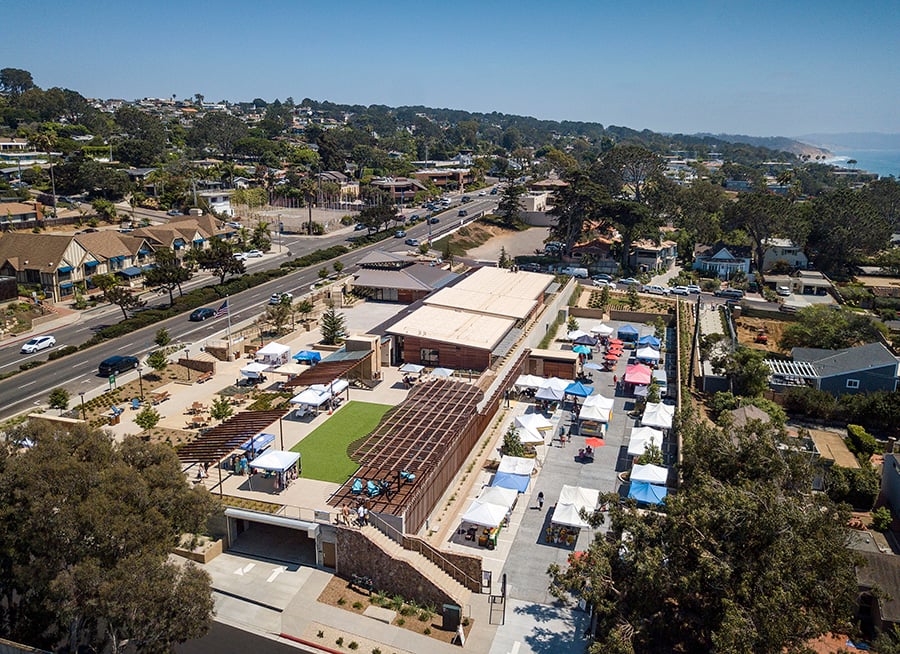 Miller Hull designed the campus as a community-building space. The town hall and large outdoor plazas are essential to that mission: They're scaled variously to accommodate a wide range of events, from city council meetings and fundraising dinners to musical performances and dances. All in all, 40% of the site remains open space. An accordion-like glass wall can retract to open the town hall directly onto the breezeway heading into the city hall, forming a massive indoor-outdoor gathering space.
---
More from Metropolis
---
Del Mar's existing architecture strongly informed the project's material palette and detailing. For example, the expressive wooden structure and large meeting spaces of the 1928 Powerhouse Community Center (a former utility building converted into an event space near the beach) inspired the civic center's own wood structure and gathering spaces. The city's prevalent Craftsman style—especially as seen at the Del Mar Library—spurred the architect's extensive use of wood, sistered (double member) eave extensions, deep overhangs, and low roof lines.
Miller Hull also exposed the town hall's glue-laminated beams and the city hall's open-web wood joists, making them a focal point. "They were inspired by the needles and branches of the region's Torrey pine tree," says Jobes, "and [they] give the space a warm, dynamic character."
Not least, sustainability was built-in. A photovoltaic array and battery system is projected to produce 50% of the building's annual power load, which includes electric vehicle charging stations. When outside conditions are amenable, the town hall cupola's clerestory windows open automatically via electronic actuators on the window sills. This natural ventilation system even notifies employees—who control lower windows manually—by email. "By giving staff a sense of control, the perceived comfort level is improved," Jobes says. "We call this learning to 'sail the building.'"
You may also enjoy "Foster + Partners Cultivates Sleek Modernism and a Tropical Landscape at Florida's Norton Museum."
Would you like to comment on this article? Send your thoughts to: [email protected]