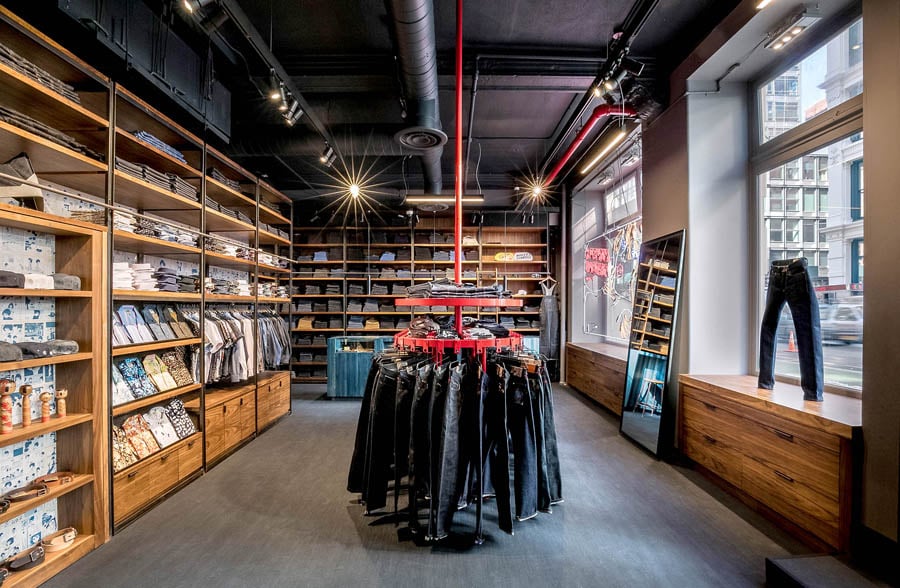 September 16, 2019
Denim Covers the Shelves—and Walls—at This Soho Retailer
At Naked & Famous's new flagship store, CRÈME used the Canadian denim company's wares as design components in the interiors.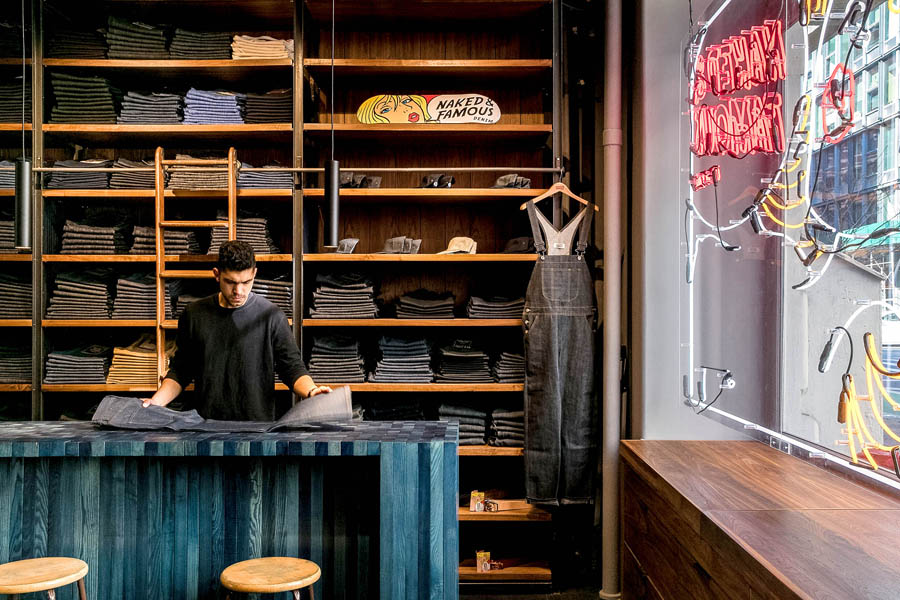 ---
In New York City's Soho neighborhood, a ten-foot topless blonde lures shoppers to buy some new jeans. Crafted in neon, she's the Pop Art–inspired logo behind the Canadian denim company Naked & Famous, and one of the highlights of its new Soho flagship store designed by CRÈME.
Before hiring CRÈME, Brandon Svarc, the brand's founder, had admired the firm's indigo-dyed Exchange collection for Stellar Works. Svarc, a collector of indigo-dyed objects and Japanese design—his brand uses 100 percent Japanese denim—handed over some of his treasures, which CRÈME used to outfit the space. Covering the store's bespoke walnut shelving units are vintage blue-printed Japanese comic-book pages, for instance. Elsewhere, a shelf holds kokeshi dolls that can be manipulated to open a hidden door. "He had a bunch of collections like these dolls, so we decided to use them as accents," says Jun Aizaki, the principal at CRÈME.
Throughout, denim is used as both a sculptural element and a surface treatment. One wall features a floor-to-ceiling installation of faded jeans. Patchwork appears all over, from the butcher-block counter—where each block has been dyed its own intensity of indigo—to selvedge-denim curtains. Another highlight? The floor, which features denim tiles that promise to age stylishly. Just like a good pair of jeans.
---
More from Metropolis
---
You may also enjoy "5 Highlights from New York Textile Month."
Would you like to comment on this article? Send your thoughts to: [email protected]