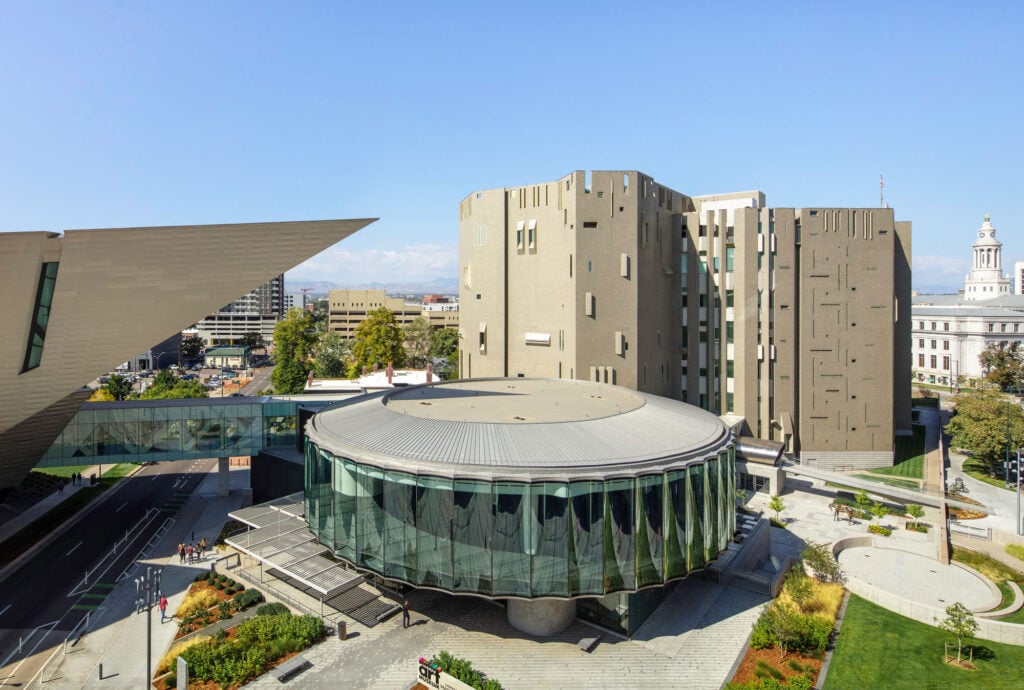 November 10, 2021
The Denver Art Museum Gets a Long-Needed Refresh
Fifteen years later, Libeskind's gesture seems out of step with the moment. Tilting walls and skewed floorplates make its galleries awkward and inflexible. (Some of those spaces are currently closed for repairs.) Although the structure is connected via bridge to the Martin building, and its sharp prow looms over a new, 50,000-square-foot Welcome Center, it is no longer the main event.
---
More from Metropolis
---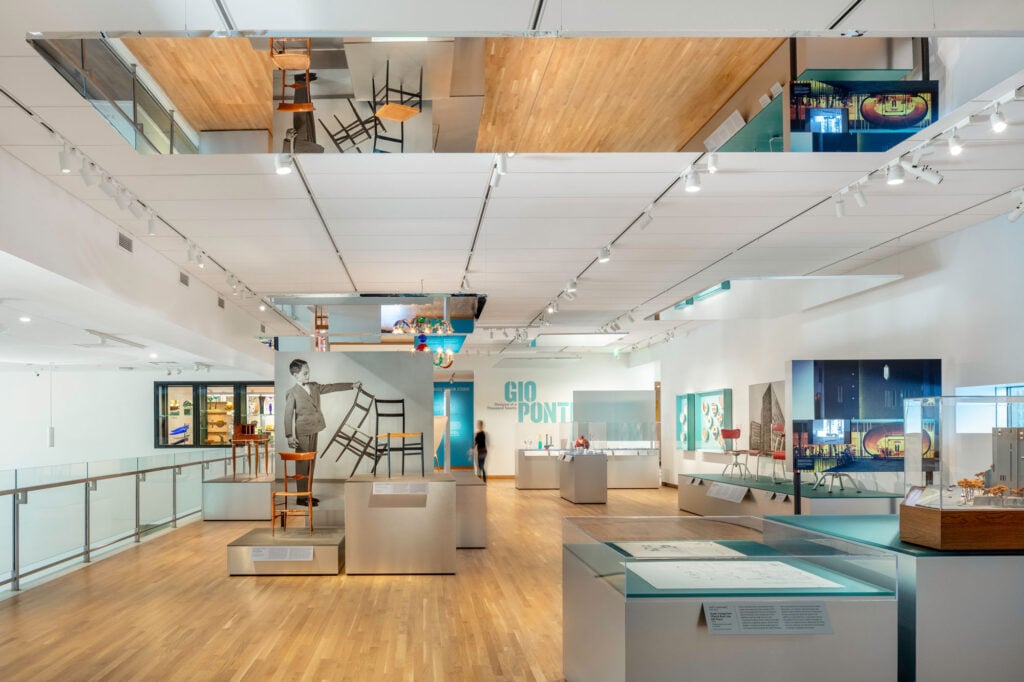 For Machado Silvetti's Jeffry Burchard, the challenge for the Welcome Center was to rebalance the power dynamics—not simply between the two museum buildings, but also with Michael Grave's Central Library, a multi-colored, postmodern affair on the same block as the Ponti. "They are all objects to themselves," he noted. Rather than try to find unity between these quirky characters, his team added a fourth to the composition: this elliptic, two-story pavilion clad in 25-foot-tall crenelated glass.
According to Burchard, the form pays homage to an oval-shaped auditorium designed by Ponti for the site, but never realized. It's a reference likely lost on most visitors, but the curved form, complemented by a sunken sculpture garden, serves as a central pivot to a constellation of stars. Architecturally, the building speaks a language of hospitality rather than signature design. Detailing is tidy and functional with a sprinkling of Ponti-esque motifs. This makes sense. Contemporary museum culture is as much about attracting visitors, hosting donors, and shepherding school groups as it is about high culture expertise. So, necessarily, if not a touch obsequiously, the Welcome Center houses the most public-facing parts of the museum: lobby, ticketing, café, a ground floor restaurant, and a community lounge/event space large enough for a 650-person sit-down dinner above. From inside, the sweep of its scalloped windows affords views of the weird neighbors.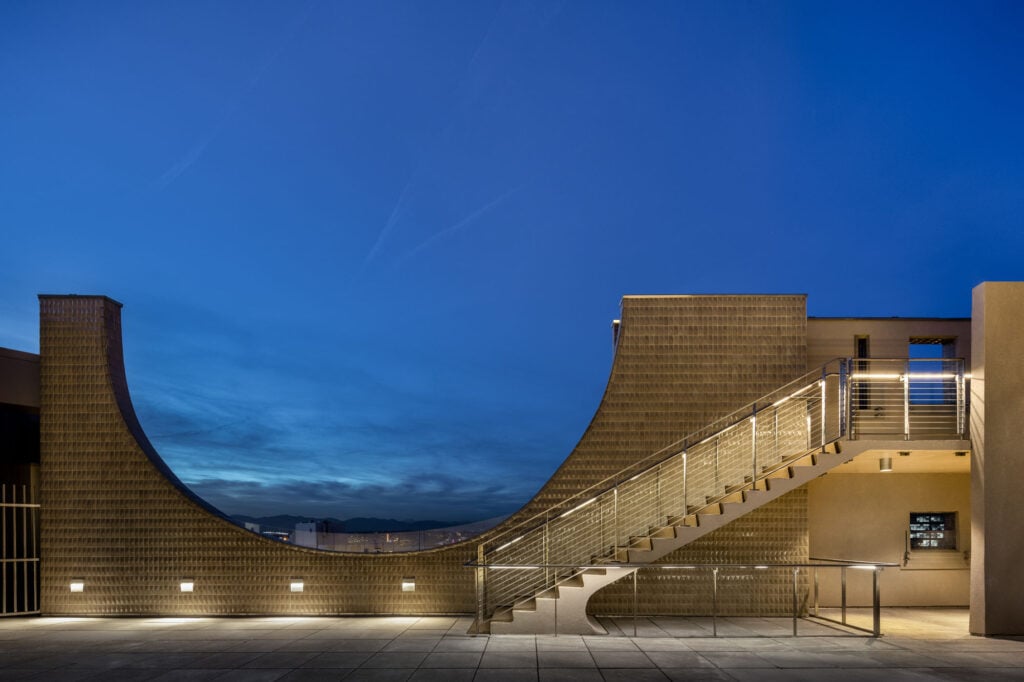 A utilitarian leg extends from the new entry pavilion and plugs into the side of the Martin Building—like a jetway meeting a mesa. The move is so matter of fact that it hardly requires a mention, but it deftly sets up a series of updates within Ponti's building. Galleries there were gutted, and insulation was added to the concrete exterior walls. The building's vertical circulation was always slow and insufficient, so in a feat of structural engineering, two new elevator shafts were cut into the post-tension slab and the old elevator tech was replaced. Inspired by another unbuilt Ponti scheme for a rooftop oasis, the architects reclaimed the roof and added more than 9,000 square feet dedicated to the Petrie Institute of Western American Art, leaving room for two outdoor terraces with views of greater Denver and the Rockies. None of these improvements are particularly extraordinary designs, but they go a long way toward improving the quality of the art experience.
The architects also rejiggered the Martin Building's first floor Bonfils-Stanton Gallery. They bisected the original double-height space with a new floor plate to produce 7,750 square feet of new gallery space dedicated to design on its upper floor. Visitors now walk from the Welcome Center directly into these design galleries, where they are conveniently greeted by a temporary exhibition of Ponti's work, including models and drawings. The retrospective, which also includes a catalog, situates the Denver Art Museum within an oeuvre of meticulous objects, from silverware to skyscrapers.
A drawing of an unfolded elevation sketched in graphite and red pencil hangs on one wall. It's a reminder of that the architect's idiosyncratic logic of diamond and coin slot windows is a musical score of light and dark, not defensive slits. In his catalog essay, "Gio Ponti's Six principles of Design," architecture historian Taisto H. Mäkelä writes that the openings were meant to allude to artworks hung in the galleries as a Modernist expression of the interior on the exterior.
And yet those original windows were problematic. Uninsulated, they were too hot, too cold, and too wet with condensation for a controlled museum environment. Curators would avoid or completely block them off from the exhibition space. The renovation replaced all of these windows, preserving their unique shapes while improving their performance. In the process, the architects uncovered unknown sockets in the sills that had been intended for decorative lighting but abandoned due to electrical cost. Reinstated with low-wattage LED lamps, the windows form nighttime patterns across the façade.
In addition to the Bonfils-Stanton, all the galleries in the Martin Building were completely reimagined and reinstalled. Each collection is given its own floor, and the curators worked with different designers to varying degrees of success. In the Indigenous Arts of North America gallery, deep purple and maroon walls and an exposed ceiling grid create a dramatic setting for the museum's extensive holdings of craft objects and contemporary art by Indigenous peoples across 20,000 square feet. Denver-based Fricker Studio's design is theatrical, but the installation and curation by John P. Lukavic, Andrew W. Mellon Curator of Native Arts, and his team avoids didactic and othering tropes that plague natural history museums. A 19th Century Lakota robe is treated the same as a 2014 painting by Wiyot artist Rick Bartow—both are artworks composed of skill, meaning, and beauty.
The Martin's new second floor Architecture and Design Galleries, undertaken by OMA New York and curator Darrin Alfred, underwhelm. In contrast to the galleries on the floors above, which use color and lighting to set a tone and narrative, the mostly white space dissolves into blankness. Reflective walls seemingly meant to create some playful doubling have the unfortunate effect of amplifying the presence of the grid of acoustic ceiling tiles. The collection on display is also a bit old-fashioned, perhaps catering to a more populist audience. Do we really need to see another array of psychedelic concert posters or a plump La Mama chair by Gaetano Pesce? Still, a small arrangement of photographs and drawings of Herbert Bayer's Earthworks—sculptural mounds created for the Aspen Institute campus beginning in the 1950s—are an unjaded surprise from the archives. The only thing missing is a sentence in the didactic wall text drawing a parallel between Bayer's forms and Indigenous mound culture, which could tie together exhibitions across floors.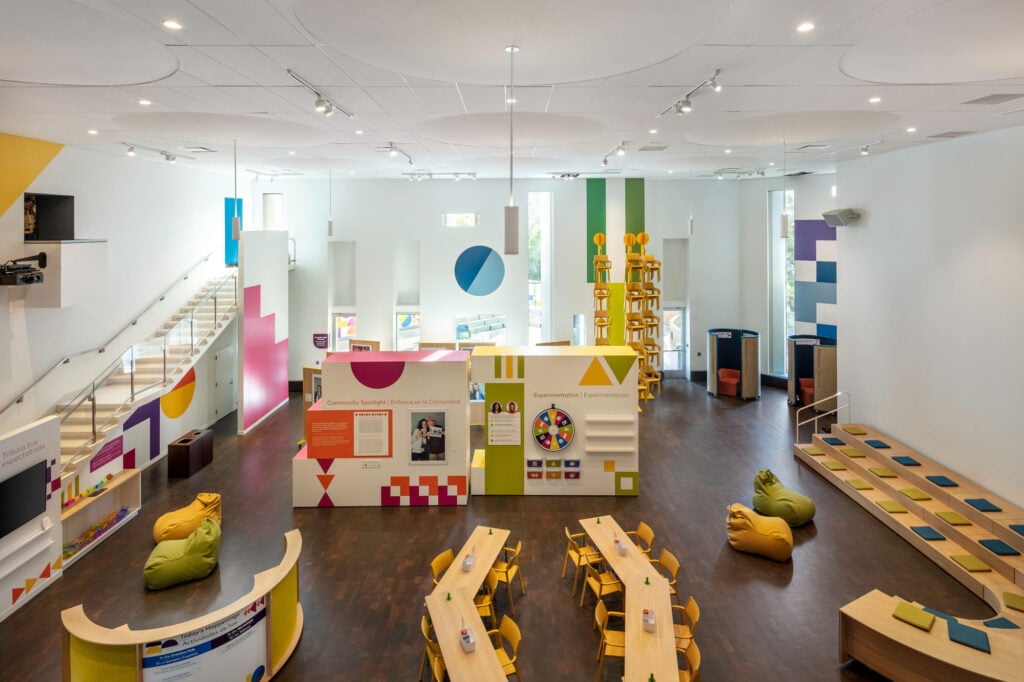 Of note is the Creative Hub designed by Mexico City–based designers Héctor Esrawe and Ignacio Cadena. Located within an airy, double-height gallery on the Martin's ground floor, the installation of flexible furniture and kid-sized amphitheater seating has a graphic quality that speaks Ponti's geometric language with an oversized, pop sensibility.
Aging Late Modern and Brutalist buildings are often at risk of demolition because they fall out of general taste and are difficult to update to meet new uses or contemporary requirements. With the Martin Building, there's real joy in seeing the Italian architect's sensibility re-embraced by the museum and the city—in motifs and even in the cute naming of dining options: The Ponti restaurant and Café Gio. As staff settle into the building, one hopes that the curators and exhibition designers will push the possibilities of all their renewed square footage. The current exhibition designs, however lovely, skew a bit traditional. But Machado Silvetti and Fentress' understated renovation provides a taut canvas for even bolder experimentation.
What's left unresolved is Libeskind's Hamilton Building. The new pavilion acknowledges this awkward neighbor. But cool evenhandedness is a weak tool to mitigate a heavy presence. Not within the scope of the current renovation, the sculptural edifice, almost two decades old, is now the outlier. As it ages, will it fall out of favor and be given unkind nicknames? (Spike, maybe?) Or, like Ponti's design, will it be reborn a half century later?
Would you like to comment on this article? Send your thoughts to: [email protected]