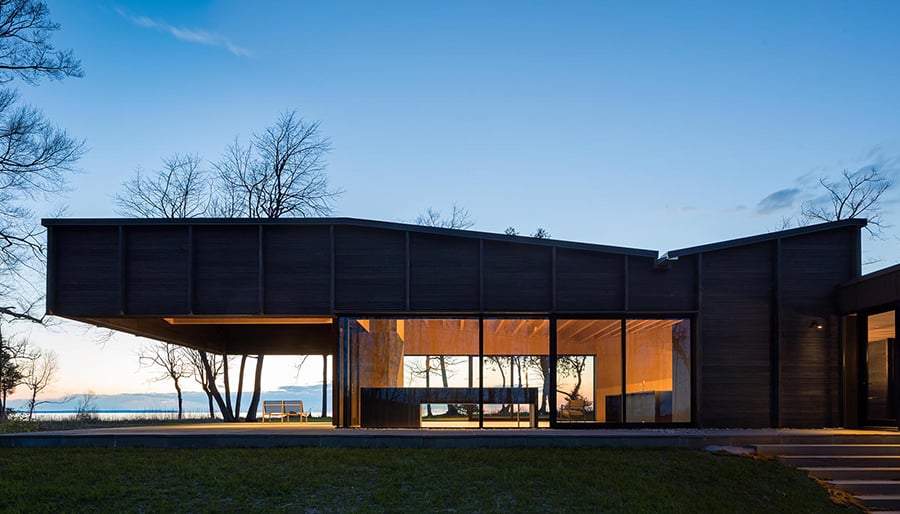 March 12, 2018
A Devastated Tree Species Finds a Second Life in This Michigan Lake House
Architecture firm Desai Chia, working with local Michigan practice Environmental Architects, used Ash trees killed by an invasive species for this dwelling perched 100 feet above Lake Michigan.
---
When designing a lake house in northwest Michigan's Leelanau County, Katherine Chia and her husband Arjun Desai, both founding principals of their eponymous New York firm, seized an unusual opportunity to give the project a strong material character. A slow-moving tragedy had struck the area over recent decades: The Ash Borer Beetle, an invasive species, was wiping out Leelanau County's old-growth Ash trees. "Our client's property has hundreds of these ash trees," says Chia, "and he had started to notice the infestation, so we started thinking of ways to reclaim the trees."
The client, a Detroit couple who purchased the 60-acre bluff from a local cherry farmer, desired a house where they could retire together. They also wanted a dwelling that was in tune with the lush orchard that surrounded them. "[The husband] had started to take the ash trees down himself with a local lumber yard while we were only in the design phase of the project," says Chia.
Seizing the opportunity, Desai Chia reclaimed over 100 decimated trees and used them for the interior finishes of the house, including the cabinetry, flooring, ceiling, and furniture. The project's exterior—also made from salvaged Ash—was given a "Shou Sugi Ban" treatment, a process of charring that Chia and Desai learned about while in Japan. The burnt wood is rot-resistant and requires little maintenance. "We look for things that are going to last for generations," Chia says. "If I look back at these Japanese structures that we saw in Tokyo and Kyoto, they've been standing for centuries."
---
More from Metropolis
---
The client's desire to be in touch with nature also meant using natural ventilation and no air conditioning under any circumstances. Chia studied the winds coming off Lake Michigan in the summer, fall, and spring and placed the windows in positions that drew in the lake's breeze. "We were just really lucky to have a very open-minded, thoughtful client," Chia adds. "They weren't set in their ways…and that really helped a lot."
You may also enjoy "Richard Rogers' Wimbledon House Gets a New Lease on Life"